Pallet is much changeable into furniture. You can do it in both simple and creative ways. You are already well known with commonly used furniture trends of pallets. But if you now have master hands in pallet wood recycling and creativity then you can try some higher levels of pallet wood furniture. Check these 25 unique DIY pallet furniture projects to gain huge and much more serviceable trends of pallet furniture. Nothing is left in these DIY pallet ideas; they touch all portions and utility purposes of your home in order to make them modernized and prominent.
You will have surely made some knocking out designs of pallet desk but here we have a new pallet wood desk with bookshelves set which is very unique and new to try. Produce the bar tables and also the bathroom vanities out of pallets. Remodel your bathroom and other accent places of your interior by creating some highly superb and magnetizing units of DIY pallet shelves. Make entry way organizers, foyer furniture and also the entry way shoes rack out of pallets in couple of hours. Give a creative spark to your thinking and restore the pallets into subtle structures of sofa, headboards, garden tables and even the outdoor kitchens and bars.
All these preferable suggestions of pallet wood recycling can give your home a noticeable and highly detectable look along with unbeatable functionality. Build outdoor sheds, playhouses and also the chicken coops out of pallets. Also try these highly favorable kinds of storage furniture out of pallet wood like pallet oversize cabinets, sideboards and chests.
All these DIY pallet projects can bring your vision come to life and can provide extraordinary comfort to your existing living routines. All pallet products avoid high rates and unaffordable prices, you will get all this free of cast with a little bit planning.
Pallet Computer Desk with Bookshelves:
Addition of shelving unit makes the desk out of ordinary. For modern looks any of favorite shade of paint can be tried. Such a pallet behaviors are much rare so give it a try.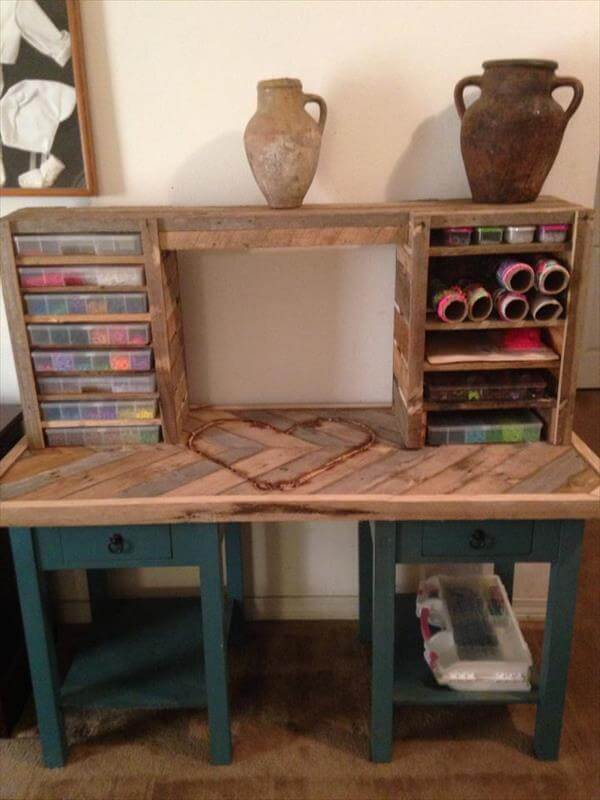 Rustic Pallet Bar Table with Stools:
Get this rustic presentation of bar table, this would be terrific to find a mid century inspired appeal of your bar table. To support your sitting 2 stool have also been handcrafted. This another swank use of pallets to be copied.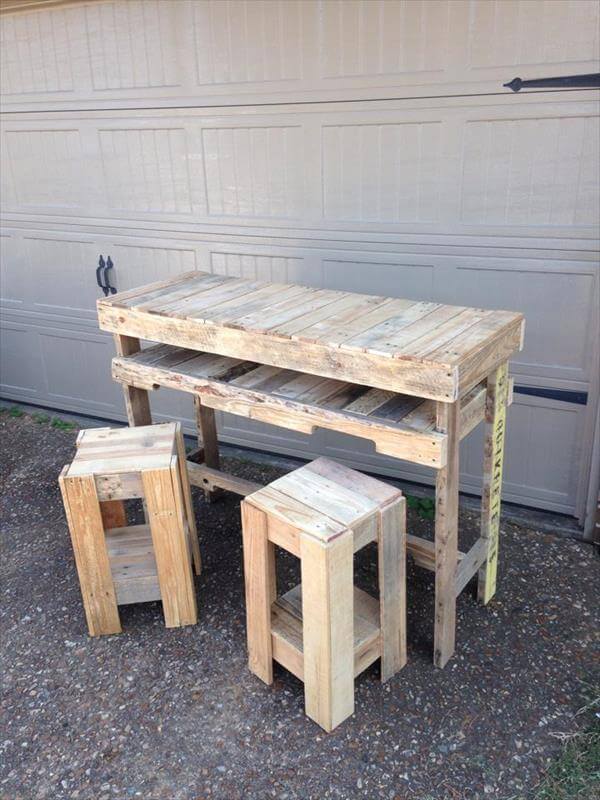 Remodeled Pallet Bathroom:
Make your bathroom well looking and functional by adding some shelving units, cabinets and also the vanity setup, all made of pallets.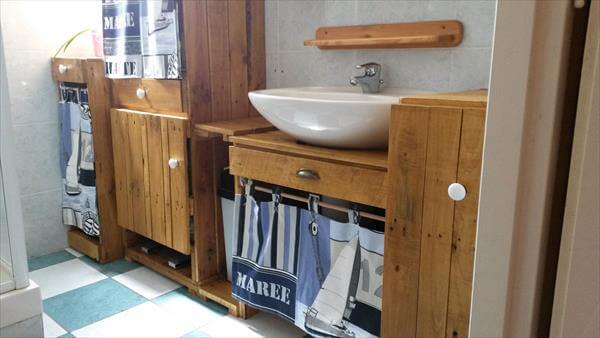 Pallet Bathroom Renovation – Pallet Shelving:
Pallet wood goes extremely high while planning the wall decors for your home. This shelving unit is great to accent you bathroom walls and offers various options to display your pieces of decors, interest and utility.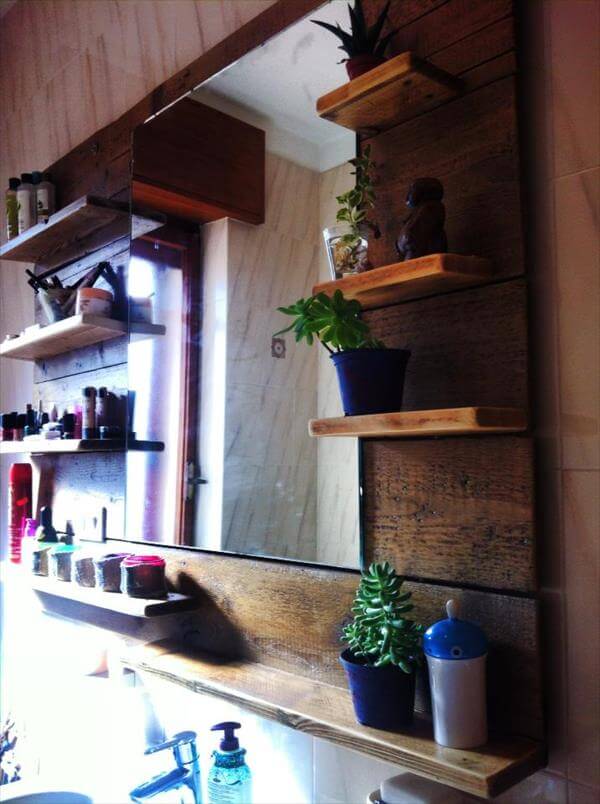 Pallet Cap and Coat Rack:
Just add hooks to a hand selected pallet board and make it performed as entry way organizer or coat or hat rack. This model comes with a shelf which can also some notification frames, picture frame and also some faux art pieces.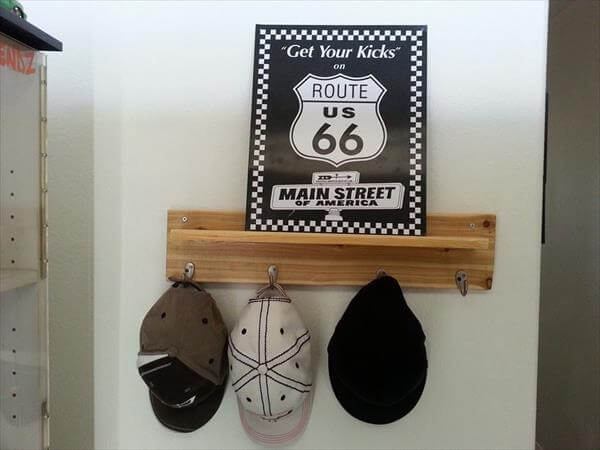 Pallet Reception Desk + Sitting Stool:
Pallet wood is also great in use while planning a space for office use, this desk counter has been recycled out of pallets and have two levels. To deal with the person in front, a charming stool has also been made with pallets.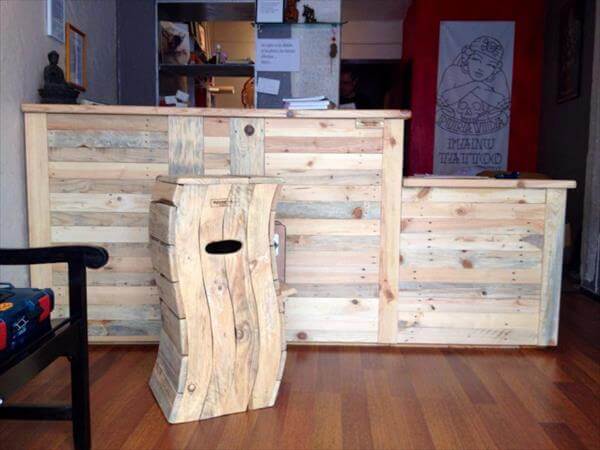 DIY: Pallet Decorative Wall Shelf
Use any third half of a pallet skid to get a rustic but stylish model of a shelf. This pieces is also handmade and can be mounted on any home wall to display some chic objects of decors.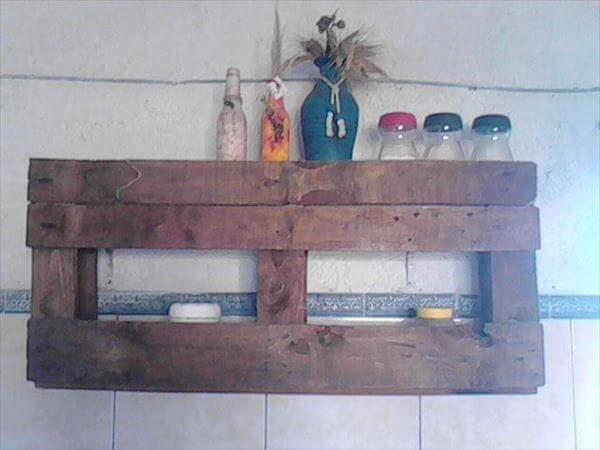 Wide Pallet Dog Bed with Cushion:
By readjusting the pallets very little, this oversize dog bed has been made. A piece of mattress has been put on this rustic frame to give a reliable type of comfort to your dog.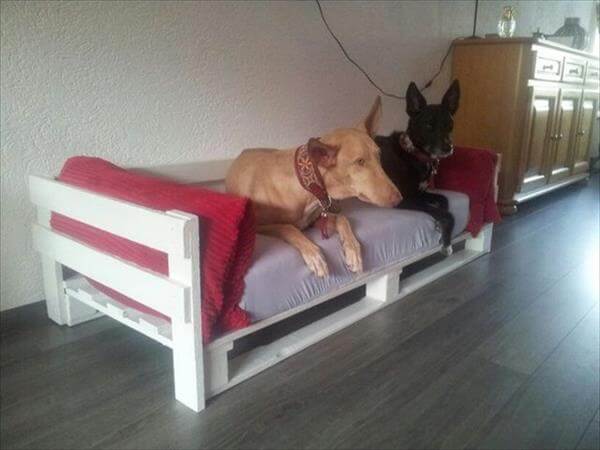 Pallet Dresser + Pallet Mirror Project:
Recovery of this pallet mirror and pallet dresser table from pallets also leads to a nice example of pallet wood creativity. A highly weathered pallet has been reclaimed to get specified object of furniture.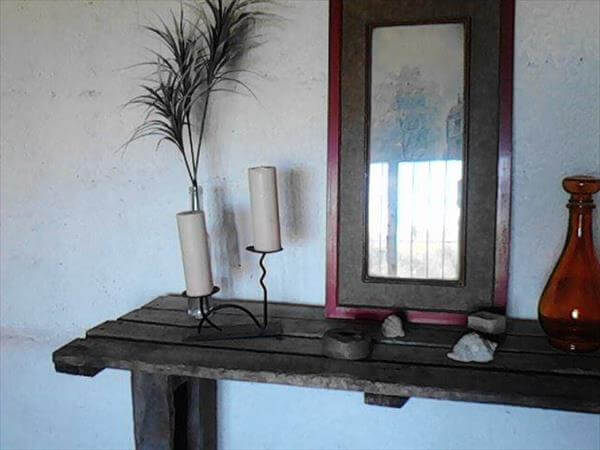 Pallet Wood Fence:
To block off the entries of animals and you kids into your self produced vegetable or any garden, you should make it fenced. To do it effortlessly and cheaply you can make use of pallets just like in this given inspiration.
Pallet Planter – Pallet Vertical Gardens:
Pallet wood comes in huge boards shape which are much handy to be changed into shapes like boxes. By using some DIY pallet boxes and a pallet ledge this amazing pallet garden has been made to plan you favorite types of herbs, flowers and succulents.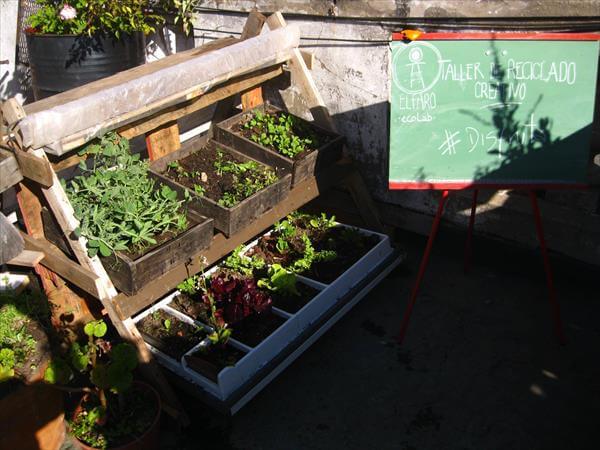 Accent Pallet Kid's Headboard:
Deconstruct the pallets and then simply stack some handpicked boards on one another to shape up a customized design of headboard. This headboard has been raised in kid's style by using of heart stamps and white paint.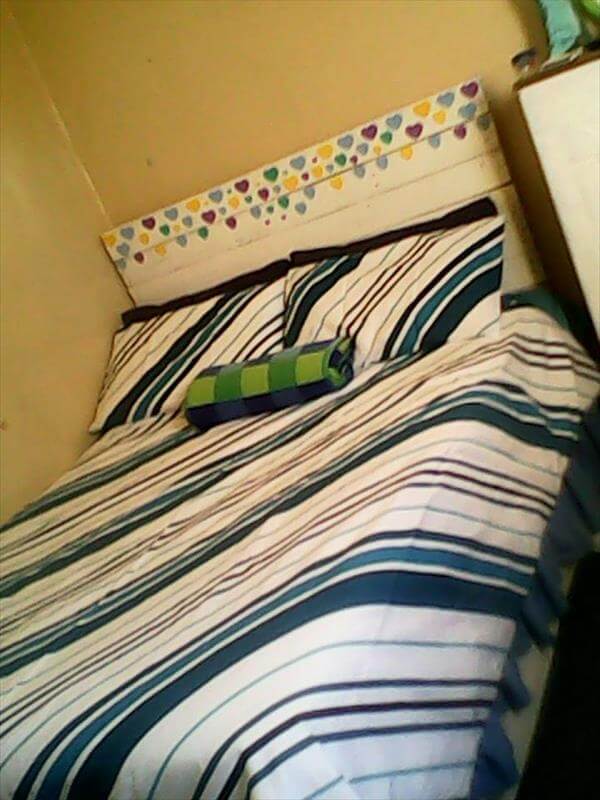 Pallet Kitchen Utensil Rack:
A kitchen should always be planned with some extraordinary units of shelves and racks to take good care of kitchen tools, dishes and other kitchen ware. It is much handy to designs some utensil racks out of pallets just like the design given below.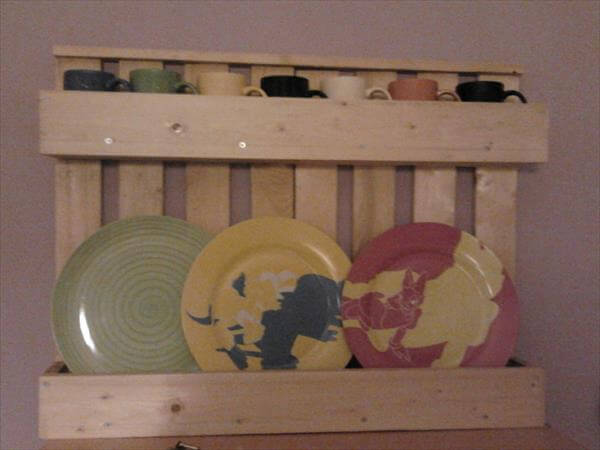 Easy-To-Build Pallet Mobile Holder:
Use remains and useful pieces of  wood or pallet scrap to design such an interested shapes for most personal use. This mobile holder will look after your mobile while it is being charged.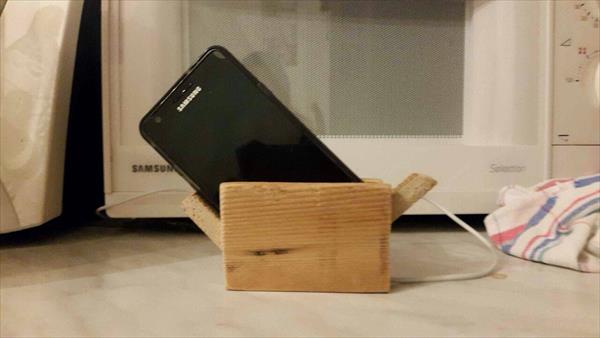 White Painted Pallet Decorative Unit:
Simply adjust a pallet board vertical to any wall to gain a raised mantle space to organize your pieces of art, decors and interest for visually attractive and pleasing display.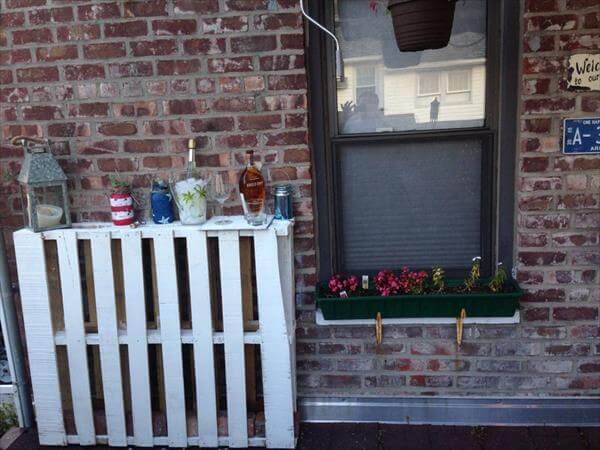 Pallet Outdoor Shed – Pallet Playhouse:
You can construct pallet playhouses, outdoor pallet sheds and even the barns out of pallets. Here comes the preview about how you go for practical yield of any of above.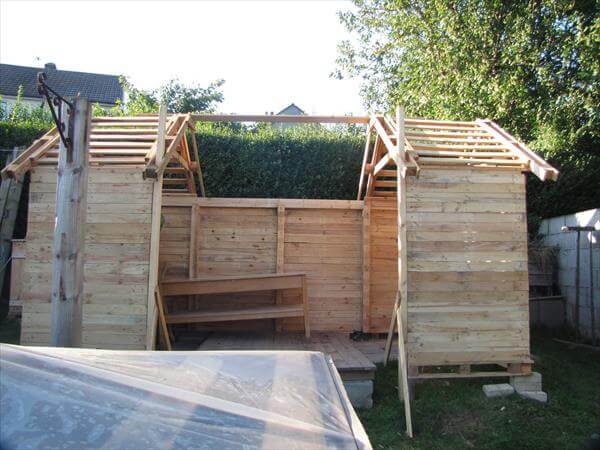 Distressed Pallet Shoes Rack – Media Cabinet:
After a complete deconstruction and dismantling, pallet wood can be reshaped again to various structural units that lead to some highly functional masterpieces of furniture. This handmade pallet shoes rack has great shelving space and can also be taken in use as DIY pallet media cabinet or media console table.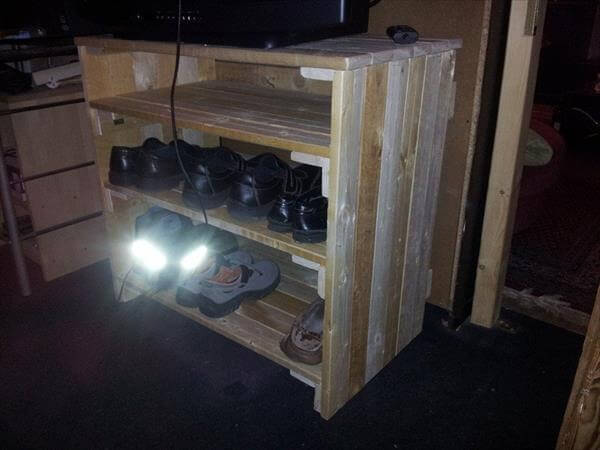 Pallet Chest with Arched Top:
This amazing chest with arched or semi circular lid, is a marvelous example to make the pallets serviceable and functional again. If you have some pallets you can achieve this trunk set up within no time. This would work great to store you worthy pieces of jewelry, for items which are going to be off for this season and also for kid's toys.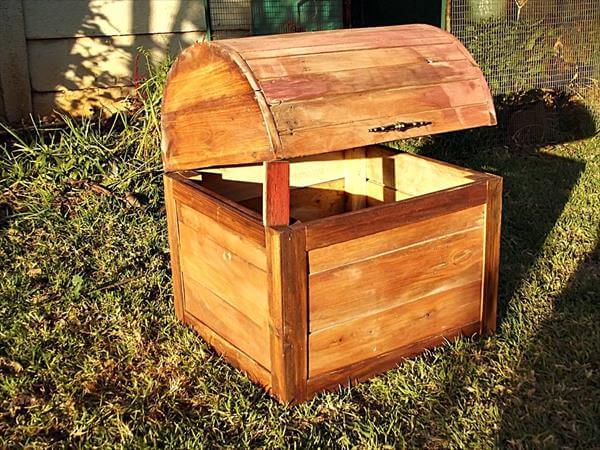 Oversize Pallet Cabinet:
This handmade cabinet is a true example of pallet highly meaningful pallet furniture plans. Its large sizes and multiple units of drawers and inside shelves can inhale a big pile of home stuff like shoes, jewelry and cloths to store them well.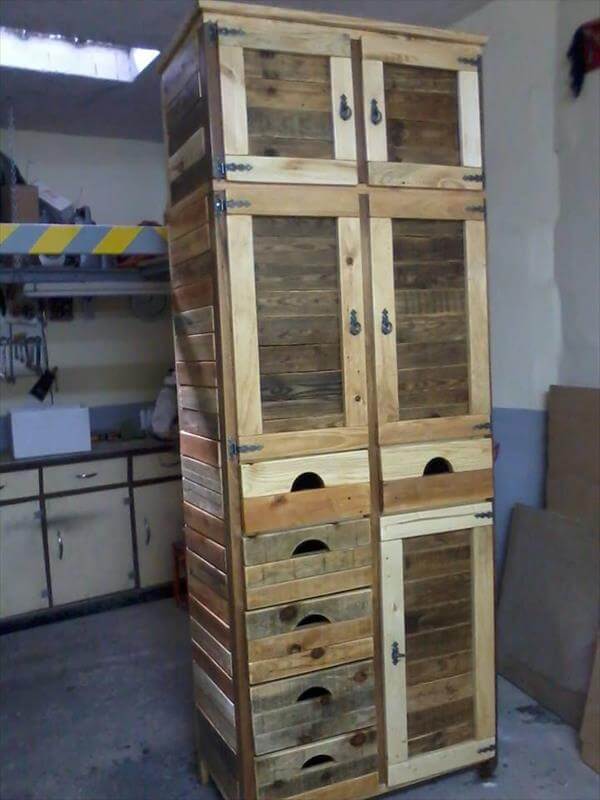 Creative Pallet Wall Art – Pallet wall Decors:
Pallet wood can be used to frame up the pictures and can also produces nice pieces of art itself. A perfect white square made with diagonally aligned boards of pallets, has been enclosed in a different tone of wood to create a pallet wall sign. You can mount or design any art object or can write some words or sayings over it which you personally like.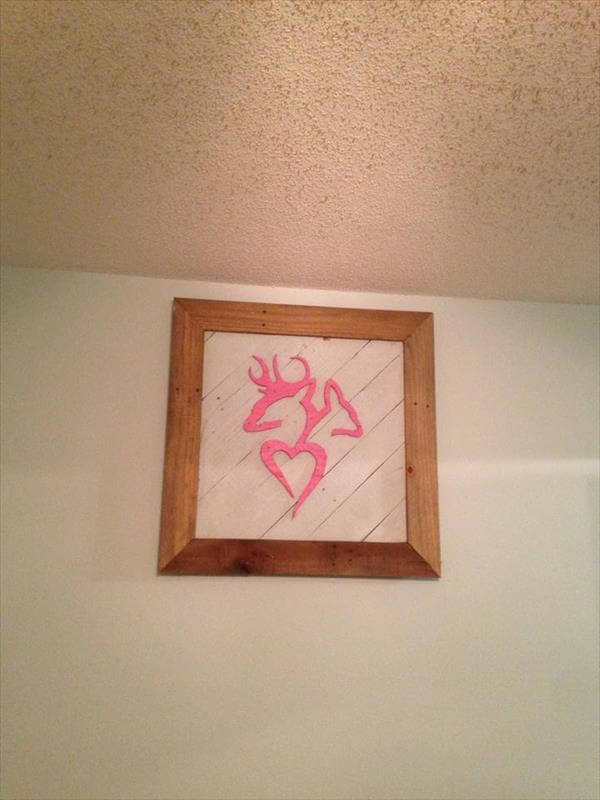 Pallet Wall Heart Sign:
A complete board with heart shape painted in red on it, has been mounted on a wall area. The inside depth has been subjected to give a red lighting effect as a background to the heart art. Perfect pink glow behind and through the pallet spacing creates a very overwhelming pieces of wall art and decors which can attract any person visually.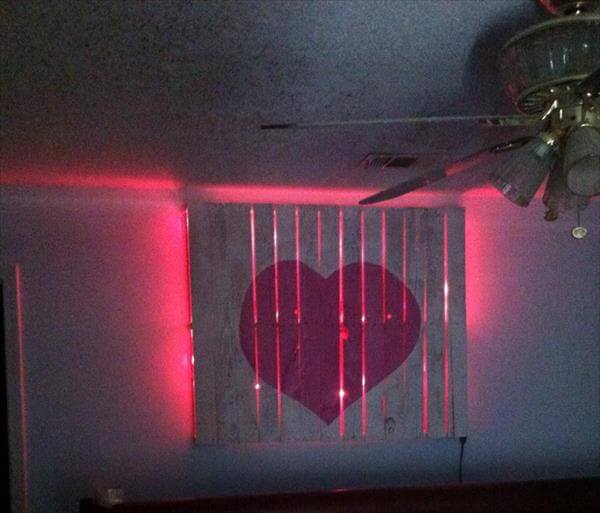 Creative Pallet Idea:
This is a simple creative unit prepared out of pallets for kid's play and other daily tasks. Similarly you can rejoin the odds and bits of pallet pieces to get some more functional out of  them.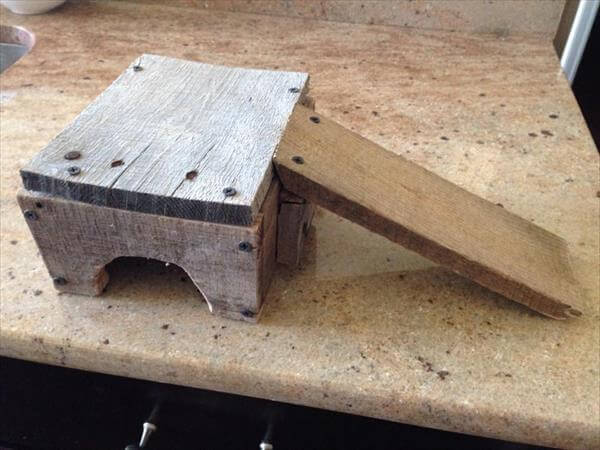 Pallet Table with Shelf Underneath:
This double story frame of table will work great as a showpiece and you can also targeted the both top and lower shelf for decorative purposes. This will also make a great garden potting table if you like to do so.
Rustic Pallet Shelf:
This is simplest but yet functional scheme for pallet wood shelving and provides the perfect opportunities to display you murals, picture frames and other artistic pieces of home decors.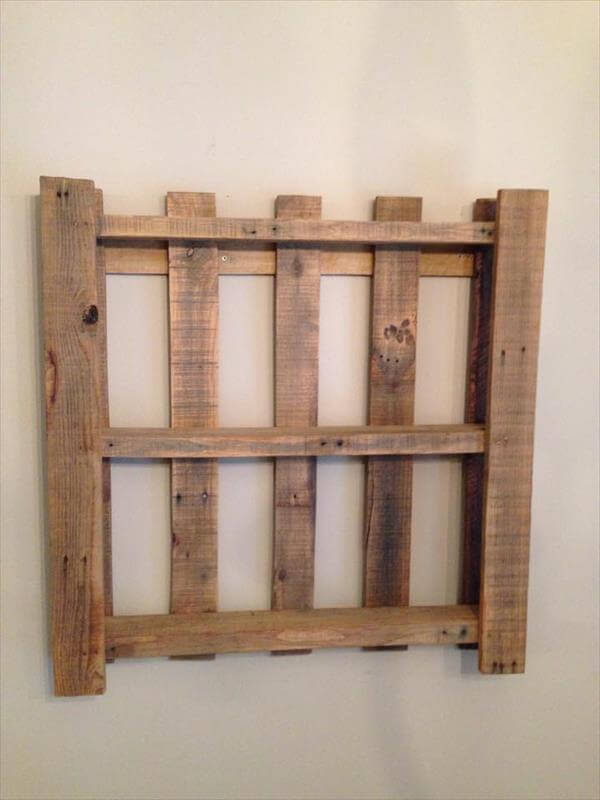 Pallet Mosaic Wall Art with Mirror Accent:
This is really a fabulous use of pallet bits and pieces, a terrific mosaic art pattern has been designs by incorporating the wooden scrap of different wood tones. Perfect elegance and agility has been provided to this subtle pallet wall art by mounting two rectangular mirror accents.