A house is gorgeous and up to date when you have styled each and every section with the equal focus both in furniture and decor perspectives. We know this can be really an expensive task to bring brilliant furniture  and mind blowing embellishments in your spaces that is why we are there with a cost efficient solution to this problem.
And the name of the solution is "pallets" as they come at cost free rates to serve you in both furniture and decor fields in order to make your whole house a perfectly managed space. And with these 20 DIY pallet projects and ideas to your house you can pay individual heed to your different home sections so that they are jazzed up in their functional and beauty roles and contribute a big part to make the whole house look accomplished. Like firstly we have dining sets for dinning rooms of small and big sizes to let you make a choice according to your needs and demands. Then we have pallet kitchen island, console table and coffee mug rack to let you have an organized and well functioning kitchen space. For your dreamy bedroom space we got three simple yet practical and stylish headboard pieces having stenciled quotes and attached lamps along with a small and cute night stand.

For the favorite living part you will witness two sofa designs one with a shoe rack base and other with a unique back and different styles of the coffee tables to let you make an apt choice. Pallet dog bed and bowl stand for your pet, shelves for kids room, TV wall and the outdoor seating with cute sofas are more pallet ideas to get your hands dirty with.
This cute and adorable pallet dining set with a small table and chairs around is a perfect food pint for a small and cute family to join together for food daily and also sharing some gossip bites too.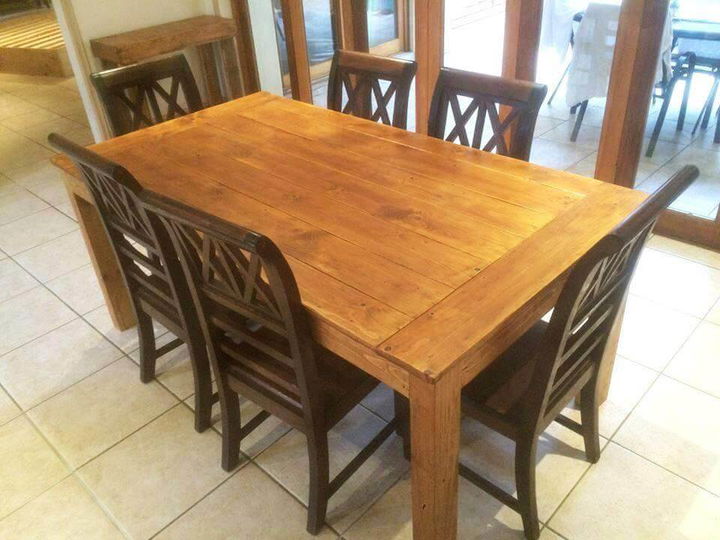 If you think your existing dining table is not fulfilling your needs sufficiently then hurriedly replace it with this big size pallet dining table having a big top and thick sturdy legs and can be combined with the old dining chairs.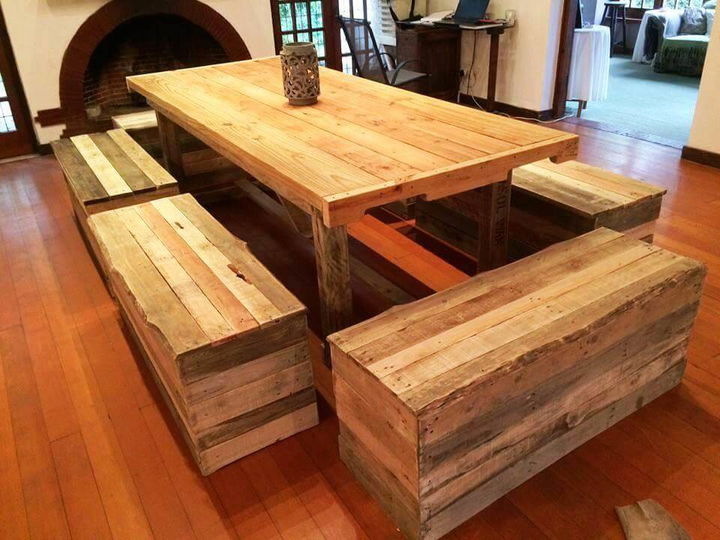 Having a large family needs a large size dining set so that all can cluster around the dining table and share some quality with along with scrumptious food and this dining set is totally a worth for such family with a giant dining table and lots of benches around to have a comfort seat.s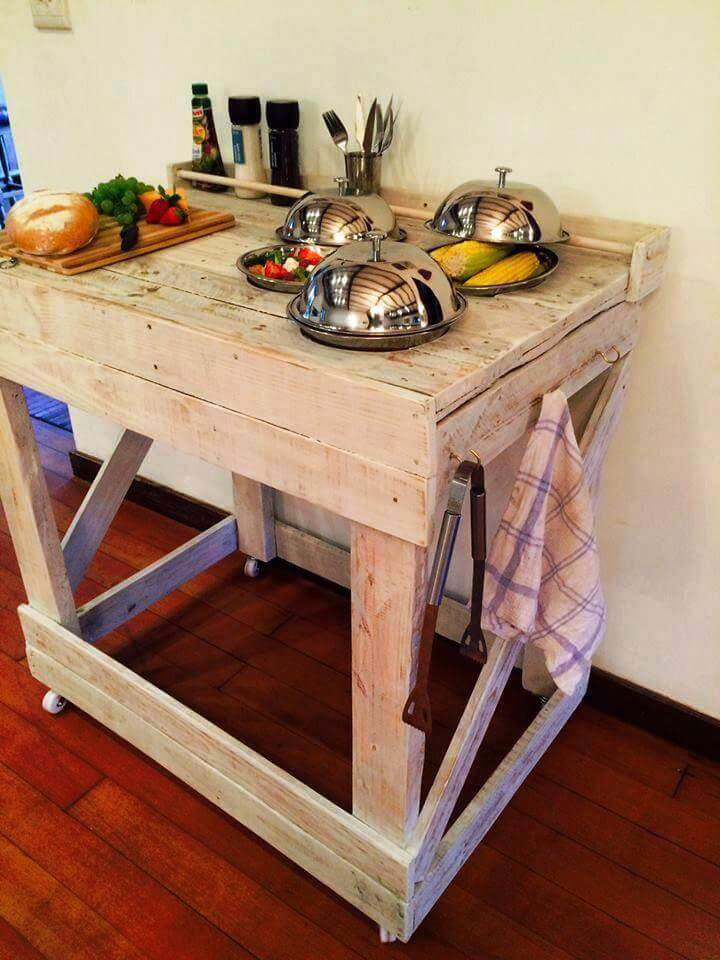 This kitchen island table is really a functional addition to any kitchen having a market bought like design with side cross, two wide shelves to hold a plenty of your stuff and the hooks at side to let you hang stirrers and dusters.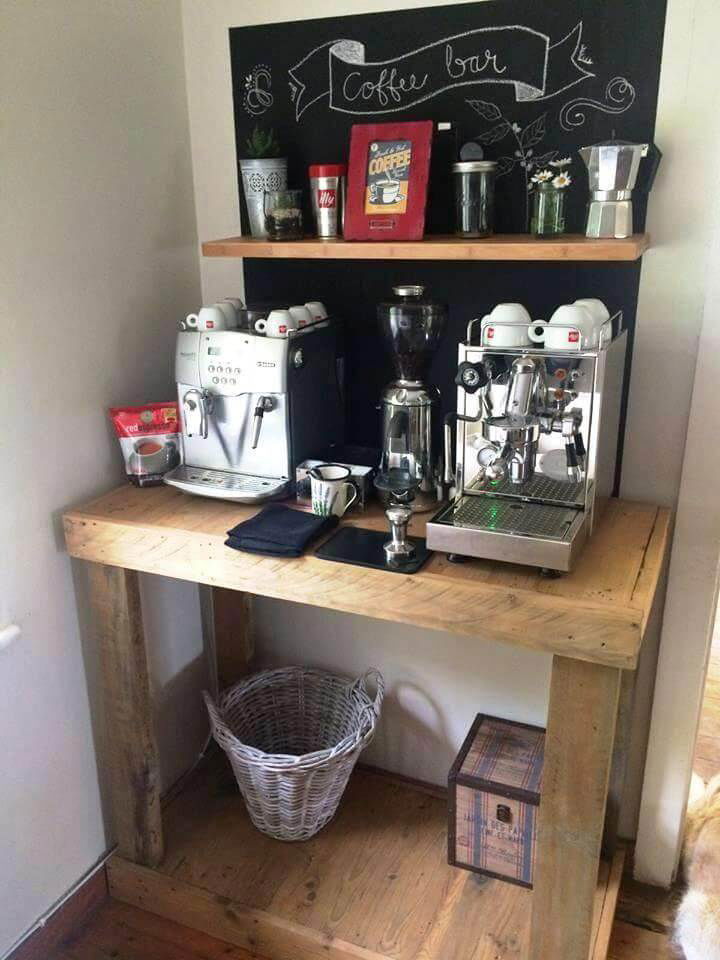 This small yet cute kitchen console table would perform a big functional role in your spaces having two tiers of shelves to hold a bunch of your kitchen apparatus on its shelves and thus letting you enjoy a fully organized kitchen spaces.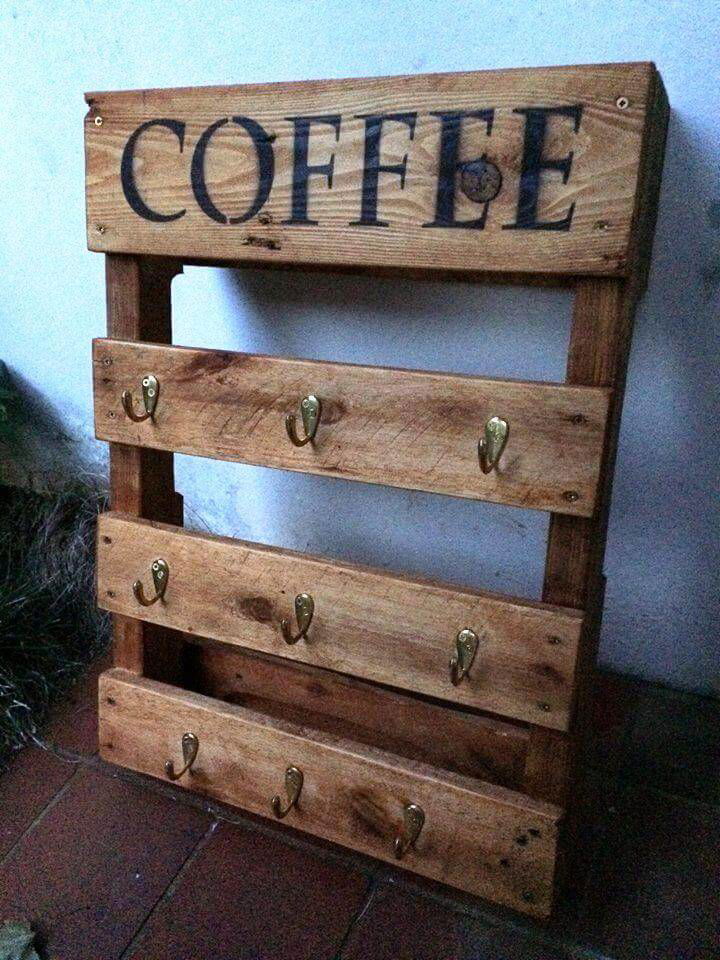 The coffee racks are really functional to have in the kitchens as they nicely hold your favorite mugs and cups on and can be easily made using a few pallet pieces with some hooks.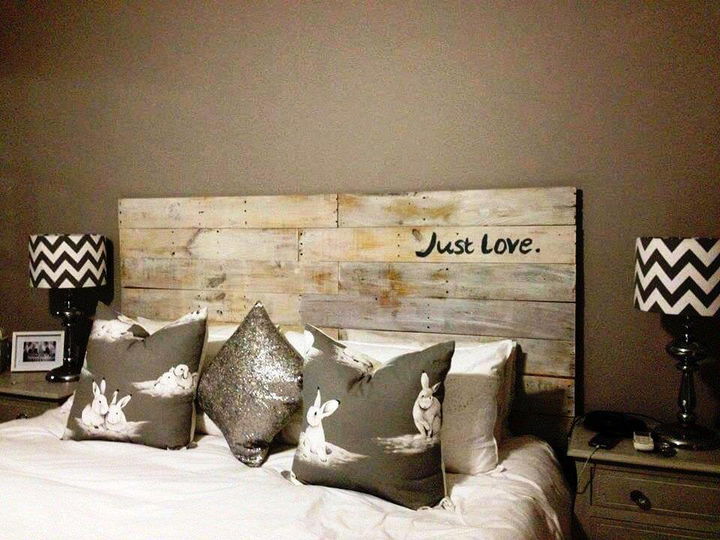 Cutting some long size planks or slats out of the pallets and then joining them together horizontally with nails would shape this pallet headboard pieces up and making it inked some nice stenciled words you can add more to its beauty and style.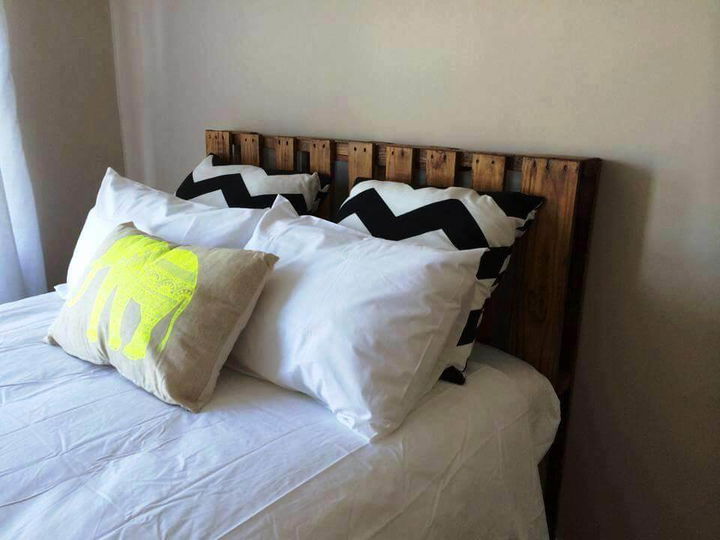 To install this simple yet adorable piece of headboard to serve as the rustic back of your pallet bed, a few pallet cut slats and planks have firstly separated and then stacked vertically to each other with nails and finished with a brown stain.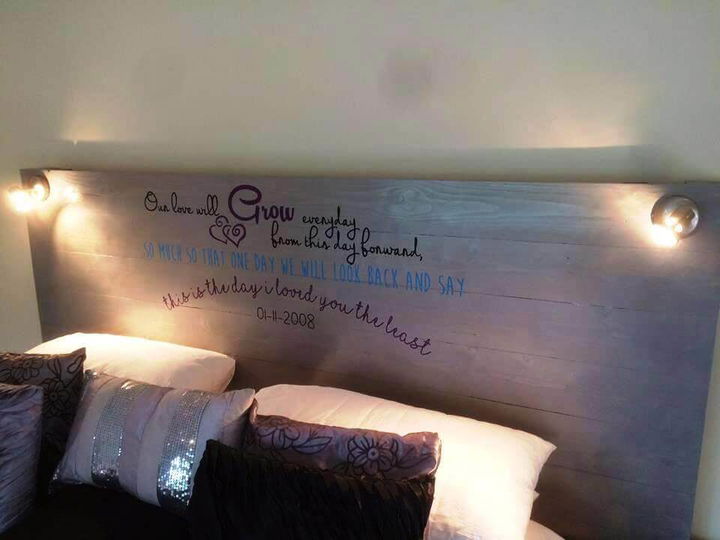 Here is another example of the functional and beautiful pallet made headboard pieces having been made out of the pallet slat stacking method with the lamp bulbs at both sides and some gorgeously stenciled love quotes in the center of it.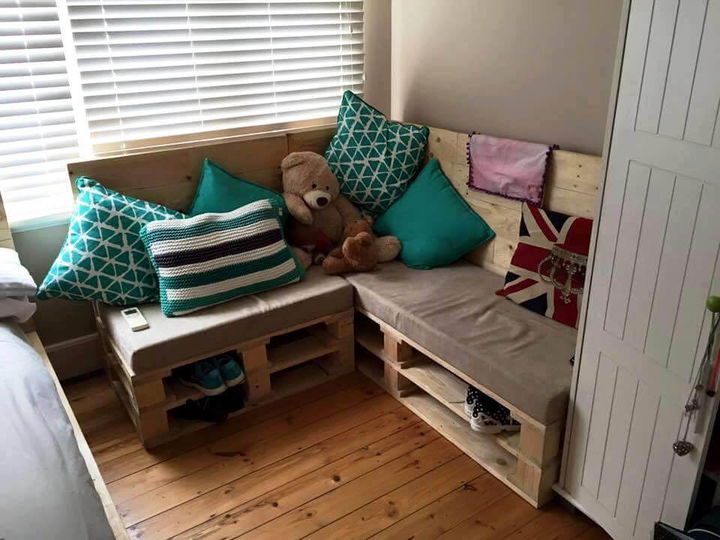 Getting pallet double face skids out of the pallets you can layer them twice and get this double functional sofa that not only offers a comfort seat but a shoe rack space at the base too to hide and store  your shoes there.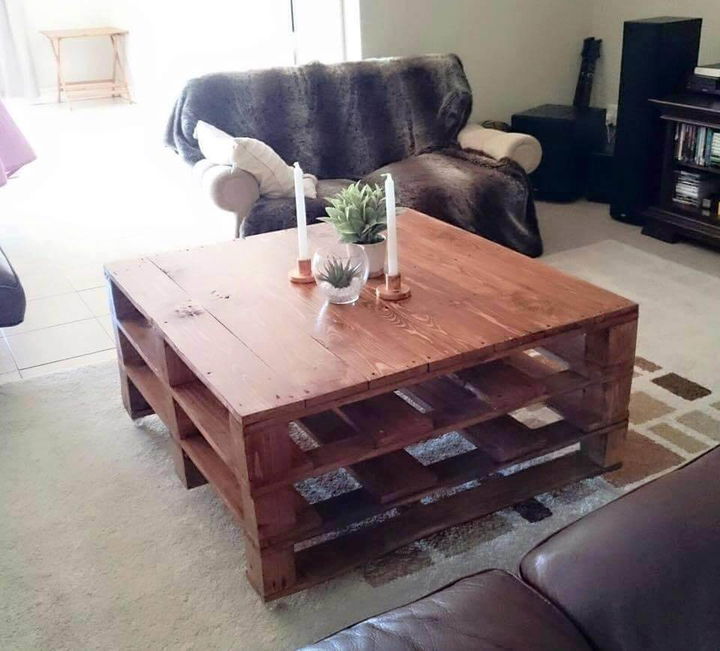 With the four full pallet layering this coffee table has been for the center of your living space giving you a low build square shape coffee table with lots of storage space under it to hold your books and magazines.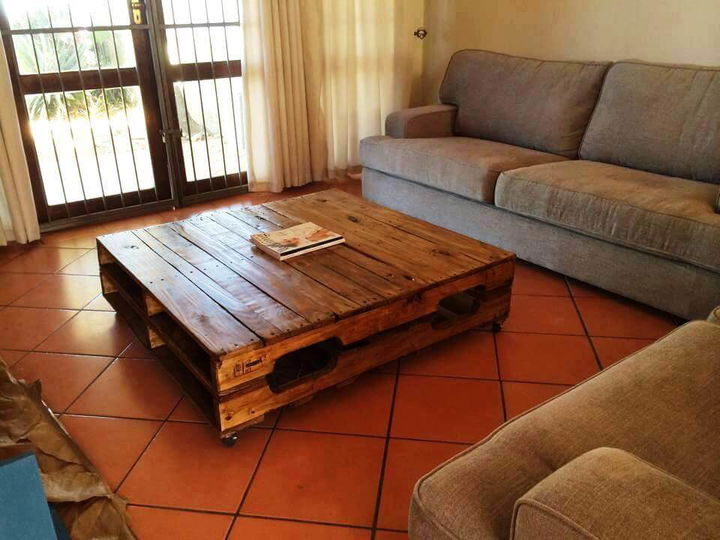 This rustic surfaced yet stylish coffee table piece has been build out of the double stacking of the single face pallet skids to each other which gives rise to the storage space in the middle letting your serve on the wide pallet top.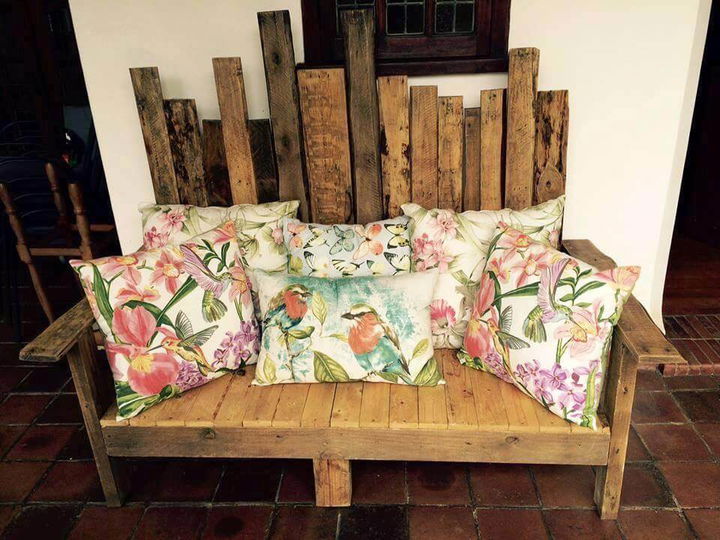 This pallet sofa is same like the other sofas if we look at its arms and the seat but still it manages to look really unique and creative and that is due to its interestingly styled backrest  having been build with the up and down pallet slat stacking.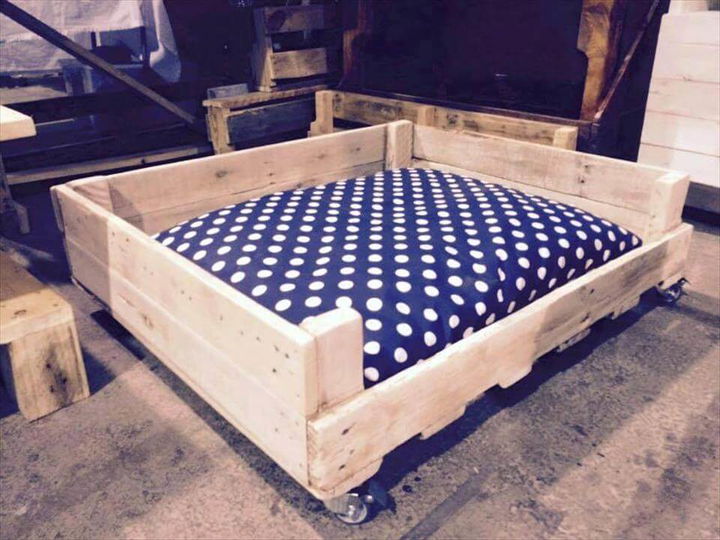 Making the most out of the pallets you can build some really fun and functional things out of the pallets for your lovely pets like this simply made dog bed with wheels and comfy mattress to let you little fluffy enjoy good sleep hours.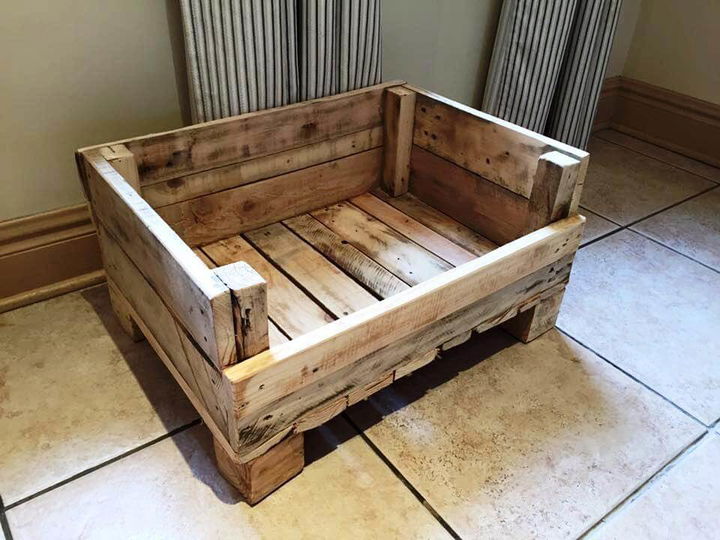 This simple and easy to make pallet bed can really bring luxury and style to your pet's life as he can enjoy a personal space to have comfort sleep in and all it requires is the simple nailing of few pallet slats together with blocks used as feet.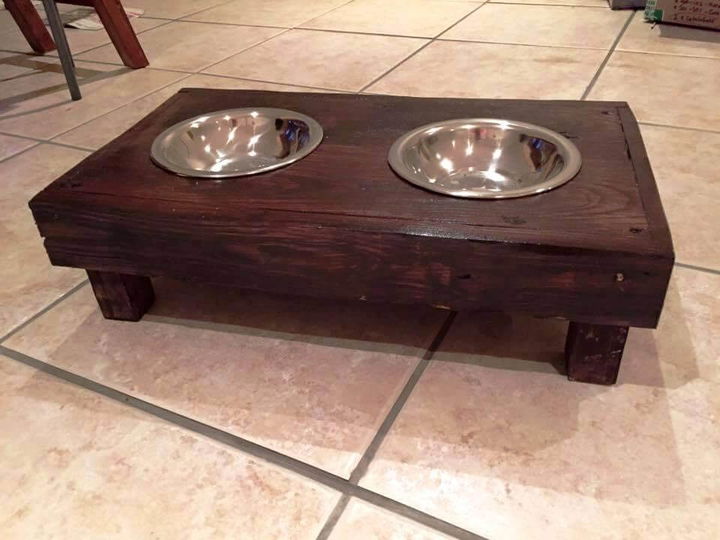 A thick pallet board piece has been carved with two holes in which the steel bowls can fit in which your dog eats and the small size pallet block pieces have served as legs with complete dark chocolaty stain finish.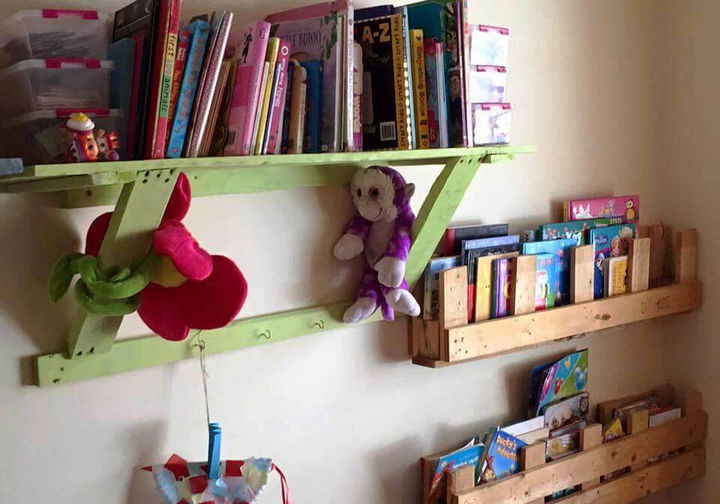 Kids room need lots of furniture things and the shelves are also one of them and these shelving racks have been made out of the simple pallet slat stacking method with nails to hold a bundle of the kids stuff especially the books.
A simple pallet media wall in  any of your home sections can bring some really accent and rustic spice to the decors like this one and they are damn easy to build at home using the simple cut pallet slats and their joining to each other.

The outdoors can also be remolded stylishly with the use of pallets like you can replace your old and boring outdoor chairs with these cute and adorable sofas for the patio and garden space to enjoy comfort and stylish seating experience.