In this article we will just talk about that how you can make your home perform better with pallet wood. We have shared some really stunning and swank recycled pallet furniture ideas here that will really help to get an inspired living. Check out these DIY pallet wood furniture projects to get the suggestions that can double up your home functionality. By recycling of some free pallets and pallet wood crates, we have gained these masterpieces to improve outdoor and indoor segments of home. We have recovered here a DIY pallet playhouse, interior shelving storage unit, a pallet chair and a chick residence for our chickens.
Some pallet crates have nicely been put together to gain a DIY pallet coffee table too for our living room. These ideas really tell the story of great pallet uses that are really needed to get a comfortable living style. As pallet wood is free so you can get them in any required quantity from a dependable resource to target any type of furniture, home decors and outdoor sheds and playhouses out of it.
Pallet Chicken House:
If you are interested in keeping pets or also found of poultry then this rustic chicken coop will work great to house your birds and hens. The entire plan is zero in budget and will take good care of your hens and their eggs. Metal chicken wire has been used to keep your pets safe from the predators and it will also held much functional for air circulation.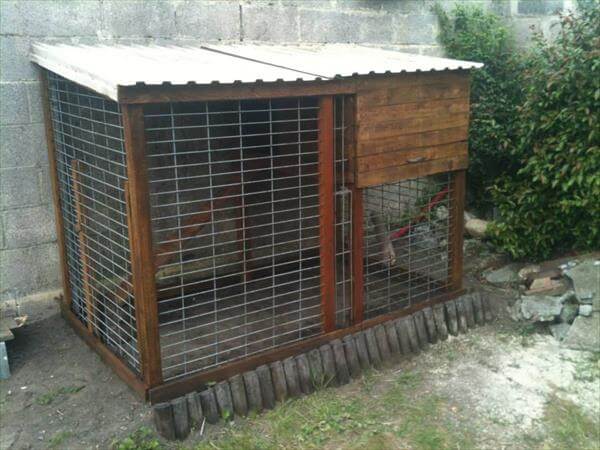 Pallet Crate Coffee Table:
Avail the useful settlement of pallet wood crates to gain a beautified centerpiece for your living room. Side pockets will induce you to get your favorite items stored inside. You can also use the apple crate to get this coffee table to support your seated living room guests.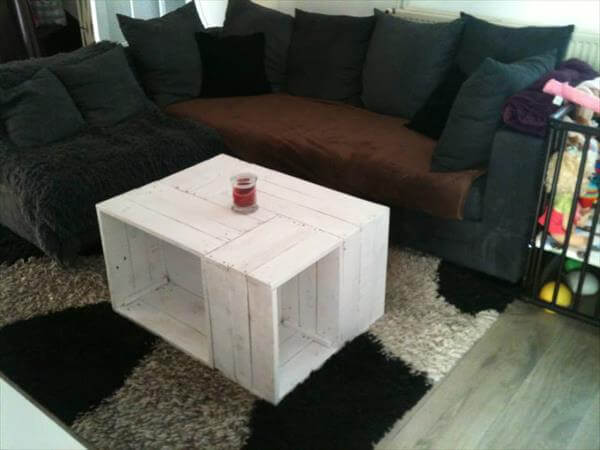 Pallet Crate Storage Shelving Unit:
Pallet wood really feasible for interior improvement plans too, good collection of interior shelves is the basic sign for a cozy interior of home to be functional, you can get beautiful storage plans by using the pallet crates which are much accessible and can also be found everywhere in or around your home.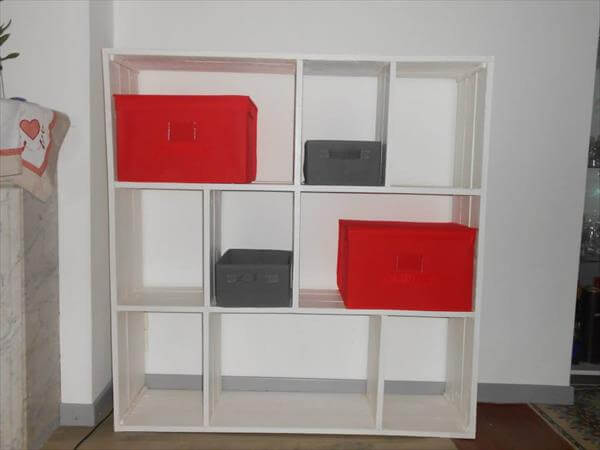 Pallet Playhouse:
Pallet wood may also be used for fun purposes, check this sizzling layout of pallet outdoor playhouse which would be center of attention of your kids at summer afternoons. You can also create the outdoor shed, barns and shelters out of pallet wood and we have also provided great details for each of them.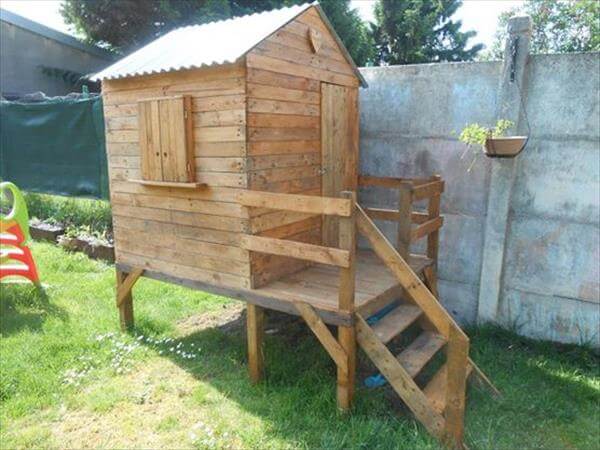 Beefy Pallet Chair:
Achievement of chic and sturdy furniture from the pallet wood is the mostly adopted purpose of pallet wood recycling. There are tons of ideas to get dazzling layouts of furniture from shipping skids. Some genius people around the globe are making unbelievable objects and furniture designs out of pallet wood everyday with inspiring infrastructures and architects. This sturdy pallet chair is just a little bit sample of pallet wood creativity.
Submitted by Yoann MOULART
There is no end of pallet furniture ideas which can change the life of a common man into happier living. These handcrafted designs can release your creative type of imaginations to try something more and extra out of pallet wood.
You can also check out some really stunning uses of rustic character of pallet wood like it can be used for antique wall signs, vintage wall accent pieces and picture transfer wall decors and also as a backdrop for your photography.