Enjoy the most thrifty solution to change the mode of your home front porch into wooden style with pallet wood. This frugal and cost efficient plan totally moves around the pallet wood. Pallet wood is the precious wood tape that you can find easily without any big trouble and is about all free to get desired quantity for home. After a long way duty as shipping wood they become useless and unworthy to those of shipping trade companies and they any how want to get rid of them. If you are in the neighborhood of such a shipping company then you are a  blessed one  in our opinion.
Pallet wood is giving that all household that concerns to wood with DIY pallet furniture ideas, that you can find in plenty on our site. We have achieved the higher and higher the home furniture goals though pallet wood like pallet chair, pallet bedroom, pallet tables, shelves and many cozy storage options like the cabinets and closets. Now we have aim to get renewed our home front porch with this DIY pallet frond porch remodeling project, which is looking weathered and worn.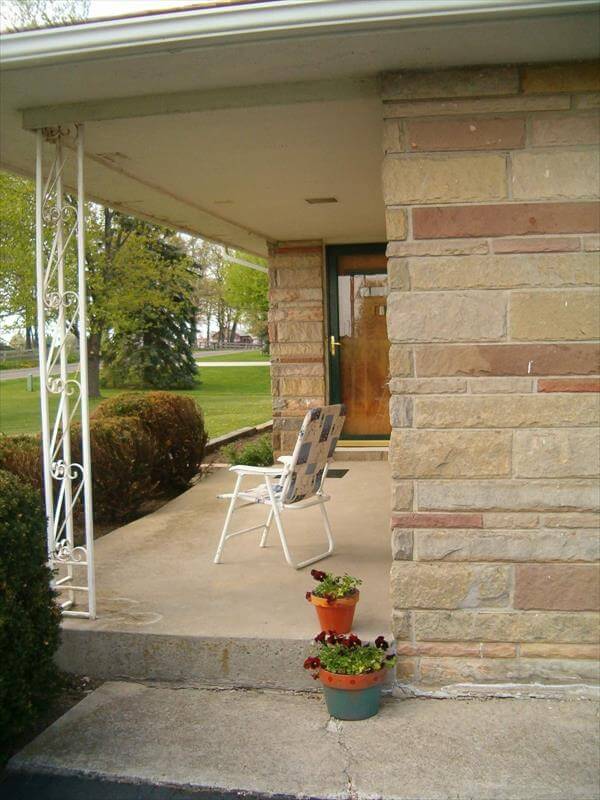 Here is the preview of aged and weather porch have broken up and cracked concrete and door and also the floor, which is looking for renovation too. After reexamining the porch again and again, we found this wooden pallet soution to get a perfect DIY pallet flooring and boundary in shape of DIY pallet railing to have a cool and low budgeted home porch furnishing and restoration.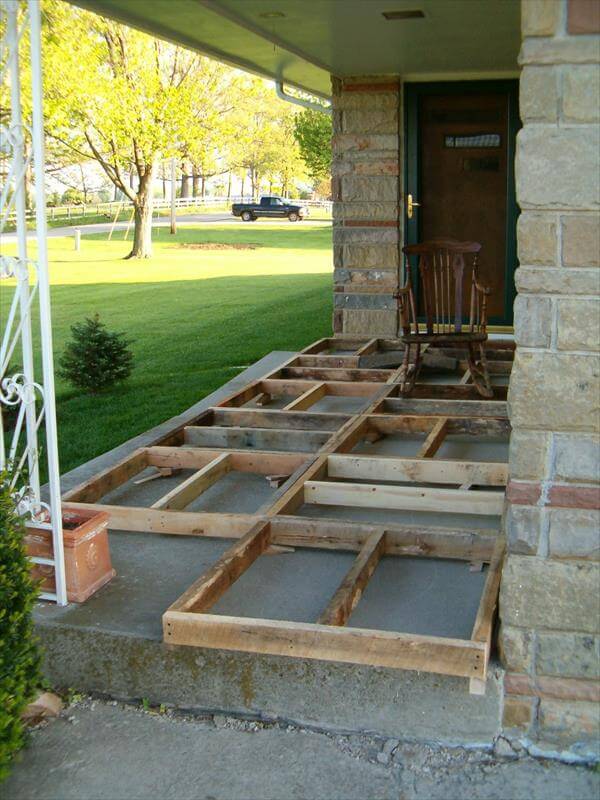 The pallet skids we found were pretty healthy and were in nice wooden shape. We have got these pallet board from very honorable dealers of our village on a very wallet friendly cost and came home with a lot of wood on our car with a smile on our face.
First thing we did was the planning of floor which have done with pallet de-nailed frames, removing of nails is really a piece of hardworking to get the stripped pallet planks to make them fixed again in utilitarian and functional shapes.  Make use of some effective wooden tool like the pallet breaker to separate up the planks from the pallet. This will save a lot of time, strength and wood which is very often to be broken up during stripping. We have get all the pallet frames firmly intermingled with nails to get them immoveable and rooted together.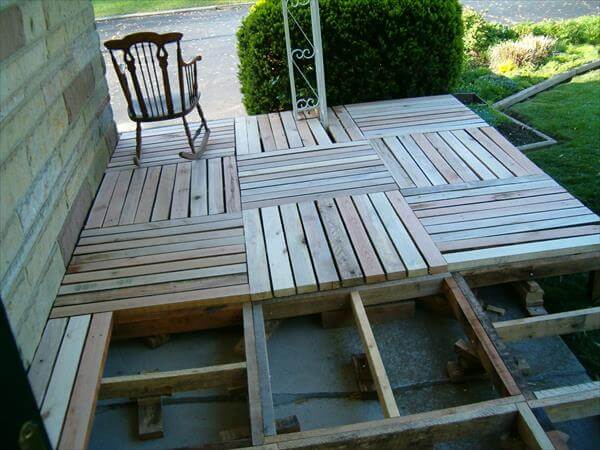 After have a wise plan of flooring scheme, which we have done by going with pallet hollow frames, get them filled with bunch of stripped pallets lengths cut in accordance to dimensions. Our porch was looking as narrow and minimal for sitting, we wanted some more area, so we have increased the pallets beyond the previous concrete flooring to get some more space. Fill each frame as in perpendicular alignment to the previous one to have a nice flooring pattern. Now there are two possibilities to get assembled:
Get them nails with hand hammer and glue to be held tight.
Get them screwed with by making drilling holes at particular areas and junctions, the glue will provide the inner adhesive support to the messed up planks.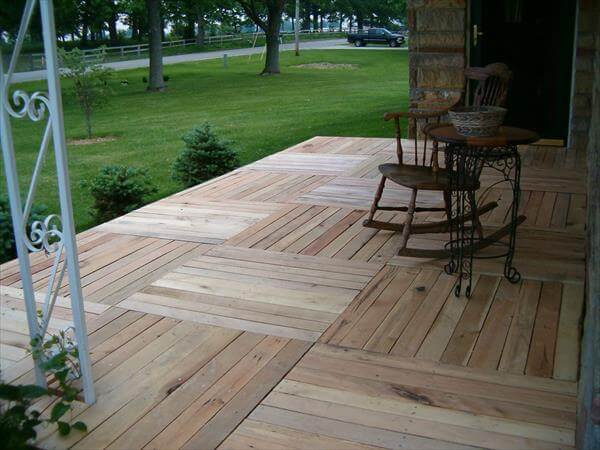 While filling the whole floor plan, check the level of the floor by leveling tool. The planks which we have got in floor should be equal in length and thickness to have that perfect and accomplished chic factor which is most appreciated by being so much visually attractive.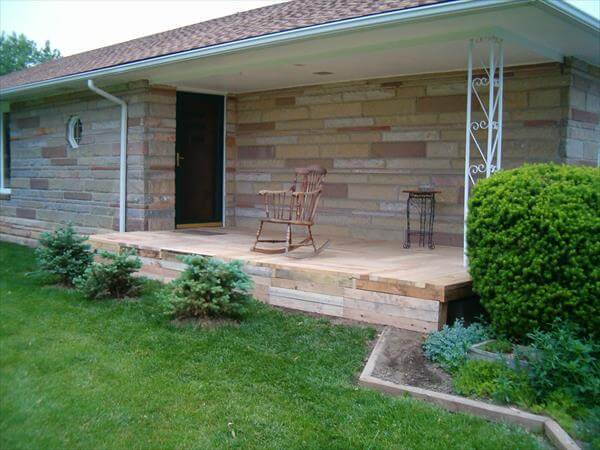 This is the front view of our recycled pallet remodeled flooring scheme which have done to make our porch a center of attention for whole of the home. We have also added some stairs out of pallet wood due to being the floor elevated from the ground surface.
Now we have a serene and open porch platform which can carry multiple sitting plans of chair and sofa. Grab the pallet wood where you happen to find it and get your home inspired with such a great remodeling tips and practical ideas. There is lot more with pallet wood to get a perfectly build DIY pallet garden in front of your home porch.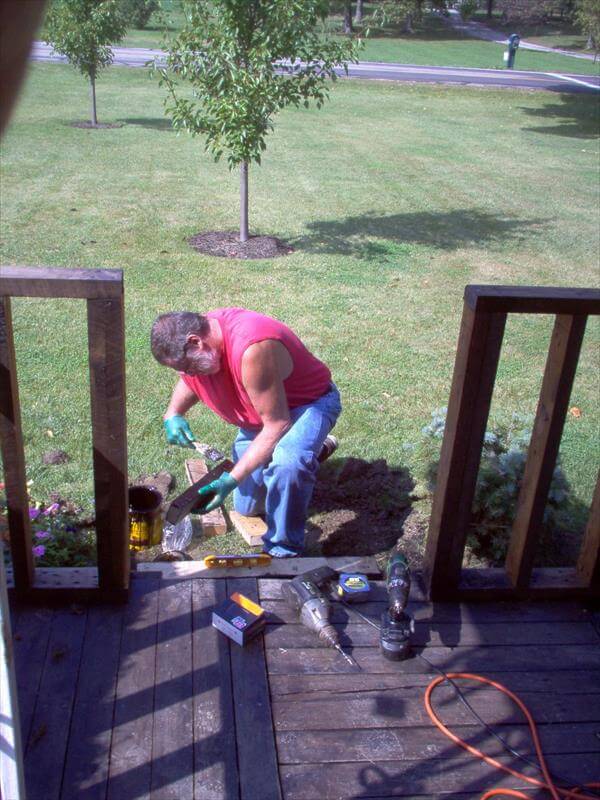 We were thinking to get our wooden porch in that of enclosed shape to make it idealized and modernized. So we planned a perfect DIY pallet railing around the flooring to get a tuned up behavior of front porch and the home too. For this purposed we have chosen the thick sides of the pallet board to make pillars of the railing. First we have got varnished each piece and then fixed it vertical to reform a charming wooden railing.
To get this lot of weight to held vertical you can make use of nuts and bolts and that of metal brackets. Get your family and kids around to help you out in this varnishing step to change it into fun. We have used here a dark walnut shade for overcoming and stunning wooden view.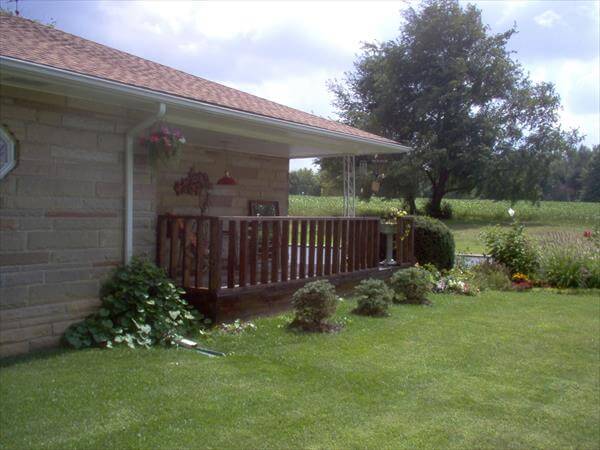 This is all we have got with creative recycling of pallet wood to add a chic and honorable factor to home. Spend your summer holiday to do this highly serviceable modification of DIY pallet porch remodeling and railing project and save a lot of from budget. Pallet wood is hard wood for most of time so the endurance would be lasting and guaranteed for many years to come. Make your self availed with this easily reachable pallet source which has always its doors open for you.