Pallets have become increasingly popular in DIY projects due to their affordability, accessibility, and rustic appeal. The humble pallet offers endless possibilities for creative repurposing and upcycling, from furniture to garden planters and even decorative wall art. To turn those pallets into versatile and functional pieces, you'll need a few essential tools.
As a DIY fanatic, you should already have the basics. Take a look at this article on the tools that every homeowner should have if you have not yet put together your toolbox. Below, we are going to guide you through what you need in particular for your pallet transformation journey.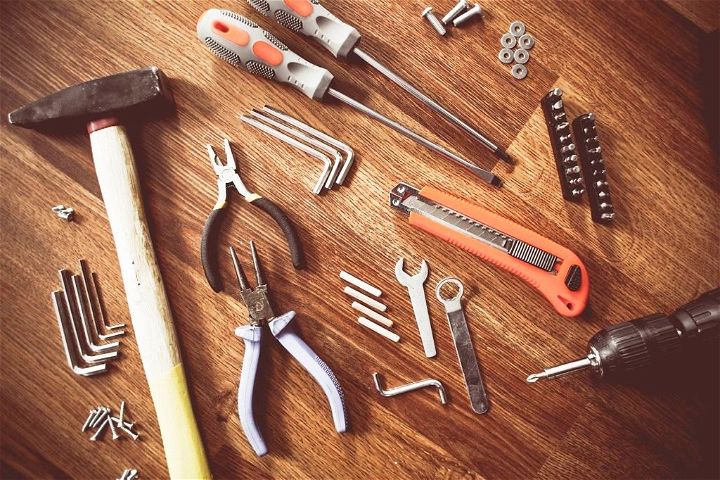 Pallet Dismantling Tools
Taking apart pallets is often the first step in a repurposing project. Here are the tools you'll need for efficient and safe dismantling:
Pry bar or pallet buster: These tools help you separate the boards from the stringers without causing damage or excessive wood splitting.
Hammer: Useful for tapping the pry bar or removing nails.
Nail punch: Aids in removing nails from the wood without damaging the surface.
Cutting Tools
Once the pallets are dismantled, you'll need to cut the wood to create your desired shapes and sizes. Equip yourself with these cutting tools:
Hand saw or circular saw: These tools are suitable for making straight cuts on your pallet wood.
Jigsaw: A versatile cutting tool that allows for both straight and curved cuts, perfect for more intricate designs.
Miter saw: Ideal for making precise angled cuts, this tool is especially helpful when creating frames or furniture joints.
Fastening Tools
Assembling your pallet creations requires reliable fastening tools to ensure stability and durability:
Cordless drill: A must-have tool for drilling pilot holes and driving screws. Choose a drill with adjustable torque settings to prevent over-tightening or splitting the wood.
Screwdriver: Useful for manually driving screws when precision is necessary.
Brad nailer: A pneumatic or cordless brad nailer is great for attaching thin or delicate pieces of wood without splitting them. Make sure to use the appropriate nail length for your project.
Sanding and Smoothing Tools
Sanding is essential for a smooth finish and to remove rough edges and splinters:
Orbital sander: This power tool makes quick work of sanding large surfaces and is ideal for evening out rough spots.
Sanding blocks or hand sanding pads: Useful for reaching tight spaces and providing a more controlled sanding experience.
Sandpaper: Choose various grits (80, 120, and 220) to achieve the desired smoothness.
Clamping and Measuring Tools
Accurate measurements and secure clamping are vital for achieving professional-looking results:
Tape measure: A retractable tape measure is a basic necessity for measuring and marking your cuts.
Carpenter's square: This tool ensures that your cuts and joints are square, providing a professional finish.
Clamps: Quick-grip clamps or bar clamps help hold your pieces securely in place while cutting, gluing, or screwing.
Finishing Supplies
After assembling your pallet creation, you may want to add a finish for protection and aesthetics:
Paint brushes or paint rollers: Choose the appropriate size and type for your chosen paint or stain.
Wood sealant or varnish: Apply a clear coat over your paint or stain for added durability and protection against the elements.
Wood filler: Use wood filler to conceal nail holes, cracks, or imperfections before painting or staining.

Inspiration and Planning
Before diving into your pallet project, you need to plan your design. Design software can help you through the process. Sketchup and Tinkercad are two really great options that you can use for free.
You should also have a look at some of our many pallet projects for some inspiration, whether you need an idea or want to know how to take your own ideas further.
Conclusion
Turning pallets into versatile and functional pieces requires the right set of tools and a bit of creativity. With these essential tools and supplies, you'll be well-equipped to tackle any pallet project you can imagine. As you gain experience and confidence, you can further expand your toolbox to include more specialized tools for your specific needs. Most importantly, remember to prioritize safety and have fun experimenting with different designs and finishes to create unique, sustainable, and eco-friendly creations from pallets.