In the realm of warehouse management, safety is paramount. One of the primary areas where this is most evident is in pallet racking, which, while critical for efficient storage and operations, can also pose significant hazards and risks if not properly maintained. It's crucial that those who work in a warehouse environment are aware of these risks and take appropriate steps to mitigate them. Failing to do so can lead to operational disruptions, damage to goods, and, most importantly, injuries to personnel. This document aims to delve into these potential hazards, from the structural integrity of the racking system to the practices of loading and unloading pallets. In doing so, it provides a comprehensive guide on how to avoid these risks, ensuring a safe and productive warehouse environment.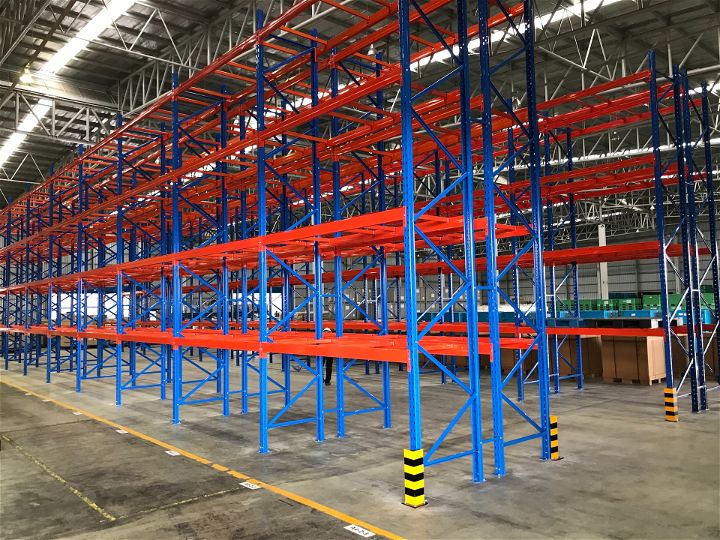 Regular Inspection and Maintenance of Pallet Racking Systems
Routine inspections are paramount to ensuring the continued safety and integrity of your pallet racking systems. By regularly examining the racks for any visible signs of damage or wear, such as dents, rust, or bends, you can identify potential issues before they escalate into major problems. Maintenance also plays a crucial role. This includes making sure that all parts of the racking system, including bolts, anchors, and braces, are in good condition and adequately tightened. The industrial racking frames should also be checked for any signs of distortion, especially when loaded with goods. Additionally, it's important to regularly check the horizontal and vertical bracings of the racks for any signs of wear or corrosion. You want to make sure all connections, fixings, and components are in line with the manufacturer's instructions and up to industry standards. Namely, racking management systems are built according to specific design standards, and it's essential that these are adhered to.
Proper Loading and Unloading Techniques
Safe practices in loading and unloading pallets are of utmost importance in warehouse operations. All personnel must be adequately trained in these techniques to prevent mishaps. Pallets should be stacked evenly and securely, ensuring the weight is distributed equally on the racks to avoid tipping or collapsing. Likewise, when unloading, care should be taken to remove items in a way that doesn't destabilize the remaining load. Overloading should always be avoided, and the maximum load capacity of each rack should be clearly indicated and respected. Understanding the dynamics of load placement and weight distribution significantly reduces the risk of rack failure and contributes to a safer warehouse environment.
Some additional practices to consider include wearing protective gear when handling heavy items and only using certified equipment such as overhead cranes, jacks, and pallet jacks. Also, make sure items are kept away from the edge of the racking system and that all pathways are clear and unobstructed.
Implementing a Clear Warehouse Layout
An organized and well-designed warehouse layout is crucial for enhancing safety and workflow efficiency. The layout should prioritize easy navigation and provide sufficient space for the safe operation of forklifts and other machinery. Wide aisles, clearly marked as safe walking areas, are essential for preventing accidental collisions with racks. To enhance operational efficiency and minimize potential hazards, it is advantageous to clearly designate all storage areas with comprehensive information regarding the merchandise. This should encompass details such as weight and dimensions. Such a practice not only aids staff in swiftly locating products but also mitigates the risks associated with exceeding weight limits and improper stacking.p

Moreover, it is beneficial to establish a no-entry zone around the racks to prevent personnel from accessing them. This eliminates the risk of tampering and accidental contact with stored items and machinery, thus improving safety levels in warehouse operations.
Use of Adequate Protective Systems
In addition to the aforementioned steps, using proper protective systems is another effective approach to prevent pallet racking hazards. Pallet racking protection systems, such as column guards, end aisle protectors, and safety barriers, can help absorb the impact of mishaps, thus preventing serious damage to the racking structure and stored goods. Column guards can shield the rack columns from potential forklift hits, while end aisle protectors safeguard the vulnerable ends of the racks. Safety barriers, on the other hand, can prevent pallets from falling and causing injury to personnel or damage to machinery. It's important to incorporate these protective measures into your warehouse safety plan to ensure a safer and more efficient work environment.
Adopting Warehouse Safety Training and Communication
An essential component in avoiding pallet racking hazards is the implementation of comprehensive safety training for all warehouse personnel. This includes topics such as correct handling and storage of goods, proper use of equipment, and understanding and adhering to safety protocols. Regular safety meetings can also be useful for discussing new safety measures, sharing insights, and reinforcing the importance of safe practices. Clear communication of safety procedures and expectations can significantly decrease the risk of accidents.
For example, assigning qualified personnel to monitor the warehouse and ensure that safety protocols are followed can be a great way to improve safety in the workplace. Additionally, it is beneficial to regularly update staff on any changes or modifications made to the pallet racking system. Doing so ensures that everyone involved in warehouse operations is aware of potential risks and knows what precautions need to be taken.

Use of Modern Technology for Warehouse Safety
The inclusion of modern technology can greatly enhance safety in a warehouse setting. Automated systems and IoT devices, for instance, can monitor the structural health of pallet racking systems in real-time, allowing for immediate identification and rectification of any issues. Surveillance systems and sensors can be instrumental in tracking movements within the warehouse, ensuring that the rules of safe operation and navigation are being followed. Technologies like RFID and barcoding can further streamline operations, ensuring the correct placement of goods and preventing overloading.
While some of these technologies may require an upfront financial investment, they can pay long-term dividends in terms of enhanced safety and productivity. The data gathered from these systems can provide invaluable insights into warehouse operations that can be used to further optimize the system for improved efficiency and cost savings. In case of serious accidents, these systems can also provide critical evidence that can be used in subsequent investigations and litigation.
In conclusion, ensuring the safety of warehouse operations, particularly around pallet racking systems, requires a comprehensive approach. This entails proper training, a clear warehouse layout, the use of adequate protective systems, and leveraging modern technology. By adopting these measures and constantly monitoring and updating safety protocols, warehouses can significantly reduce the risk of accidents, enhance workflow efficiency, and create a safer working environment for all personnel. Remember, a safe warehouse is not only compliant with regulatory standards but also a more productive and efficient one. Therefore, investing in these safety measures is not just a regulatory requirement but also a smart business decision.