A living room is mostly to organize with a sofa set and bunch of chairs as it is a room specified for formal conversations, for part time gossip bites and it also serves as a waiting or guest room to a home! So to make your living rooms enjoyable, we are having here awesome DIY inspirations and pallet ideas that will allow to spice up your living room without getting a bit expensive! Here is a brilliant DIY pallet sofa and coffee table set for living room, done using retired pallets lying useless in neighborhood!
Here you don't to spend hours on boring cuttings, the construction is pretty easy and straightforward and is all about stacking of shipping skids! Clone sizes of pallets have only been piled up to install the beautiful pallet sofa seats and a pallet coffee table, the whole living room set having a cost price equal to zero and comes with a luxurious visual also! Here entire sofa set has been got touch-to-move using hardware rolls!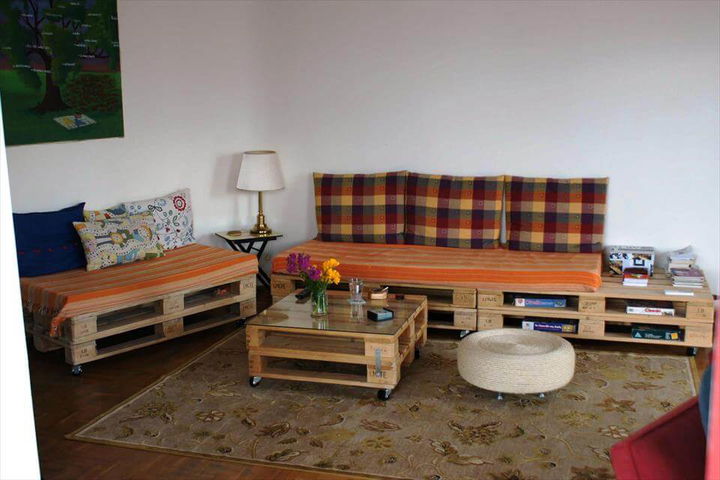 There is a big bonus here that will please you too much while duplicating this sofa, this bonus is the storage pockets where books and custom files can easily be stored!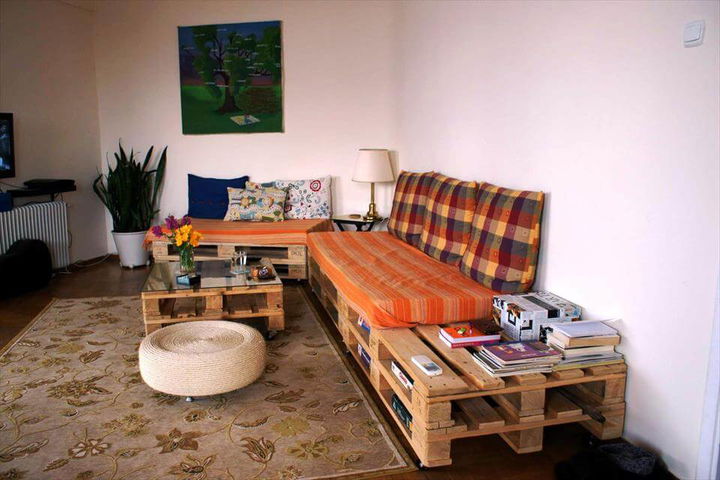 4 Bigger pallets have been piled up for making bigger sofa set which has been left blank a little to gain also a side table as you can see!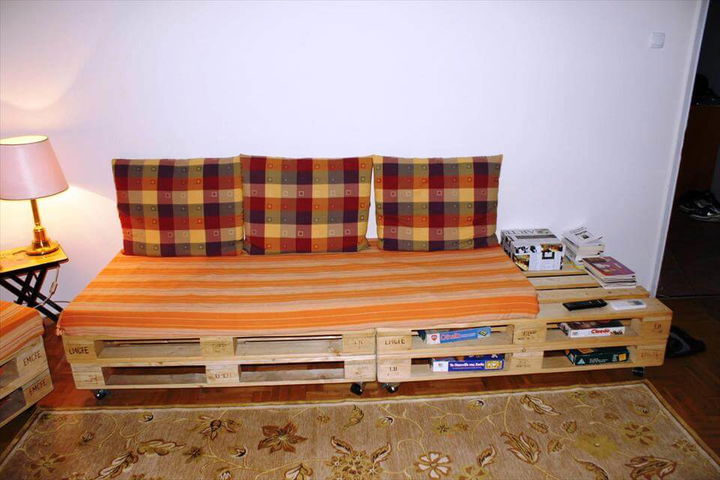 Here a bunk of 2 pallets is the unit to build this entire sofa set including the coffee table!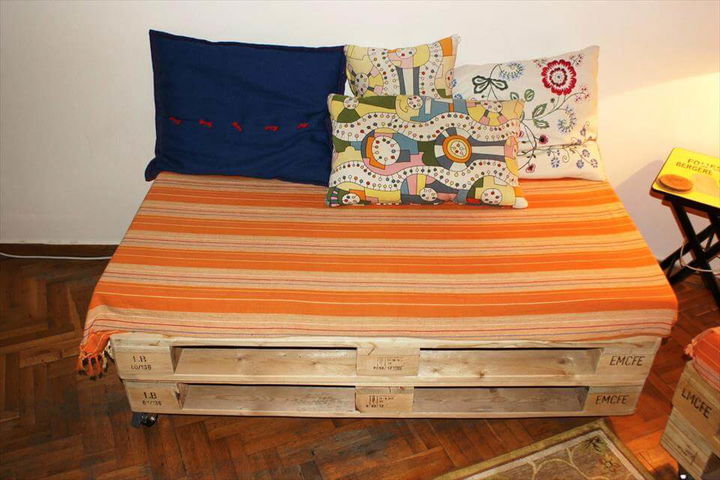 The good news is that you can join all the seats for a study sectional sofa and can also separate them apart at any time for a changed sitting plan!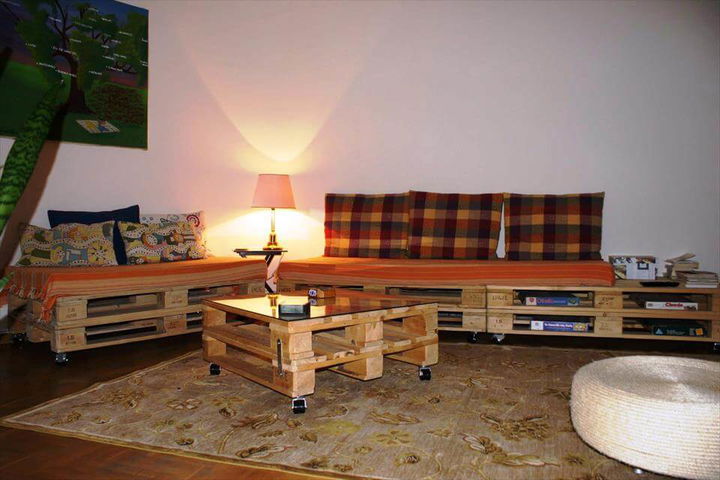 2 pallets have been put together in top-to-bottom arrangements, both pallets have the square shapes to gives a beautiful square top coffee table, glass top and hardware rolls bring an industrial style and modern furniture elegance to entire coffee table!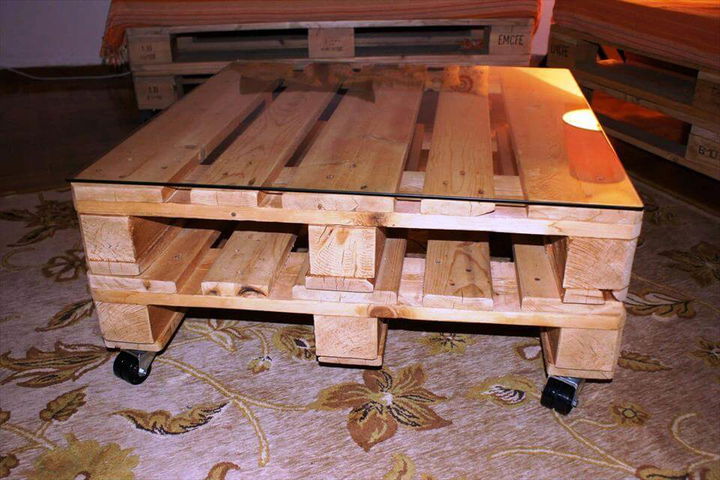 Here is the closed preview of coffee table to understand better the construction pattern!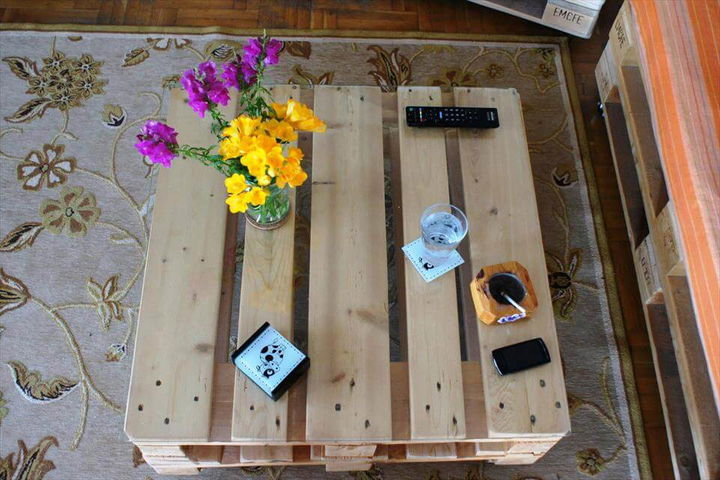 So here is how to avail pallet piles for luxury living room sitting furniture, pallet-made furniture will also be lasting and super stable as pallets are mostly having hardwood compositions!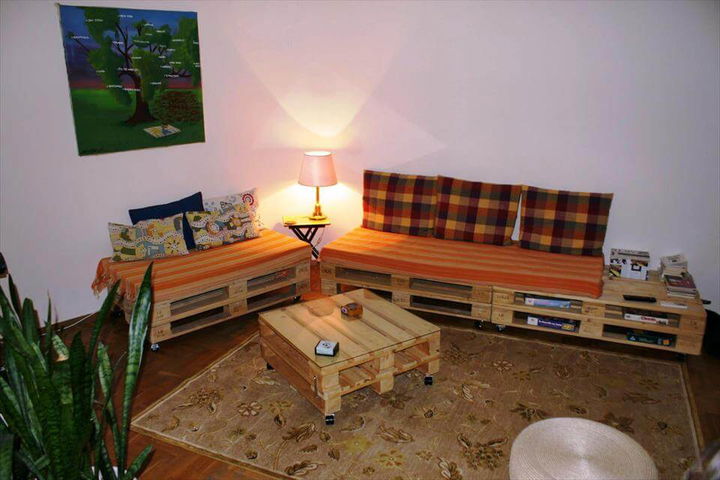 As this sofa set has been done along the sectional living room walls so no need to provide extra backrests, just use cushions and pillows to feel soft and comfortable!
Made by: Έπιπλα από παλέτες