Pallet wood can be upcycled to various chic types of wooden objects. Each location of your home like home front porch, terrace and garden can be improved by using the pallet wood in wise and productive way. Now we have made a DIY pallet flower planter using the pallets in clever way. We want to re-decorate our patio and this pallet planter tutorial helped us a lot to create a unique centerpiece. You can accent the home deck, porch and your garden atmosphere with this chic wooden pallet planter.
Here we will discuss the details about how you can make the pallet wood converted into a chic planter box. This subtle pallet wood planter can be used to create great natural environment to narrow and limited residences. Take a visit of your DIY pallet tool rack and get the necessary tool to get this makeover accordingly in exact and precise dimensions.
Supplies:
Pallet Wood ( Where to get Pallets? )
Water Base Chalk or White Paint
Gold Spray Paint
Glue
Potting Soil
Flowers
Tools:
Miter Saw
Circular Saw
Pry Bar or Pallet Breaker
nail Gun
Paint Brush
Measuring Tape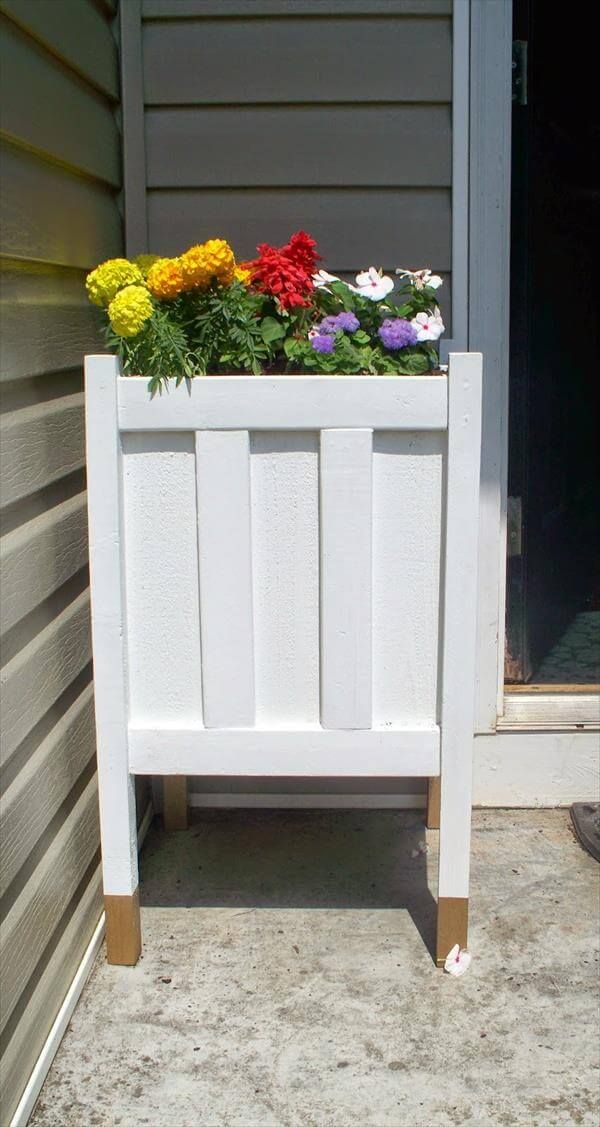 Grow you flowers, herbs or succulent plant in this unique kind of planter, the most amazing thing about this planter is that you can move it effortlessly to accentuate different locations of home.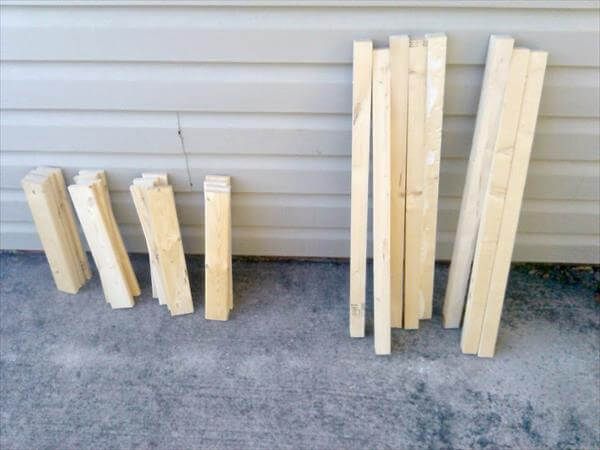 Now get you pallets and make them converted into different sizes like 1x2s, 2x2s and 1x4s sizes to yield this planter plan practically. You cam make us of miter saw or circular saw for sharp and exact type of wood cutting.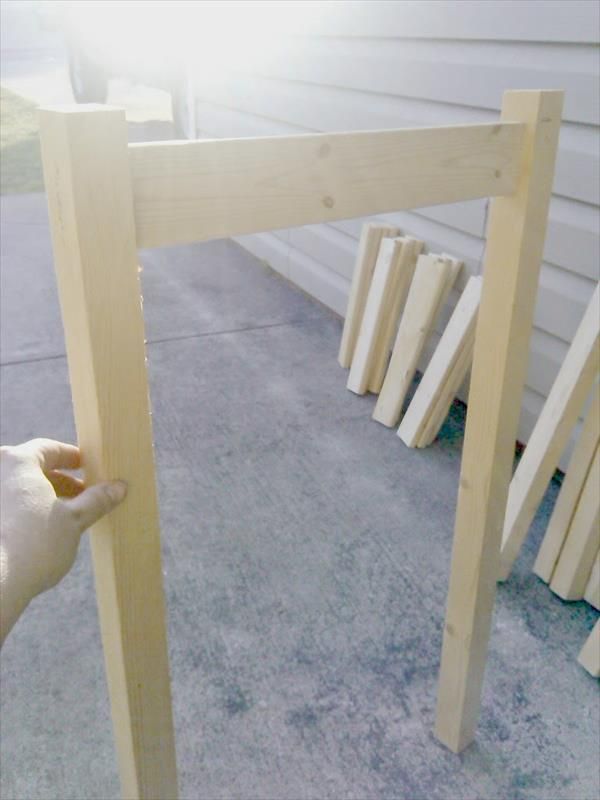 We started our framework by using the two 2x2s lengths and a 1x2s length to get one side of the planter. Just make sure that all angles are square and mid 1x2s length is at equidistant from both sides.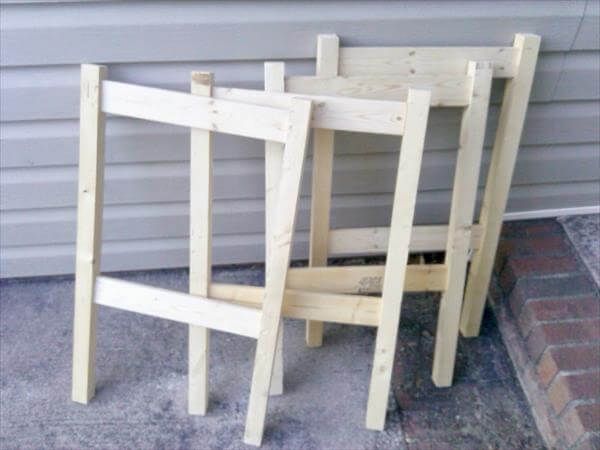 Now use the your nail gun and nail into the 2x2s planks to the end of the 1x2s plank to get side frames for our targeted dimensions of planter. A little bit sanding of planks before you continue the the construction, will give the better results.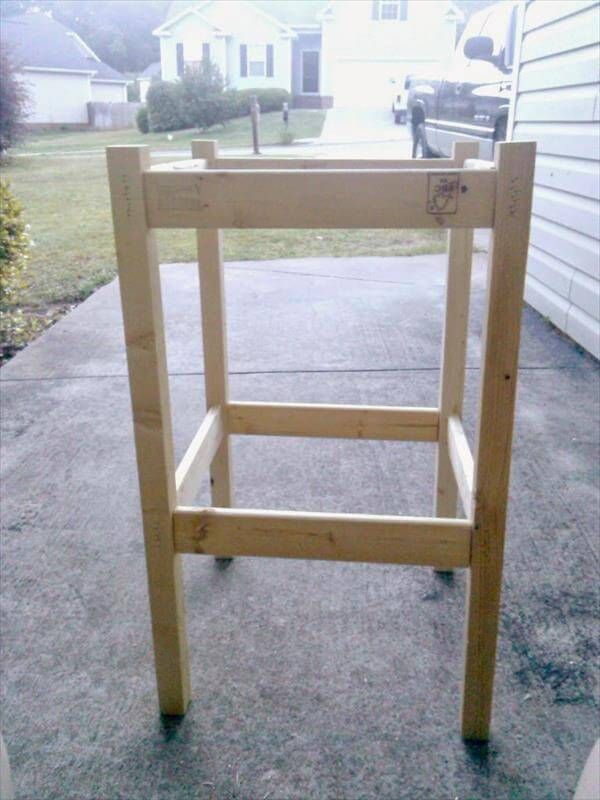 Fix up the sides using the nail gun and glue and you will find a hollow squared skeleton of planter. Now we fill it using the pallet pieces to get a closed appearance of our planter.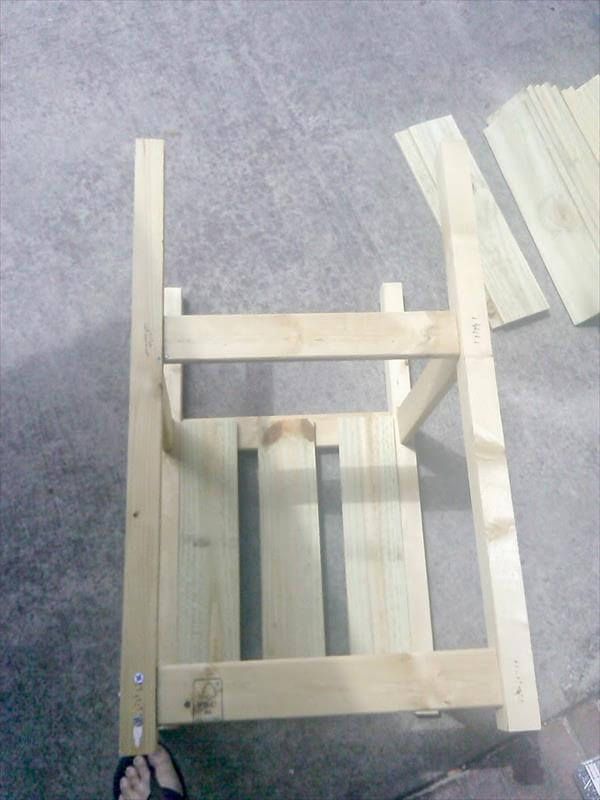 Now we used the 3 lengths of 1x4s size to fill the each side of our planter and we continued this process all around the sides to get a perfect enclosed shape of our planter.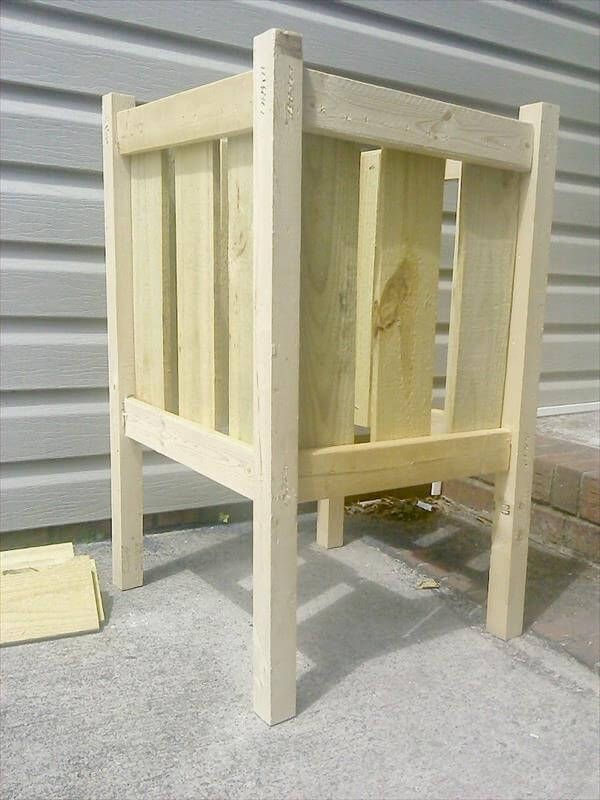 This the display of our planter after fixing up all the sides, you can see still the empty spaces are there, we also wanted to fill them with a second layout of the planks at inside in order to get more sturdiness.
Using the 2x2s lengths we secure the internal corners of the planter to settle the whole architect tight and firm. Then we nailed them using the nail gun and also added the screws where needed.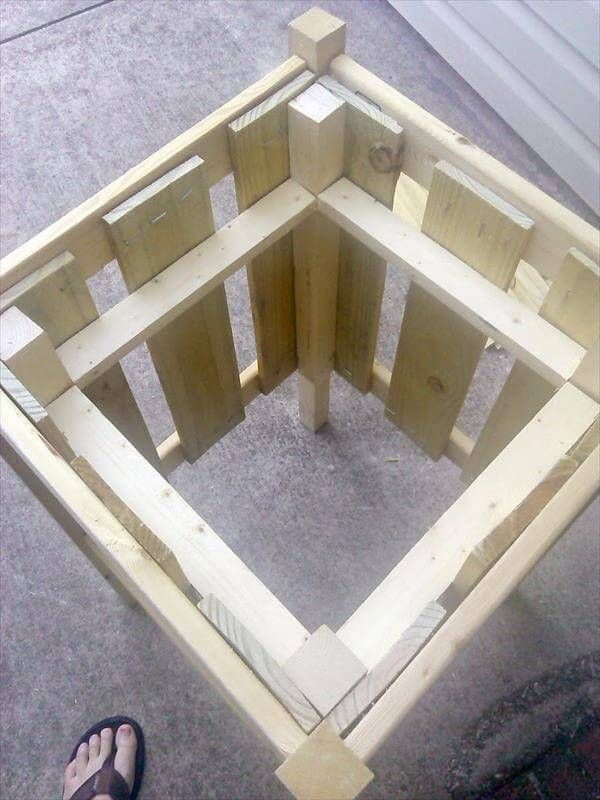 Now the most important of the construction to create a potting space. It really made a little bit creative in thinking and finally we got the plan to sit the pallet down for potting purposes.
using some 1x2s lengths we fill up the internal gaps between the 2x2s sectional supports this really gave us the platform to settle the plank down to create a potting space.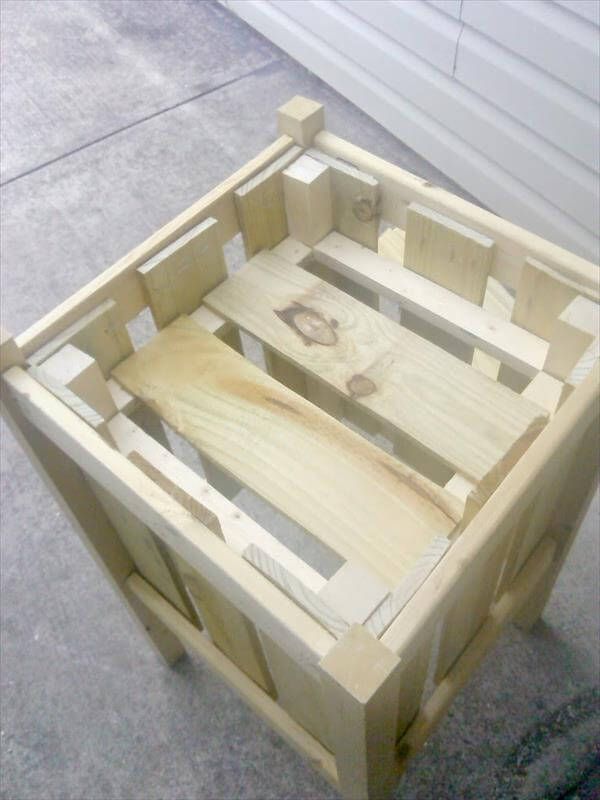 Now we sat down some 1x4s lengths of wood and create a potting space which has still empty spacing. We fill the spacing with an additional layer of the pallet lengths.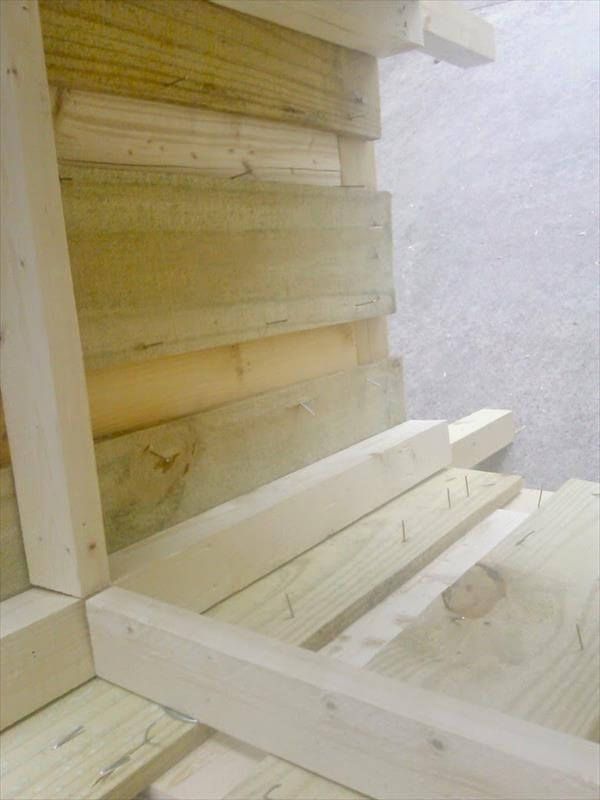 Here is how we filled up the spacing to get an enclosed preview using the nail gun for assemblage purposes.The increased lengths of the nails toward inside really made us disturbed. We want a perfect solution to be safe from them so we bend them toward backside using hammer strokes on them.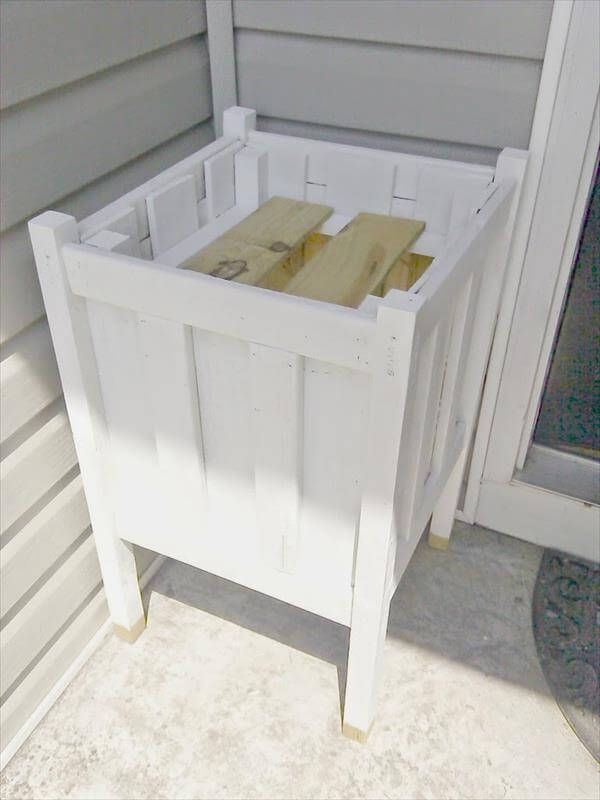 We got the whole setup white washed to have a chic white look and appearance. You can done this using the water base chalk solution and then throw it on you planter layout with using the brush tool.
Now it is just ready to add the potting soil in it, fill it with soil and grow what you want like flowers and herbs. Some empty spaces at the bottom will provide the perfect system for drainage.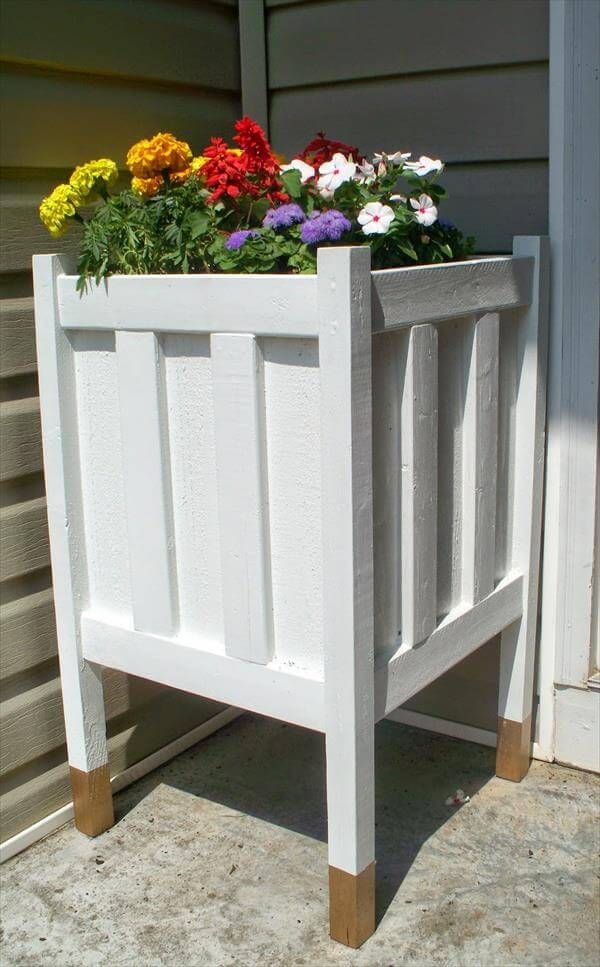 We gave the legs of the planter a gold dip look that really trigger it to eyeful and visually attractive. Finally we got really cool stuff using the pallet wood which is mostly thought a useless and unworthy wooden material.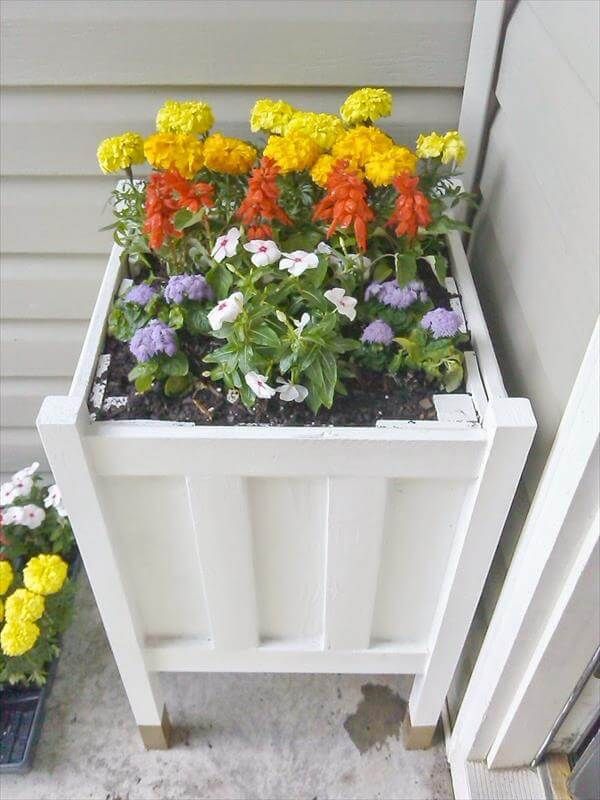 This pallet project is just simple, beginner-friendly and has also a gift-worthy nature. This rustic and shabby chic planter can bring prominence and elegance to any living space and will act as a centerpiece at home front porch and in garden.
Whole this pallet planter is just free of cost and the material you need majorly is the pallet wood which is much easy to find from the local source like nurseries, dumpsters and home backyards.