The media rooms are a familiar and visiting place and are extremely paid attention to carry with some certain styled and fashion standards to hold up your displaying screen and supporting storage. We have also gone for such a beauteous remodeling of our media room by fixing an alluring arrangement of DIY pallet console with some storage able cabinets. The area which has gone for wooden renovation is under stairs and multiple cabinets have been introduced in this DIY wooden project.
The overlay color can be changed to anyone you like the most and will be in accordance to room ambiance to make a appreciable contrast. The idea is termed in pallet recycling and is wise in budget. You can make it finish with any sprinkle or paint brush hue or glow in any desired intensity for modish and unconventional character. The long cabinet rail with drawers can grant any type of storage and allow a reduced and regular styled setting.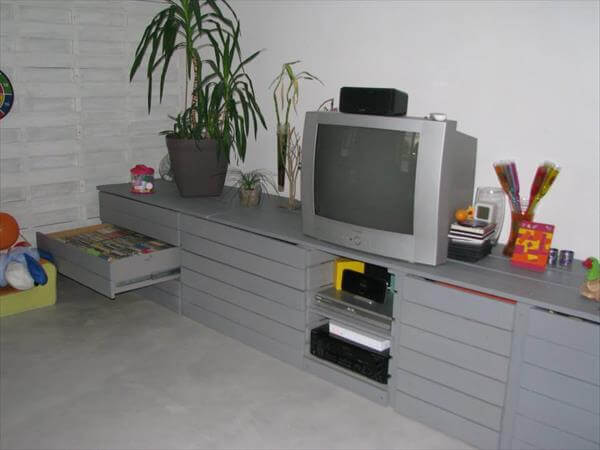 The mid area has been specified for displaying of TV or LCD TV and other concerns will be packed in relevant cabinet made in various numbers. Each separate cabinet has an individual drawer to make a clever storage of conveniences.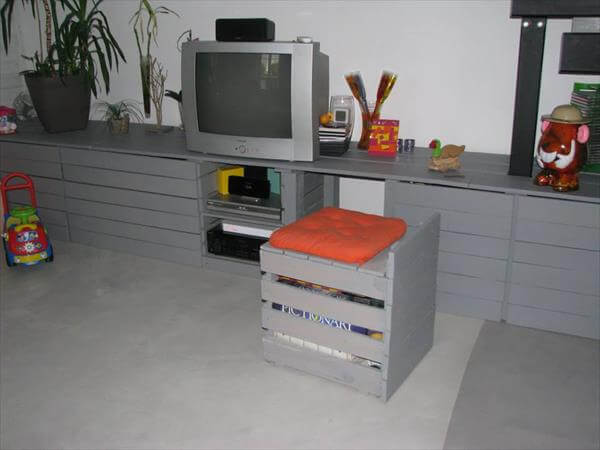 A cool chair has also been retrieved through pallet odds and pieces to have a closed view of your favorite TV transmission and program. You can call it a total room remodeling because the whole atmosphere and theme has lovely new feel due to this wooden framework for media console.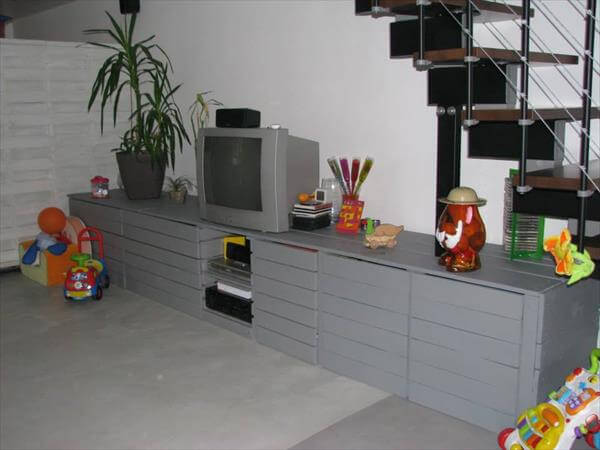 The plan for adornments and knickknacks is always optional and can do in lot stupendous and well behaving ways. The children toys and artistic statues are a cozy option to do this job out of ordinary way. In addition the flowers and pots also another chic options for styled spangle and redecorating.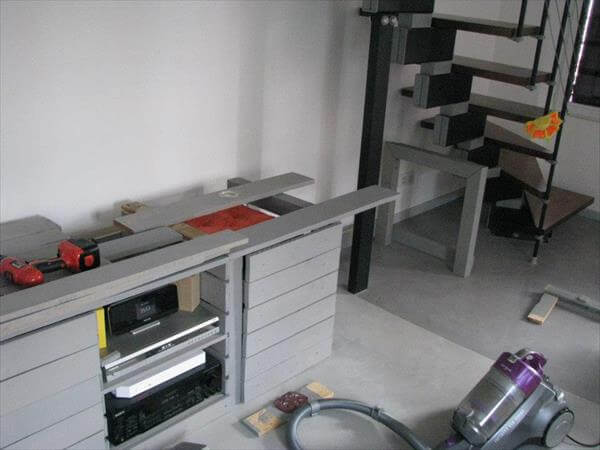 Submitted by : Torpoon Home Creation
Use of wooden and electric wooden tools will provide you a precised work which is the real cause of beauty with hands. A special ledged setting has been achieved to elaborate and synchronize the media as a gallery in between the cabinets.