Let you mansion shine with handmade and creative delights of ravishing household furniture. Give perfect and spectacular sensation to your outdoor with handcrafted ideas of DIY pallet benches and DIY pallet chairs which have been manufacture in different map fittings and in magnetizing appearances. Take a close view of your dwelling and its locations which can go for various fame wining aspects and need and assign each location a perfect furniture layout through pallet wood. The ideas though pallet wood are countless and never ending and also lush with ultra-fashion trait.
Grab your pallet wood and produce a cabinet for well hanging and garnishing of different clothes and accessories in a charming and trimmed manner. Regain your pallet into organized pallet playhouse for your children outdoor activities and playing. There are many cozy DIY pallet projects that take much less time to change the appearance of your throughout home with hand produced DIY furniture. You can add various physical tasks to your playhouse for well physical appearance and growth of your kids, like monkey bars; see saw, hanging and jumping tools, stair and slides. All these can easily be managed through reclaiming of pallet wood delight in so many alluring ways. You should have lust and will to prepare various dominant wood appliances through reprocessing skills to gain luxury on a budget.
Personalize your sitting at outdoor with magnificent pallet chair and pallet bench models. You can also renew the old metallic table and chairs with patching it from wood gained from pallets. We have filled an old metallic frame from a bench with pallet wood and repurposed it for porch sitting. You can also change the mode of your dining with homemade dining table and chairs; this would also be a funky a graceful setting for morning tea and coffee taking purposes with fresh morning air and environment.
DIY Pallet Cabinet:
Collect a bunch of rustic pallet and shift them in this DIY pallet cabinet which can also emerge gracefully in shoes rack or in closet appearance for different variety of clothes and shoes in well organized setting. The doors to it can be hinged and we can add some metallic shine with some hardware item like door handles. The pattern is very long lasting for modifications and customizations.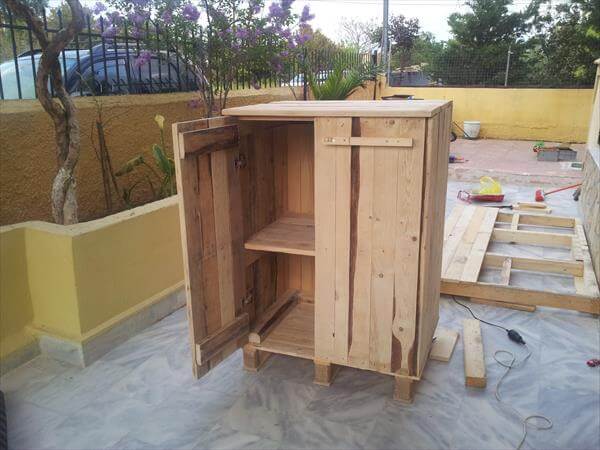 DIY Pallet Playhouse:
Earn this chevron roof pallet playhouse for your children to play with it on a effective cost plan. The whole sublime architect has gracefully done out of pallet wood. It has capacity to fit almost 10 children at a time to play together. Any color and painting to it can double the appearing charm. We have made it firm and technically strong for safety of children.
Also: Pallet Playhouse Tutorial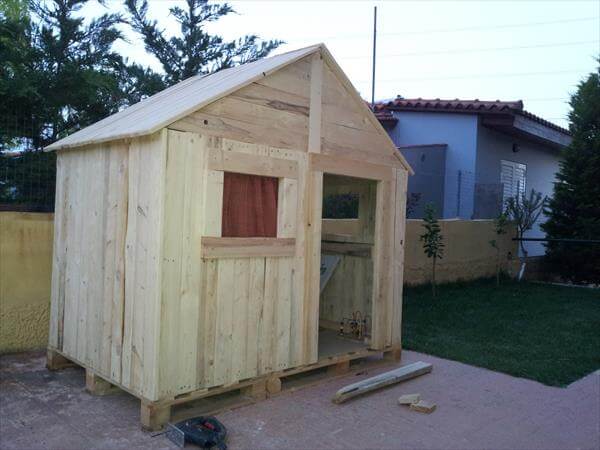 DIY Pallet Sectional Sofa Plan:
Give reason and purpose to pallet wood to be your sectional sofa plan in living room. this is an amazing example of hand effort for seducing layout of room. The table and whole wooden structure can be finished with a varnish wash and glass top on the table. The further garnishing can be done with pleasant and cute displaying accessories.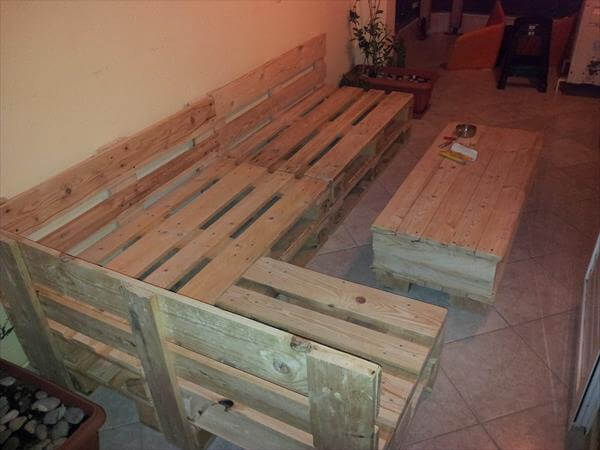 DIY Pallet Swing:
Get relaxed and read your favorite reading novel on this reprocessed pallet swing, it can magnify the entertainment to the peak when hanged in the garden. Go with pallet and find the new one swing in broken metallic chair or bench model in scrap.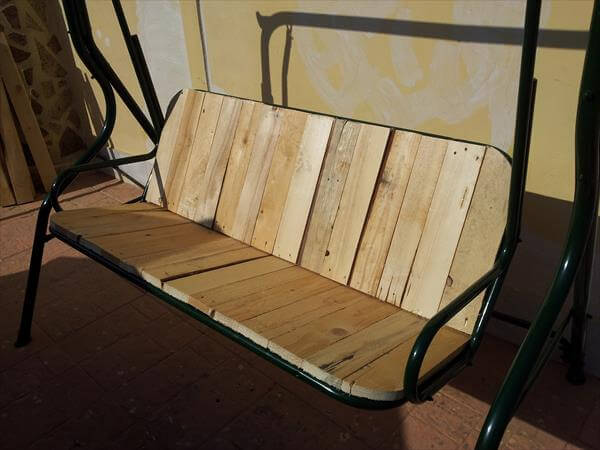 DIY Pallet Table And Chairs:
This handcrafted sitting plan is gorgeously suitable for both entertaining purposes the dining and taking coffee with family and friends in a get together and happy environment. You can seek various home purposes through these rustic and salvaged patterns. We have gone through all wood regaining basic and primary operations of sanding, varnishing, and staining.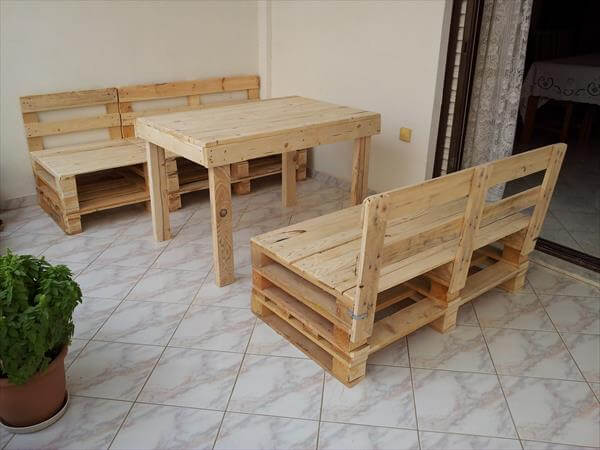 Submitted By: Zacharias Chiras