While being around a desk for study related affairs like to read or write in your note books and also to complete the office or school assignments, it really demands for a sharp focus so your head can stay bent for a long time! It becomes more difficult at night for your eyes to see the words written on your books while need to study something deeply! It always creates a demand for desk lamps which allow the desk user to gain a sharp focus of light on the items under consideration!
For a free but stable lamp, one can go with DIY pallet lamp which is all to make with a few of pallet slats which can be found in everybody's home easily! The lamp stand is all having an arm-like shape and the flat wooden bottom let it to stand alone, the top level ends with a bulb which gain electrical supply from wires passed through the wooden frame!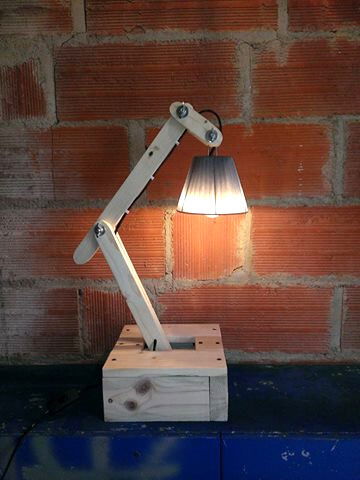 The bolts have been fixed to join any two wooden lengths and then butterfly nuts have been added to tighten the joints to desire extent, the good news is that this hardware system will allow movement in each joint so the user can adjust the lamp for custom focus and light spread!