Tables are most dutiful components of domestic furniture and give great services in home. Coffee table also carries the same worth while we count for its services in home. It not only provide the support to coffee and beverage items but complete the front and mid of any seating plan of outdoor or indoor. Here we are offering a very thrifty solution to get a DIY pallet coffee table with storage for whom who is suffering from a short budget.
The design through pallets came with a nice DIY pallet shelving scheme and we found a great storage space in it for our books and news paper and also for TV remotes if it has to be placed in the living room or in media room. This DIY pallet coffee table has been topped up with plywood for smooth, clean and sharp wooden surface. You can plan for a varnish coating or polyurethane glossy treatment to get it in shiny and sparkling wooden nature.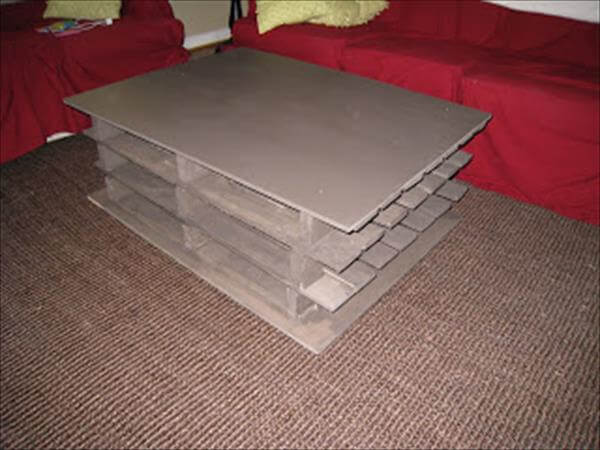 This is the first rustic preview after getting all the table asse,bled with nails and glue. Sanding mostly becomes very useful in DIY pallet project it prepare the wood to receive the additional paint layers tightly and also removes the splinters and cavities.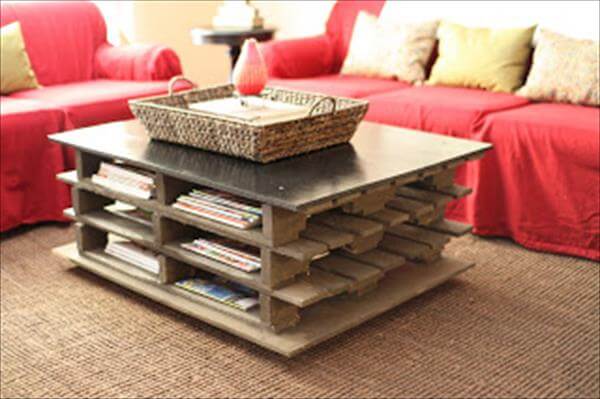 Plywood at the top has been given a smooth flow of surface through varnish coating and looks much chic in appearance. This DIY pallet idea stands for a super cool coffee table designs which is much unique and arresting due to increased edges.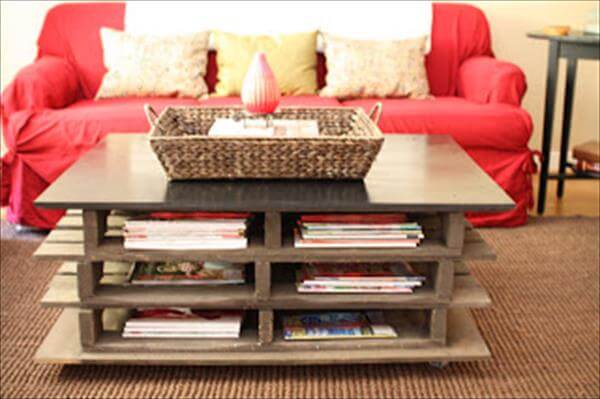 We have got this DIY pallet table in triple tiered shape which provides an appreciated space for storage which can filled up with any thing you want but the books and magazines will look much cooler in these compartments.
We were just satisfied with this rustic nature which can add a vintage feel to any room ambiance but you can mange its appearance in your own way by tons of pastel shades of paint and stain.