Tables are the most serviceable component of domestic furniture and deal will a plenty of routine task nicely. If you really want to have a wooden table without any higher rates like that of industrial furniture pieces, then take a look on this pallet entryway table which is just great to save you money while having sturdy furniture. We are going to introduce to you this DIY pallet and fence panel entryway table which is just a highly creative example of wooden recycling.
The most amazing part of this DIY pallet table that really accentuate the entire designs are its charming legs which have totally been made in unique and rare way. The top has been reclaimed out of fence panels and also contain a great patterned style that can make you focally stimulated. Place this amusing reclaimed DIY pallet furniture at your at your entry with some murals and decorative art patterns over it to really give you home entrance some arresting and chic expressions.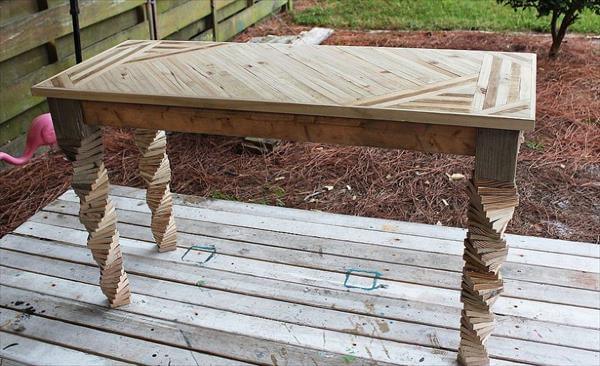 The table is much unique that the ordinary and common mass produced due to its really handsome spiral legs. You can also use it as a DIY pallet side table for your home sofas and couches in the living room.
The fence panels were looking ugly due to unpleasing gunk layer on them so we washed them with soapy water and then started the wooden operation on it like sanding, cutting and varnishing.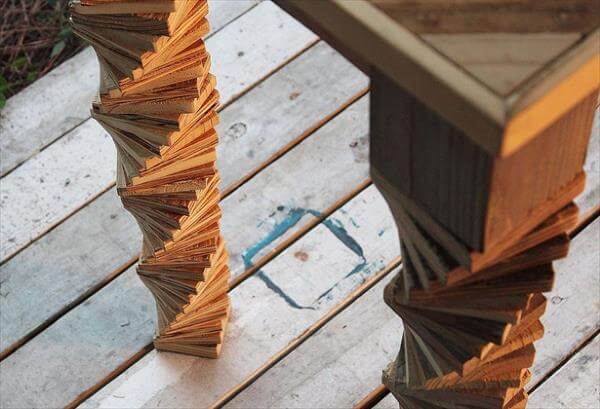 These spiral shaped and textured legs have been made by chopping the pallets into really small squares and give a very subtle demonstration to this utility table.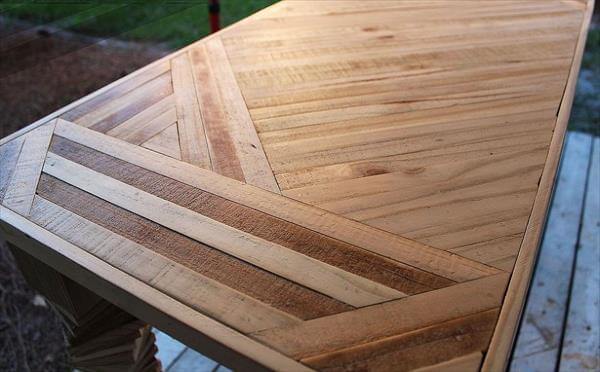 The top has also a very rare and exclusive pattern that really make it extraordinary in its kind. Top has bee repurposed out of some fence panels and has been trimmed to have a charming boundary.
You can give a clear coat of wood stain to empower it with more and lasting strength and the surface can also be sealed using some sealant like polyurethane.
Legs are the mostly captivating and visually attractive part of the design and really make bigger statements of extraordinary and fashionable furniture. You can also use this dainty table at your hall way for home garnishing and embellishment plans.
This DIY pallet desk for getting a no-cost table is really a wise and intelligent example of creative wooden recycling can bring any living space or area to prominence by its overwhelming wooden character.