The pictures and photos are always a great source of pleasure to recollect the old happy incidents and occasions. So they should always need an engrossing and focal point view to be with you as sweet memories. We have a great darling plan to get a perfect mural platform to get a charming view of your pictures in rustic mode. We have integrated a DIY pallet picture display frame to get all stylized to make a terrific and handsome preview. Some name letters have been inscribed to show the name of picture gallery whether the pictures belong to family or friends.
To make it more mellow and loveable the clothe pins have been attached to hold and release the pictures. We have adhered these clothes hangers with glue and the whole inner assemblage of the board carry the same type of inner adhesion. The board can be sanded or stained to have an appreciated dark shade to compliment greatly to the wall with best and admired wooden charm.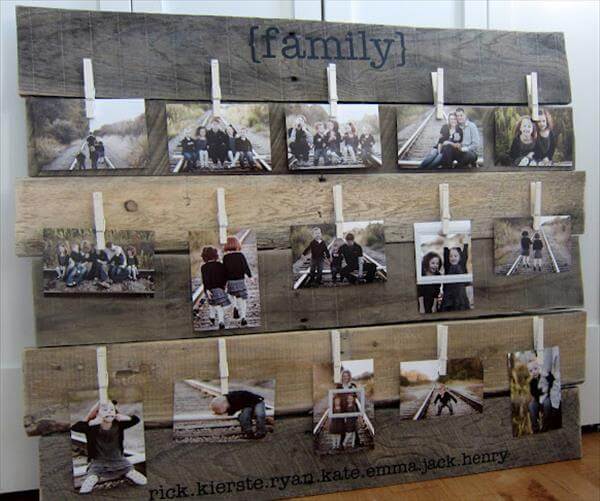 It is a durable and cautious picture display plan you ever heard about. We go for a very light expenditure or budget plans if our DIY pallet projects which are reachable and affordable to every one and it is very often when they are free of cost.
A one pallet skid would be enough to make this whole plan dream come true. If you be successful in finding the pallet wood which is most common in these day then get it stripped and separated up to get a bundle of individual planks. We have also done the same and have stacked the separated apart pallet in a square shape board with glue.
We have added the two wooden strips and planks support to get it for a long long time. The back support with wooden planks have been given with nails and glue and is very useful to facilitate hanging of it on wall. To make it well mounted many plans can be though for example you can add hooks, or wire loop at the back to have it hanged on stuck nails.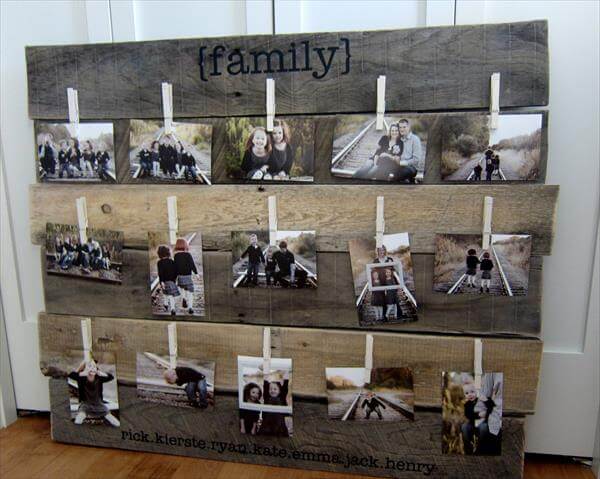 You can also buy some hardware hanging system to get it truly and aesthetically on your home wall accent for charming display of your past memories. The cloth pin idea is to after a great mind effort and supervision. You can replace any picture any type by just making the push on cloth pic to get a picture out or in.