Drink bottles, glass jars, odds and ends of wood and other discarded items are mostly end to home dust bins and dumpsters. However, you can create unbelievable pieces of art and wall decors out of them, still not believing on it, take a look on these DIY pallet wall decor ideas for great wall signs, vases and art. Here is how you can make the useless things useful again. Hang some mason jars on the pallet boards using the hardware clips or hanger to gain beautified setup for wall vases, candle lanterns or a stunning setup for your unique storage needs.
Reclaim the pallets for beautiful DIY pallet wall sings that really create a festive blend you home blanks areas just like this pallet star sign. Reuse some old glass bottles and hang them on handmade pallet units to gain a bundle of flower vases out of them to magnify your garden decors and accent. You can make simple boards out of pallets to write some custom name letters, love sayings and even the family rules over them.
Pallet and Glass Jars Garden Decors:
Use the old glass jars and bottles to get a beautiful pieces of flower vases out of them by just mounting them on wooden lengths of pallets. If you use the candles in them these all can be turned into beautiful luminaries.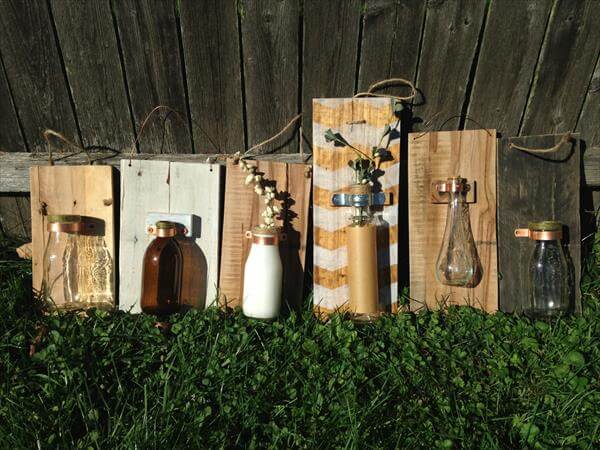 Pallet Mason Jars Wall Vases:
Glass jars can easily be obtained from home as the mostly contain the baby food and pickles which are mostly used items in home. Reuse them after getting empty to make these beautiful wall decor centerpieces. Hardware hangers have been used to hold these items of decors and use of rope has been made to make them appeared in vintage and rustic appeal.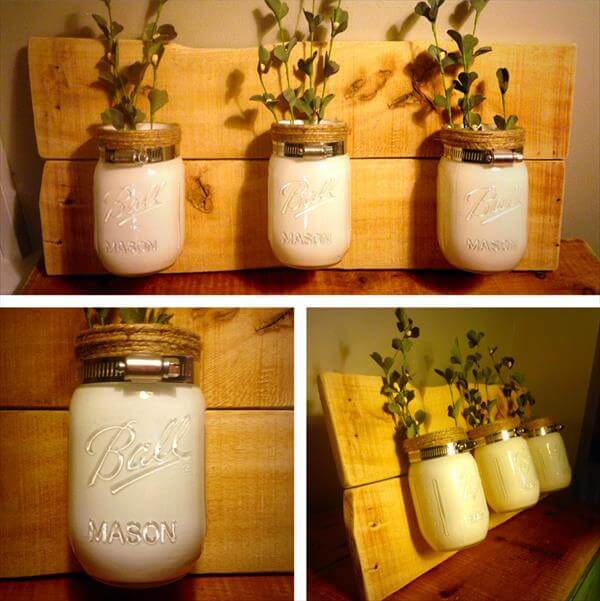 DIY Pallet Snowman Wall Art:
Create you favorite shapes and design by assembling the pallet lengths into a board shape. This snowman wall signs will be terrific addition to your outdoor wall in chilly season. These wall art can also be used to show your interests and other curiosities.

DIY Pallet Wall Sign:
By getting a board shape from dismantled pallets you can create much more fabulous out them. This chic ribbon star has been created by fixing the nails first on already sketched pattern of the star. By using this nice tip you can create many interesting shapes and also the name letters for your wall decors. Use of baker's twin, rope, and ribbon will be best to be wrapped around the fixed nails.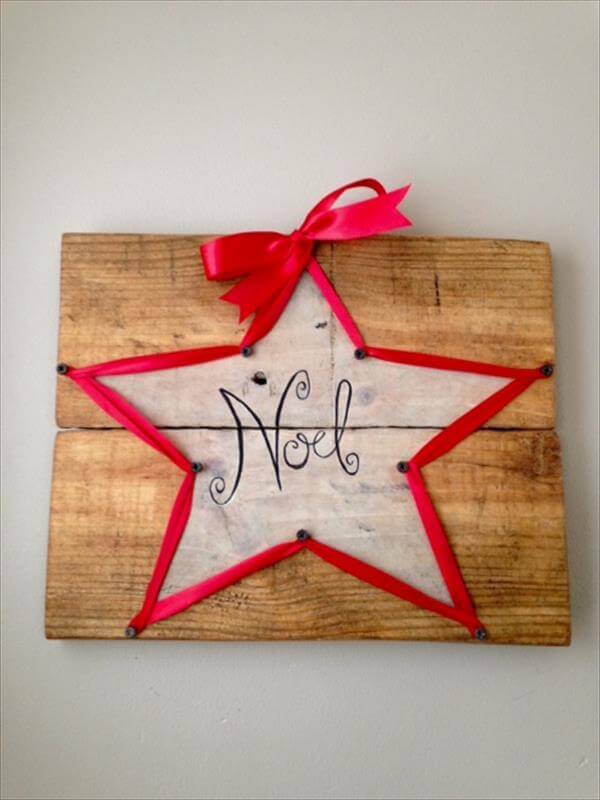 Submitted by: John Golden
These amazing DIY pallet furniture ideas will exclusively favor a rustic or vintage lover and also the person having a mediocre income. We have also created the DIY pallet maps for wall decors and also much subtle kinds of DIY pallet wall clocks that is another way to get your wall more dignified along with perfect utility purpose.
Search for some dependable resources to get the pallets as it can make your home to perform better that ever before.