Of course, that is obvious that you would be well familiar with the construction of lots of bed designs made from pallets. Now it's time to wish more from pallets for more broadcasting effects and ornaments and luxury needs on a budget. We have selected a pallet bed model with light lamp to it which is fixed at some angle for healthy way charm and trend to it. You are thinking it strange and tough to do that but believe us this is super quick and fast tutorial with pallet to make pallet bed with stylish light lamp. For dead need of shine and wood glow we need pallet in well form with new wood look.
So start your work with making of pallet bed so easy to do, take two pallet and sand and stain them finely with some sand paper and staining product. It is better to have pallets with some industrial stamp on it, to have satisfaction that this not chemically harmful and is environment friendly for more cozy effects and impressions.
Now join the two pallets horizontally and place mattress on it and your bed is done with pallet, take care of one thing that you should build sides of pallet bed frame strong enough to handle some weights.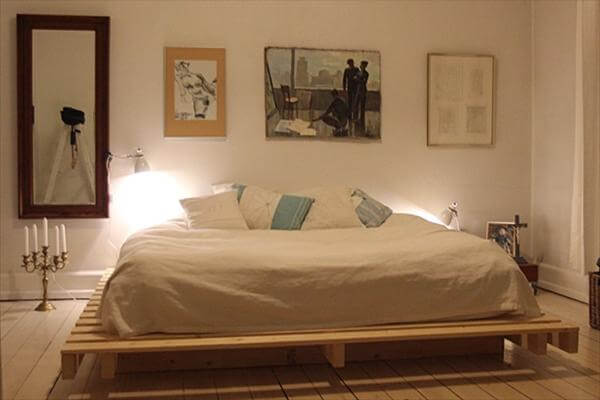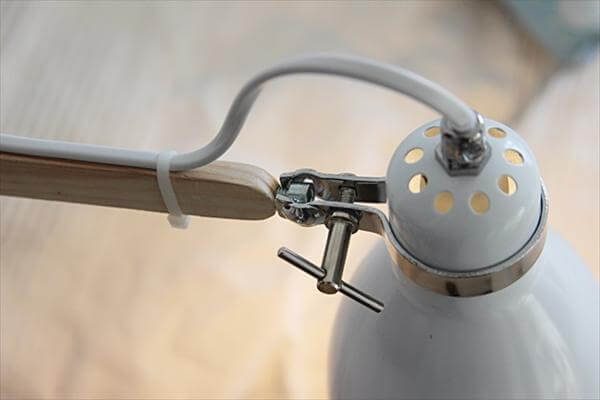 Now make arrangements for your side light lamp. For this purpose take two planks and grind them with some wood grinding tool to have ellipse shape edges. Now fix the lamp to plank by drilling hole on head of plank and make joining with hex headed bolt on it and hang lamp to it.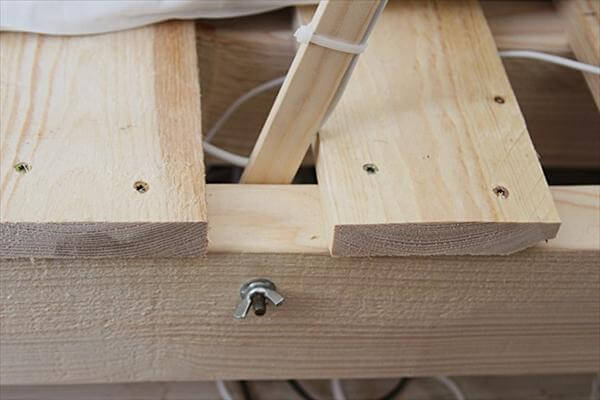 The lower part of lamp design will be assembled with wing shape nut and bold to get peak and high value of support. Fasten the lamp wires with some thread on upper horizontal plank. And you are successfully done now to have lovely light lamp at side of your pallet bed.