It is not possible to live a luxury without a super comfortable bed. It always come as a big need of home and is always a piece of furniture of your first priority while thinking to take a dreamy sleep. Manufactured and industrial pieces of beds often make us out of budget as they are always pricey. If you really want a bed in affordable way then why not use the pallets for it as they are sturdy and free of cost to try any shape of furniture components out of them. Check out these DIY pallet bed, all having visually attractive and stimulating appearance and designs.
Pallet boards, by considering as a unit, have been installed to get the beefy designs of standard bed frames, capable to handle a lot of weight. Just make them padded or cushioned or use a piece of mattress on them to enjoy great nights with comfortable sleep on a budget. These DIY pallet projects for bed frames are really simple and free of lots of cuttings and measurements and also make you get with perfect headboards, the accent part of a bed.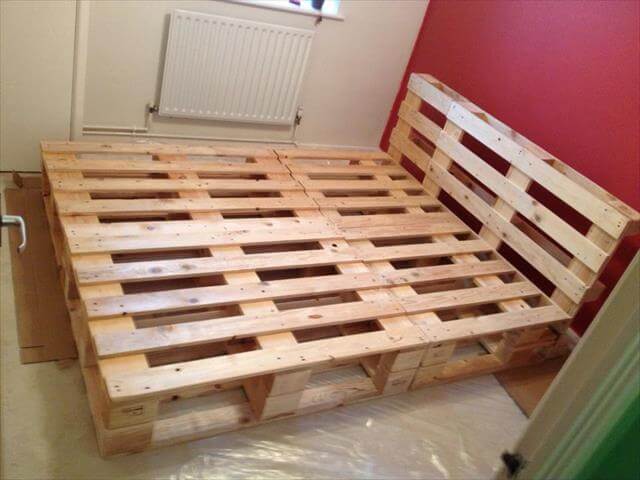 Just make the pallets well cleaned and sanded and then install them by stacking and joining as units to complete the frame of your desired size of bed.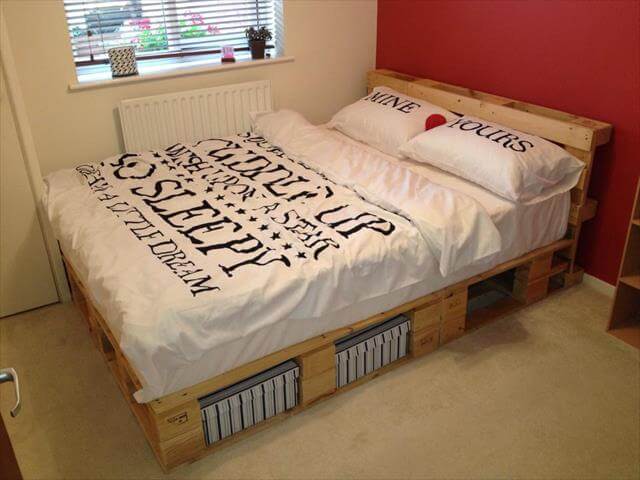 Openings and underside empty spaces in pallet boards can really make you get with valuable storage plans for your bed frame to store whatever you want like pillows, blankets, shoes and also material for night support.
This is another amazing style of pallet sturdy bed with accent piece of headboard.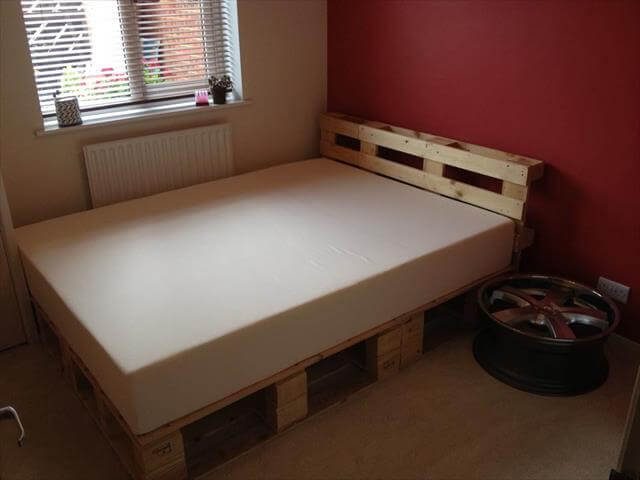 Once you integrated the perfect shape of elegant bed frame, simply add a piece of mattress by using a heavy duty foam quality and enjoy a complete king size design of a bed at almost n0-cost!!
Do check them more DIY pallet furniture ideas here to live the luxury in most economical way and these swanks uses of pallets will surely make your vision come to life!!