Things and plans out pallets are endless and we are seeing a new trend of pallet wood at every morning. If you surf the internet you will see tons of DIY pallet ideas which not gives practical utilities to home but are also much sturdy in nature. Here we have crafted a DIY pallet kids bed design to get you baby just in besides of you at night. It is the nature of children they run after the twinkling and sparkling colors which held very likeable to them.
So we raised this baby bed in colorful pastel shades of paint that give the stunning and kid's special look to our DIY pallet bed frame. Casters held much precious if added to wooden furniture, they also cause a spellbinding touch on wooden surfaces. Sanding and staining of shipping pallets will be a great step for further paint coats and stain and will make the wood gunk free.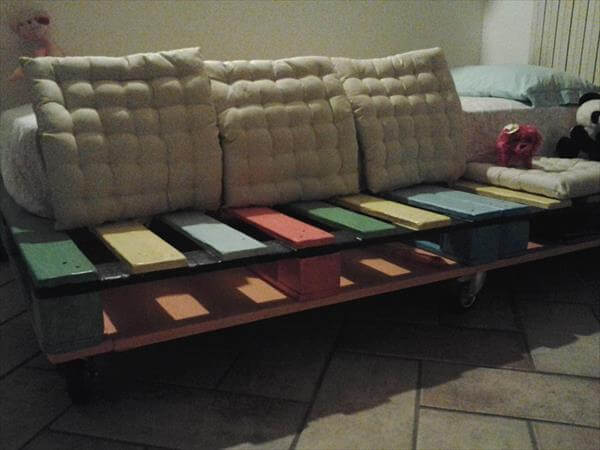 Here we have not gone for dismantling of pallets, we used them in their standard shape after getting them a little bit sanded down. Use the heat treated pallets to get this DIY pallet bed makeover.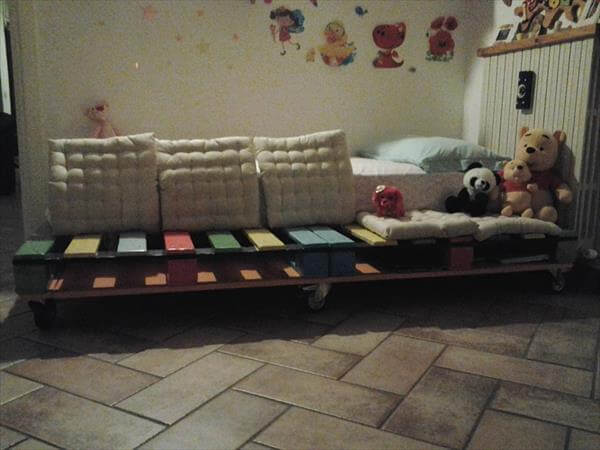 Avoid indoor use of pallets which are chemically treated to be safe because the formaldehyde is mostly useable chemical with which mostly shipping pallets are treated, but this is very injurious to health.
Take a look on the tag on pallet wood while getting the pallets to review the conditions under which it has been treated.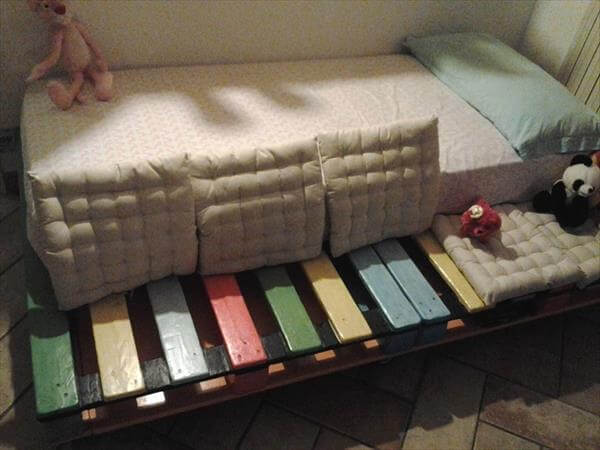 We have used a charming color scheme for our baby bed to be displayed beautifully in rainbow and colorful appearance. You can vary the color and paint according to desire and personal preferences.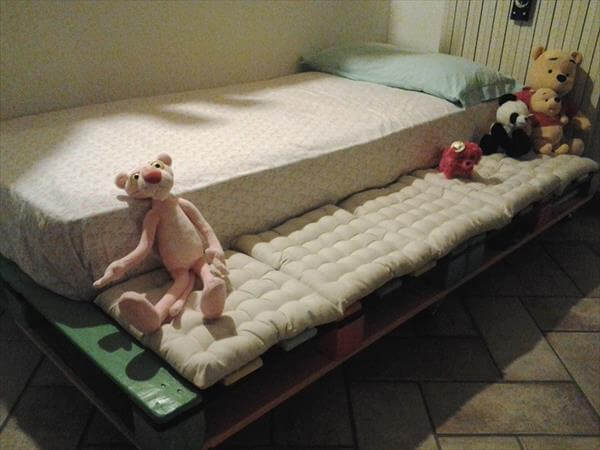 After getting the frame ready after paint use a  mattress or cushion to attain the desired comfortable purpose of bed out of it. You can also use such a pallet beds as DIY pallet daybed at outdoor in summers.