With its wide armrests and a skewed back, the pallet Adirondack chair is a characteristically outdoor seat. Planks or slats make up most of the chair; reclaimed pallets make a good timber alternative. The slanted back and upraised seat makes a cozy niche for you. Its making is easy as many parts of the chair serve double purposes. It is handy as the armrest also serves as a mini rack for snacks or drinks.
The Making of the Pallet Adirondack Chair: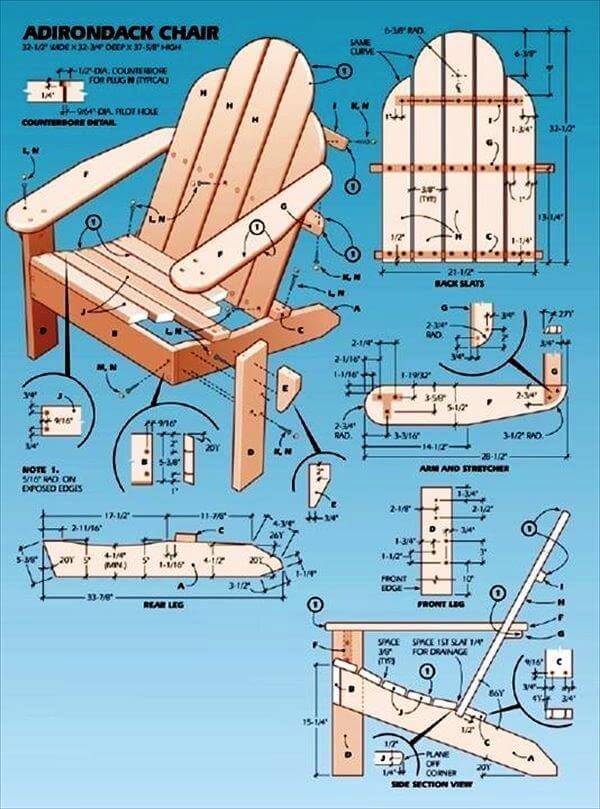 Put on your gear and grab your pallets.
The first things to make are the rear legs, which are the main support of the chair. Pull your pallet apart with a crowbar. Get the runners and make the rear legs with these. This serves as a rest for the seat and a stringer for the seat slats. Once done, screw in the seat slats and attach the arm brackets to the front leg posts. Attach the front posts to the rear legs. The position of your chair is ready now.
Get the upper and lower supporters for the back and string them to the slates. Attach the arm support to the centre of the back at this stage.
Fix the back to the seat and screw the lower support with the back brace or cradle. Secure this brace to the rear legs also.
Get the armrests; attach them to the arm brackets and front posts.
Give it a good whetting down and an oil coat for protection.
There you are all set to enjoy your very own pallet Adirondack chair on your patio!