Why do we recycle pallet? There are some certain reason to do this, you can contribute the world as a great wood savor which is the worth natural resource, you can also find some chic home wooden goods and furniture on a budget. One great feature of pallet wood which held much likeable to every craftsman and home lover is its unbeatable durability which can live very long.
People around the world are making great stuff through recycling of these shipping skids. We have also made a easy to build DIY chic black coffee table for our living room decorative plans. Highly rustic feel makes it more amusing and rare, we just loved this antique type of wooden table. If you are also willing to have a coffee table for your newly built room then avail this great and economically suitable pallet offer.
We have recently uploaded some new discoveries out of pallet wood and have also provided a big collection of DIY pallet ideas to make great changes in your routine lives. Personal your sanctuary with outstanding and swank uses of pallet wood which given great home improvements and remodeling plans on a budget.
Lets get start this chic DIY pallet tutorial of coffee table to make you completed guided that how to do it skillfully.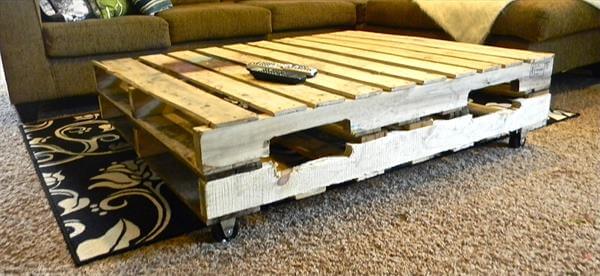 The steps are really simple to do, unfortunately we have shown full pictures here due to short time but we will try to give you the best of best instructions.
First thing you need to do is the sanding of pallet wood after getting a 2 or 3 good looking boards of pallets. Just get them well through hand gritting with sand paper or palm sander. When you will get the splinter free wooden nature with smooth and soft touch that is your end point of sanding.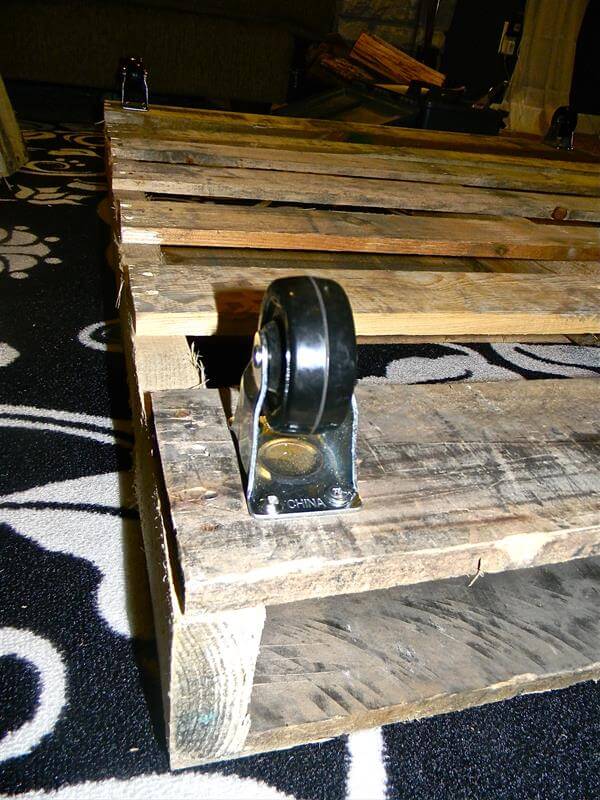 We have a great good news for your in this wooden tutorial, you just no need to dismantle the pallet skids in this DIY pallet coffee table which is a lot of effort taking task to do. You just have to join the two pallet board in double tiered shape to get a bulky wooden mass with lot of storage options at mid sections.
By layering the glue inside and holding the wooden structure tight with nails, we added the metallic caster to our vintage type of coffee table to get the effortless and smooth pulling of it. There are very chic types of such casters choose your favorite ones for chic movement of your DIY pallet wood table.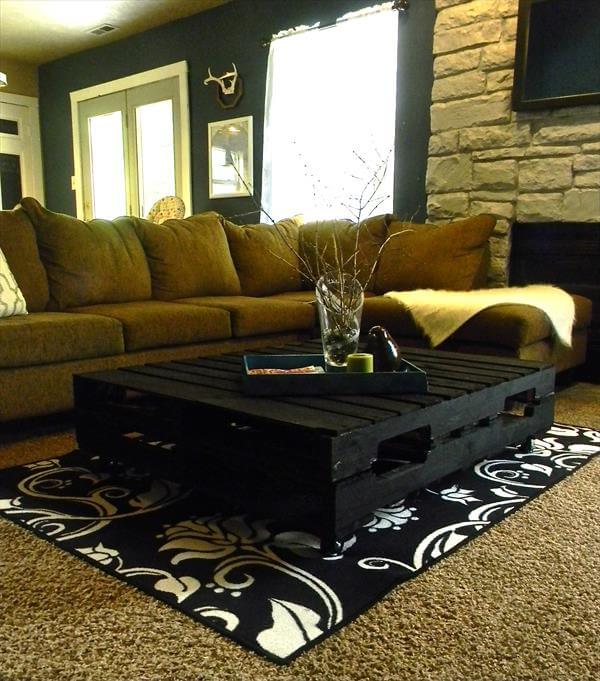 Now it was time to cover our rustic coffee table in an arresting theme color, we selected the minwax stain which really provided us the dominant black appearance that greatly complimented our whole room ambiance.
There are tons of optional steps that you can do to have a most personalized nature of this table just like making it painted in any visually attractive combination.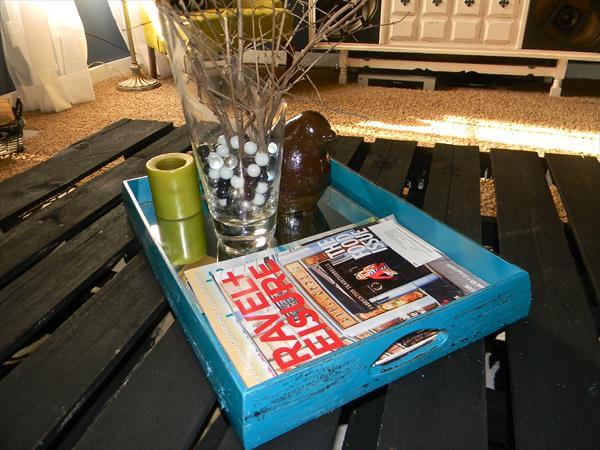 As we have built an antique and vintage type of table so garnishing plans should also be selected in such a way that they can create a more rustic and classical environment. Some classical flower pots, antique faux toys and a finish with antlers at the top will be highly electrifying choices.
If you also want furniture with such a big sized tops and with really spellbinding statements then we suggest the selection of pallet wood to lower down your expenditures for furniture greatly.
You can also have great dimension and designs other household and luxurious types of furniture like DIY pallet beds with plenty of antique and modern headboard designs, DIY pallet swings for home porch and outdoor with single, double and triple seated layouts and some hilarious and overcoming collections of DIY pallet tables with marvelous artistic and captivating designs. Choices are yours and ideas are ours!!