This summer, plan to move out and spend some fun time in the garden or to relax in your patio spaces. The delicious evening snacks on the terrace and morning coffee in the balconies all are inviting you to make the most of your outdoor spaces. So whatever is your outdoor section and whatever is outdoor plan to have fun a comfortable and stylish seating set to let you make all your plans work out.
And here with this DIY awesome pallet garden furniture set we have a very cheap yet feasible solution to your outdoor furnishing problem. The pallet outdoor furniture includes a pair of simplistic sofas, a common in design coffee table and the stylish pair of chair seats. The sofa berth, chair sides and the backrests are made out of the pallet skids while the remaining features have been installed using the pallet separated slat and plank pieces.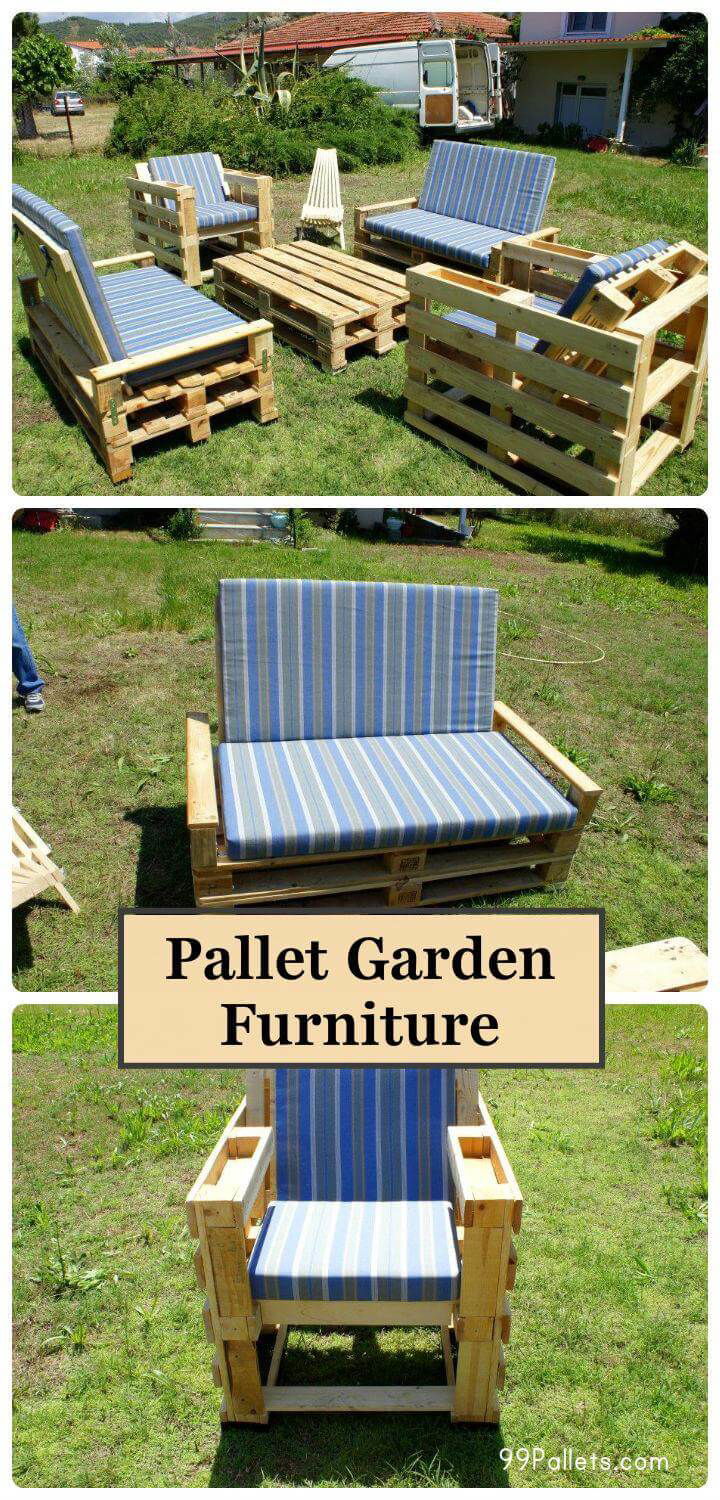 The chairs are the main focus in this seating set as they boast a very unique style with the tiled back. The unfinished look of the whole set and the blue mattress make the set really suitable for natural and rustic outdoor decor adding coziness to the environment.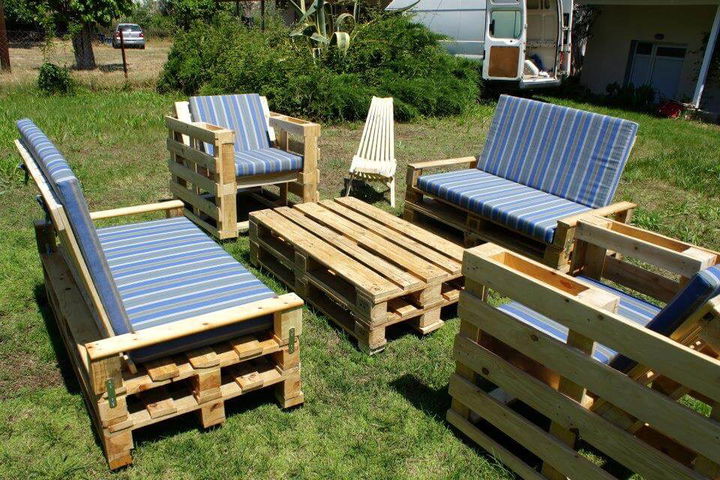 The garden of the house is the best fun spot so provide it this gorgeous, stylish yet cost free pallet made seating set for the easy and comfortable furnishing.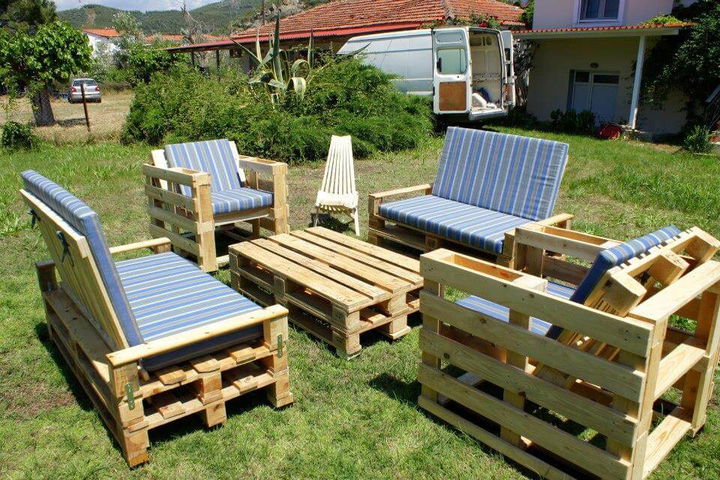 This elegant and stylish seating has been gorgeously crafted from the free found pallets at home and so you can do to make it a part of your outdoor spaces.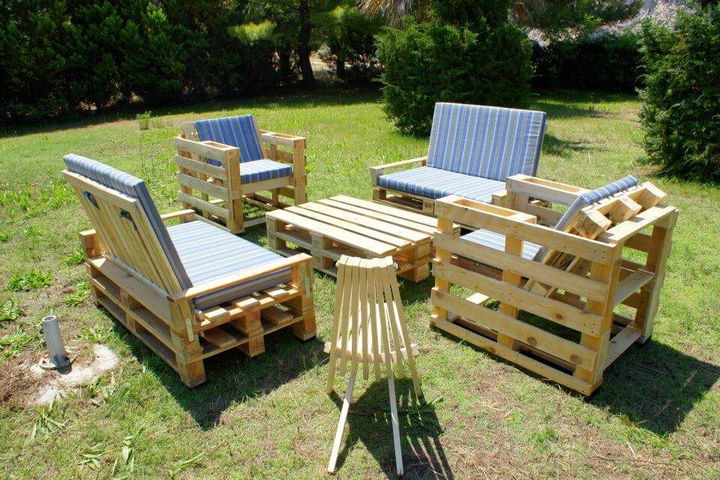 The seating set is comprising of a pair of sofas. a pair of stylish chairs. a coffee table and the uniquely crafted Adirondack style chair.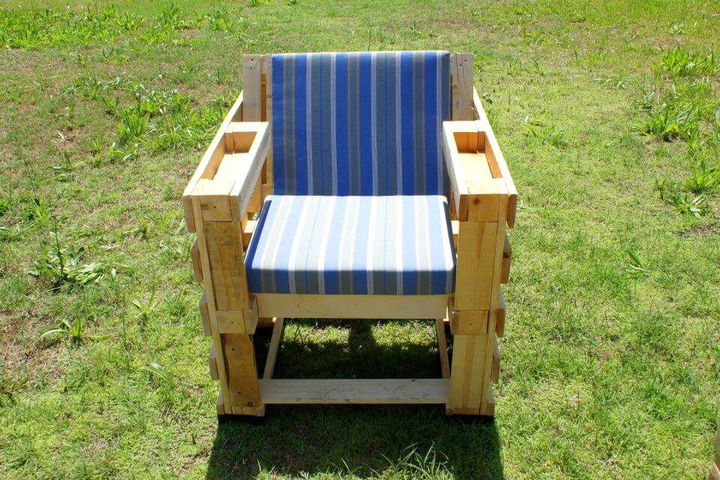 The chair is simply made out of the pallets using the full pallet skids as the sides of the chair while the slats have been to form the seat and the tilted back of the chair adding uniqueness to it.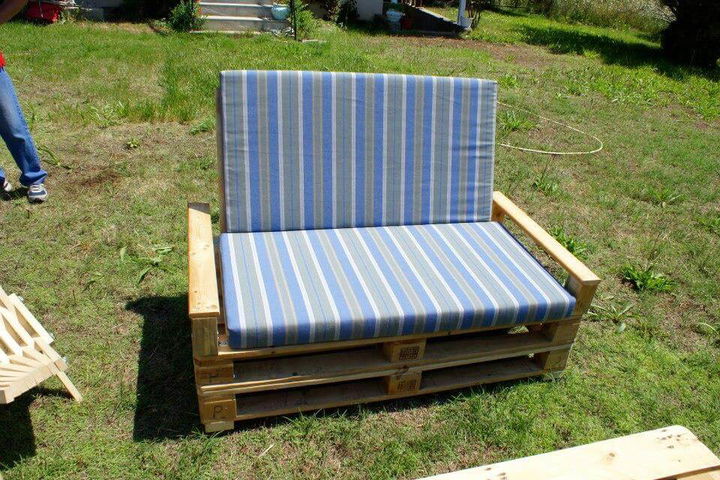 The sofa of this garden seating set is simple yet elegant and stylish made from the simple pallet skid stacking to each other with the single slats used as the armrests of the sofa.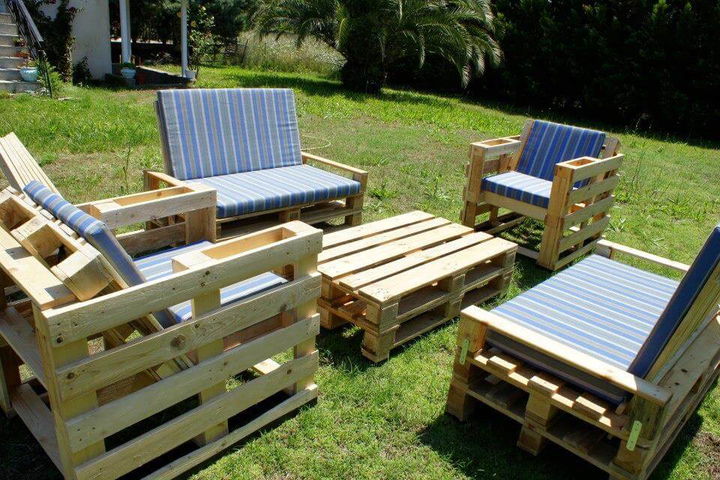 The center piece coffee table is also made out of the pallet skids being layered to each other twice and giving you a snack and coffee holding space when you are gathered in garden.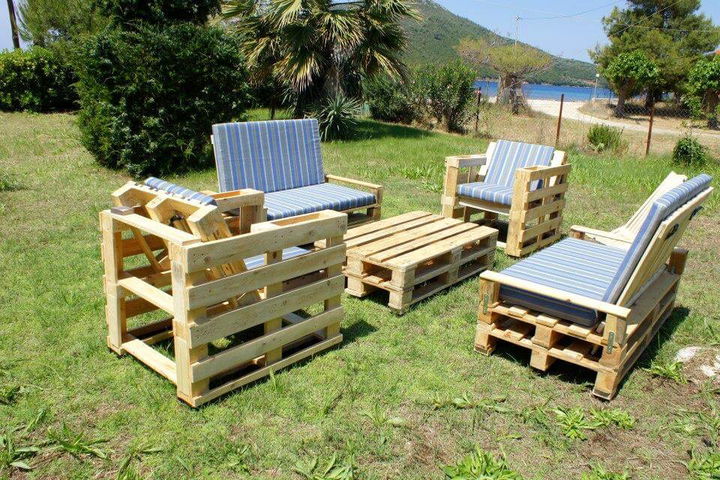 The whole seating set has been kept unfinished so that its natural looks complimentary to the natural aura of the garden space.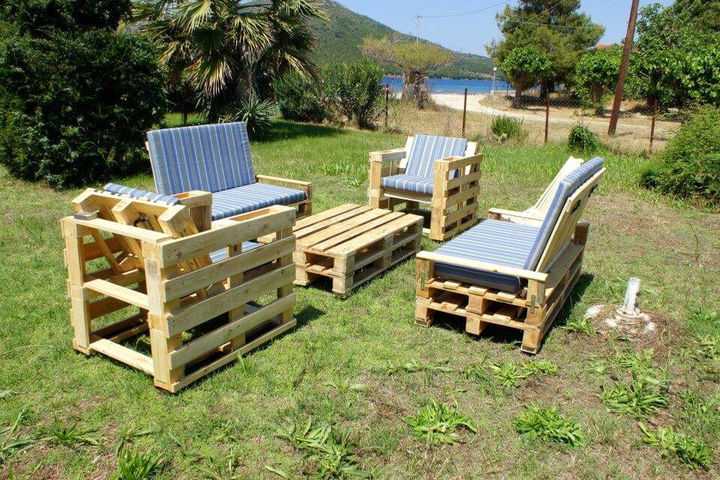 The blue colored mattress looks really fun on the sofas and chairs and thus accomplish the beauty style and comfort of the seating set.
Made by: Έπιπλα από παλέτες