Natural greenery is best to be refreshed and calm down. The open and pure environment with fresh air is much beneficial for mind and body too. People who wish to have a a garden but become deprived of from this green natural landscape due to tiny and right residential places like flats and compartments. If you home layout does not allow you to construct a garden in it then this idea of DIY pallet vertical garden will definitely work great for you.
Enjoy this beautiful wooden plan to relish the garden feel and more spicy thing about this DIY pallet vertical herb garden is that it is much free to move, you can change its position to anywhere in home to be looked well. We have grown in it a variety of herbs like basil, parsley, rosemary, dill, oregano, thyme, peppermint, chocolate mint, spearmint. These cultivated herbs are much rare and hard to find but you can get a fresh supply of each of them by growing them in such a countered and shelved wooden layout with this amazing DIY pallet idea which is on a budget equal to nothing.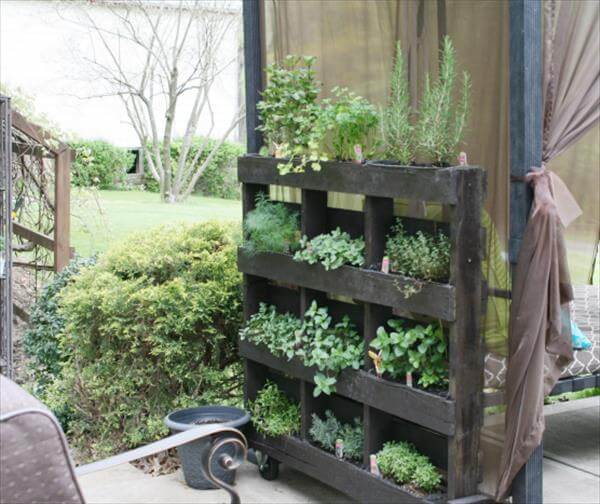 You can put it anywhere you like but we have chosen out patio to get it positioned there just close to out daybed. Home porch, hallway, entryway or garden will also find these DIY pallet gardens a lovely addition to be raised in beauty. We have also sanded down the wood with sander after washing it and removed the tightly bound nails which were easy to be pulled up and resting ones have been hammered down.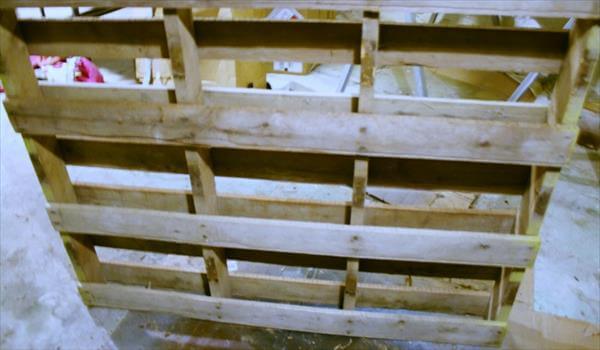 We found a pallid skid in a little big size with HT stamp which tell that it is just heat treated and is chemically untouched which may be a danger to health for some. Then gave the pallet a powerful clean wash from head to tail with soapy water and also scrubbed it with bleach too to find that lost wood shine and to remove the ugly and unpleasing gunk from the wooden surface.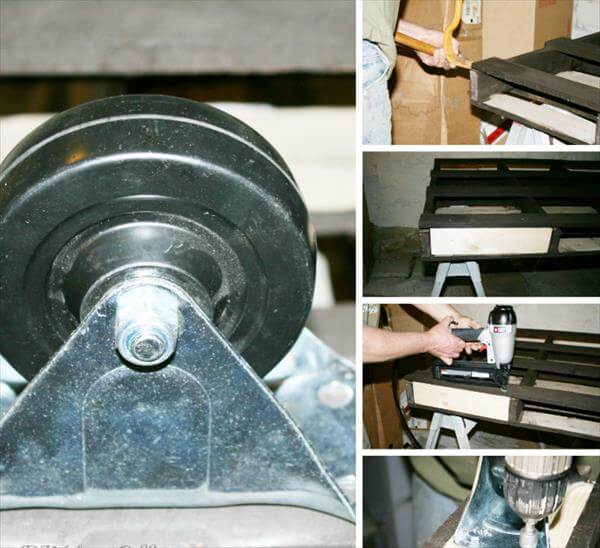 We closed the bottom of the pallet board with scrape wood from home to make it capable to hold up the potting soil. After making the plank well fixed we screwed it with screw gun. We removed the three horizontal plank from one side of the pallet to have a better DIY pallet shelving scheme for potting soil.
You can make it mobile on wheels but the herbs were expensive and rare so we went with a wooden legs support to it to be stood freely at outdoor.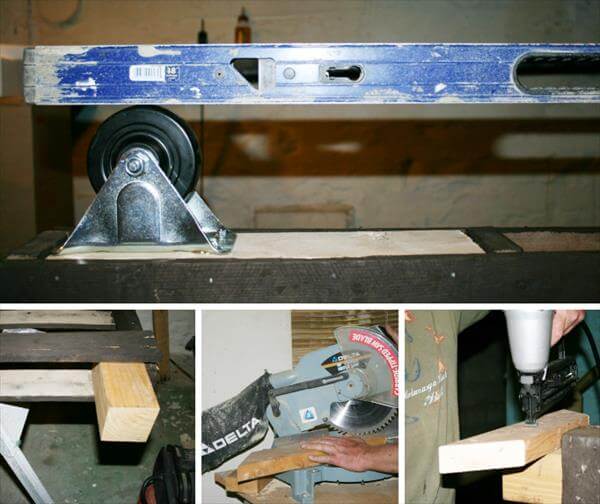 We added up a little blocks of wood to the bottom of the pallet skid which are tightly held there. Then attached another pieces of wood with angled cut sides to this tiny bottom block of wood and you are done to make it well stand at any location that you will assign it in home.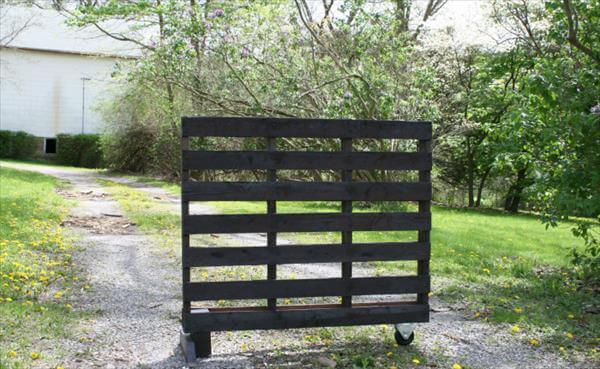 A wooden support has been provided at one side to the wooden frame for vertical garden out of it for lovely and charming standing and other side has been made moveable on wheels. This will make it effortlessly mobile to any targeted area in home or at outdoor patio.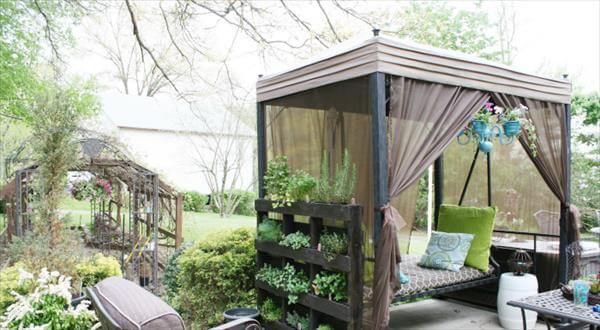 We cover its back with plastic fiber sheet for potting portion in it, you can also use the cellophane sheet too for this purpose or use the simple burlap. We fixed up the sheet with staple gun, you can also make use of nails with hammers. Now fill up the shelved pockets with fertile potting soil and push it down to have a tight fill.
You can use the vinyl letters to show the type of cultivated herb in each box and shelf. Get it mounted on wall with metal brackets or any other popular hanging system from the hardware store if you do not want to left it alone on floor, otherwise it will look great while standing. This pallet herb garden tutorial will compliment great to the whole dwelling and will a perfect accent to patio.