A playhouse is place for your children to do some outdoor activities which are necessary for fast growth of mind and body properly according to modern psychological science. The playhouses provide platform to your children to learn things quickly and easily. You can made DIY pallet playhouse in honor and for happiness of your children to learn and play well. Be careful while selecting pallet wood for your DIY pallet playhouse project because it may be treated chemically for killing harmful insects for shipping material, that chemical should be neutralized if your know the method otherwise left it and choose another. The structural and other safety issues should be kept in mind first while designing your playhouse model because it involves the safety of your children so be careful.
You can start your framework on selected design with stained and cleaned pallets. First of all make the outer frame of your square shaped playhouse with three pallet boards, two boards as side walls and one for base of playhouse. After it make design the roof of the house with downward "V" shaped arrangement with pallet planks the roof planks can be joined with glue and screws. After making the whole infrastructure leave space for windows and door of playhouse. Also add some holes to side and back pallet walls of playhouse for air circulation and avoid suffocating while sitting in it. Then make it more charming and enchanting by adding multicolor shades to it which you want and desire. Add screw and nuts to the delicate joints for grip and perfection of whole model and it's done.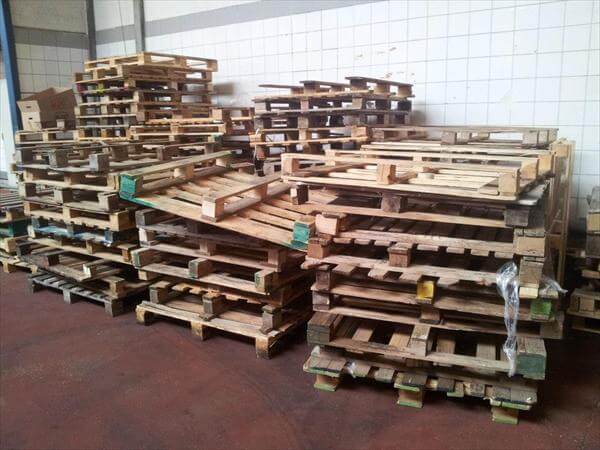 First you should have a supply of rustic or pallet wood for whole model infrastructure. Remove the nails from the  pallet wood boards and also clean it from chemical effects before we use it for our playhouse project.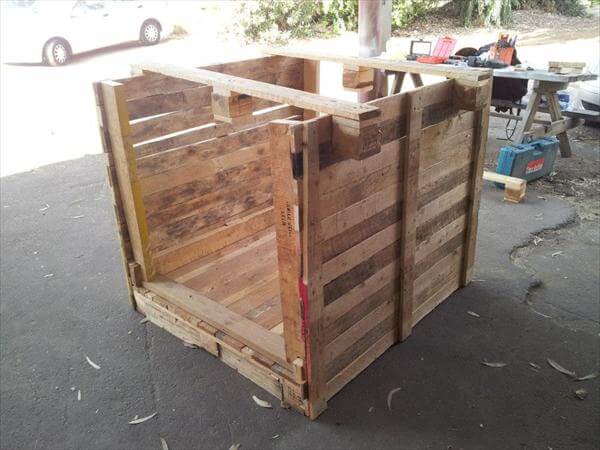 In first step of DIY pallet playhouse make the base and side walls of tit using three pallet frames made of planks according to measurement.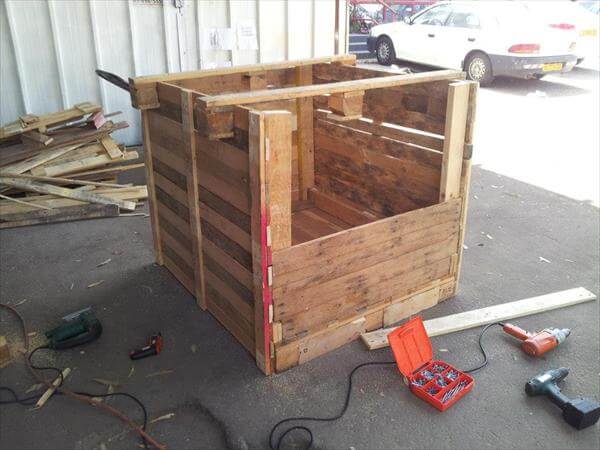 Now make the back and leave spaces for window, door and roof of the house for perfection of model according to modern ornaments. you can use nail gun for attachment purposes.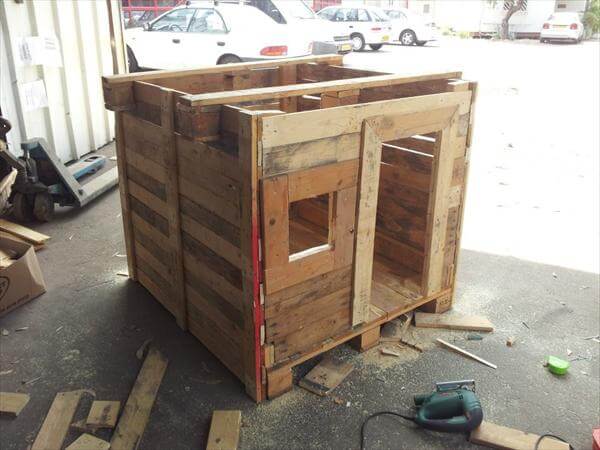 Make window and door for playhouse by attaching desired cut planks according to window and door measurements. You can make use of hand saw for cutting purposes.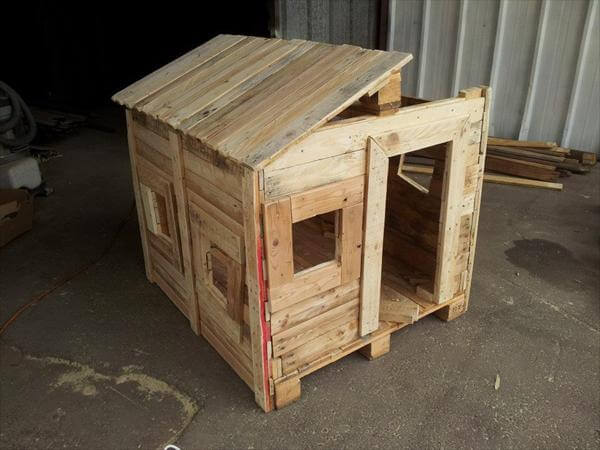 Now start making stylish roof for modern and chic model of your children playhouse. You can also attach glue for roof model.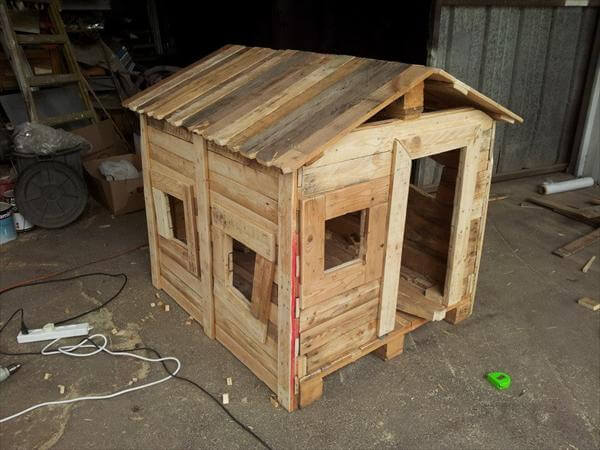 When you thing your roof is done place it to house model for further cutting and arrangements to give charm and beauty to your house.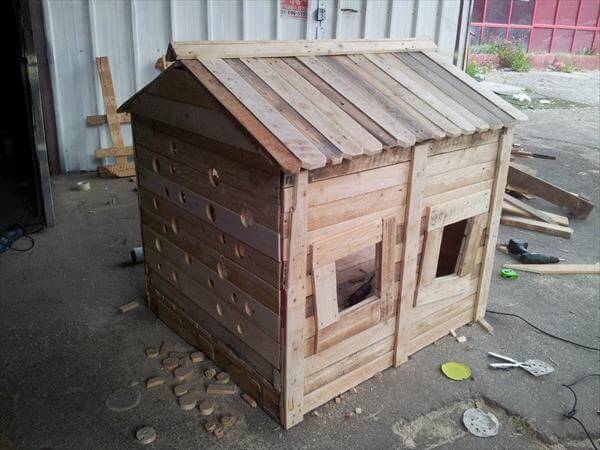 You can give pattern cuts to roof and most important make some holes for air circulation while your children sit and play in the pallet playhouse.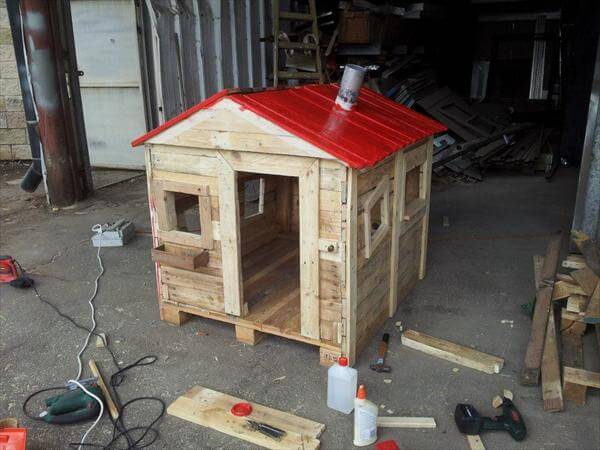 Give throughout paint to roof and varnishing to whole structure for additional glow of wood and we have painted the roof red but you can select your own lovely one.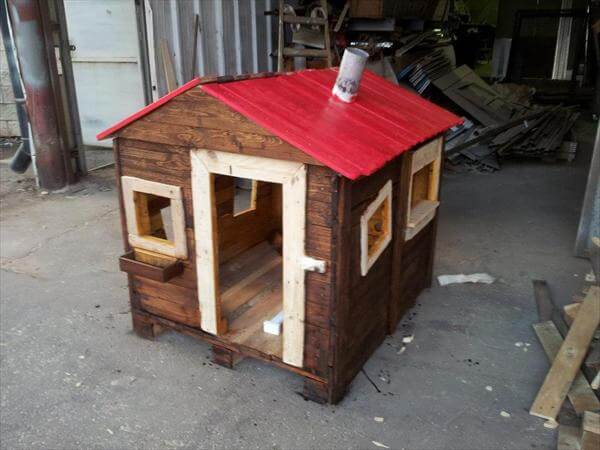 Give color to your playhouse structure too to make contrast with roof this will be the final paint step for your whole projects on a budget.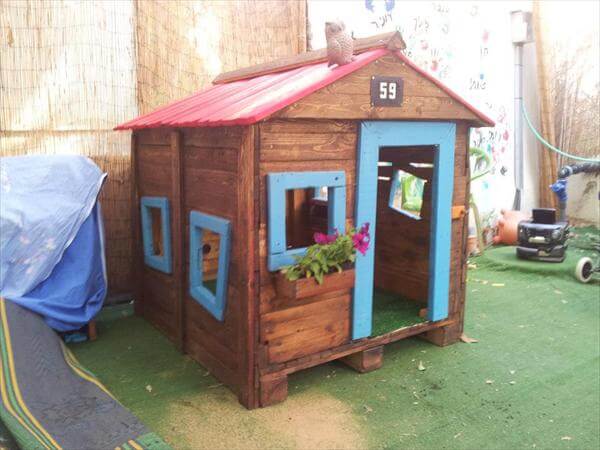 Give also a color pattern to window and door boarders to make the prominent. The light blue would be a great effect but you have better option of your own taste.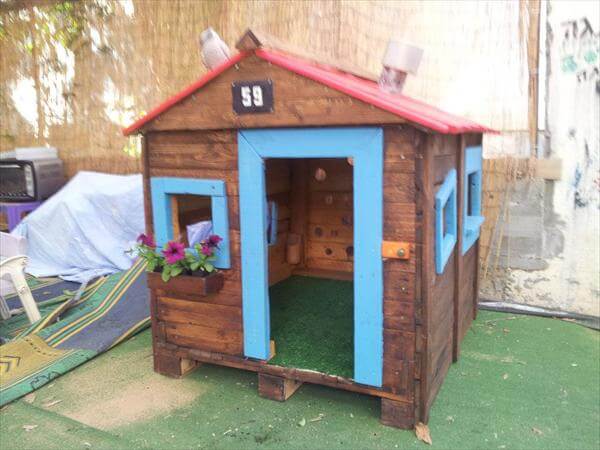 Also add some natural environment to it to make it match with you home yard and garden. your can attach some flower plants for peak value of charm.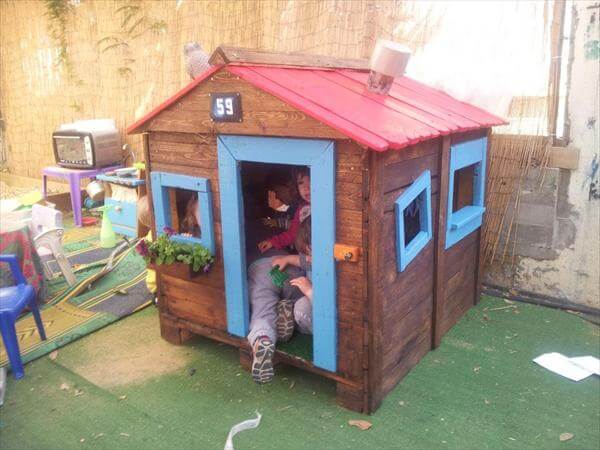 Now the whole project is done on low budget plan and ready for your children to play with!