You can adopt this wooden model as a kitchen rack for kitchen spices and also for storing herbs. Many of us are in search of some arrangement and ledges setting for seasoning and storing. We have extracted this highly urged need from pallet wood in this beautiful DIY pallet seasoning rack which gives firm vertical holding to 12 tubes carrying anything you want to store. The holes for tubes should be fine and neat this is the demand of every nice looking wooden furniture commodity.
The rough and ugly looking pallet wood has been transformed into chic wooden appearance with electrical sanding. You can do the sanding operation with sandpaper of high grit but for better results choose orbital electrical sander. The rack has been made tall with length equal to that of tube for perfect standing. We have given it 2 coats of walnut stain for complete smooth surface flow and wood grain shine.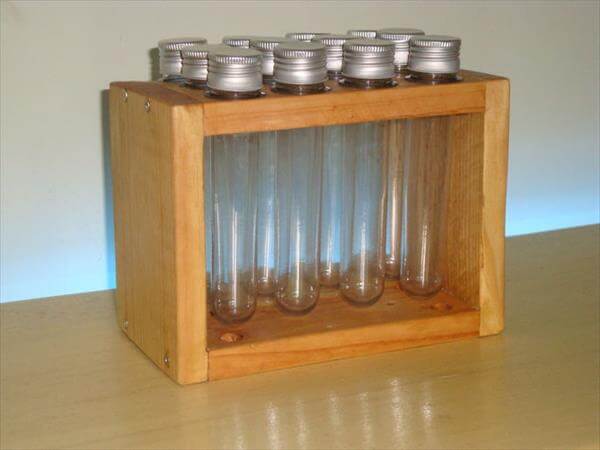 A little creative through about wood reclaiming and recycling made us gifted with this nice and cute seasoning rack for storing spices, herbs and any thing of tube size which need seasoning.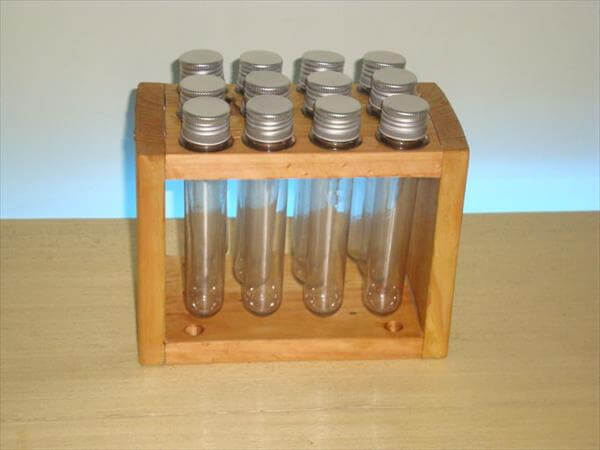 We have executed this construction criteria for 12 tubes holding set up, you can go for less or big amount of tubes with this inspiration. The sanding and varnishing has styled it up to the fashion and brand-newness.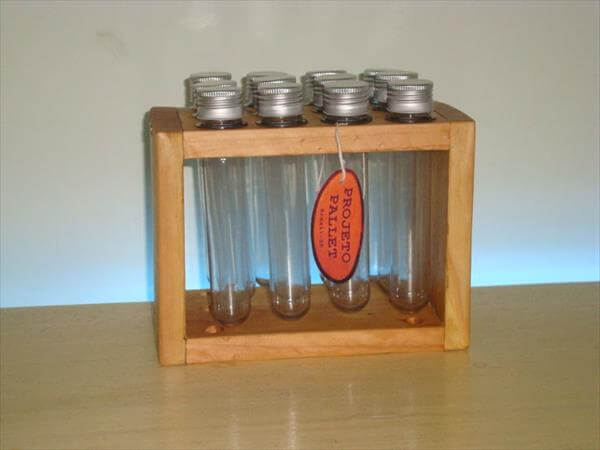 Place it in your kitchen or hanged it with some supporting system like hooks, it will work great for both of the situations. The hollow square shaped construction can be changed to any shape at home, that your creative mind will think smashing and suitable.