We have made a DIY pallet buffet shelf for outdoor lovers to get entertained with beverage and drinks arranged in a fashioned mantelpiece and counter wall shelf, in hot summer season. The dimensions are ready to be customized while you are getting through the makeover at home. The whole pallet shelf is looking appealing and glamorous hot in red dress, mean to say in red color shade!
We have gone through different cozy ones of DIY pallet wall shelves, but this one amazed us great due to certain features we are just to describing. The downward opening of DIY buffet shelf for storing and placing things in is charmingly supported with two metallic hooks chains which are strong enough to carry out the weight of shelf door. To avoid any type of missing or in makeover and to get it cleaned and neat according to desire, we have given the dimension and measurement plan for making whole layout in precision and perfection.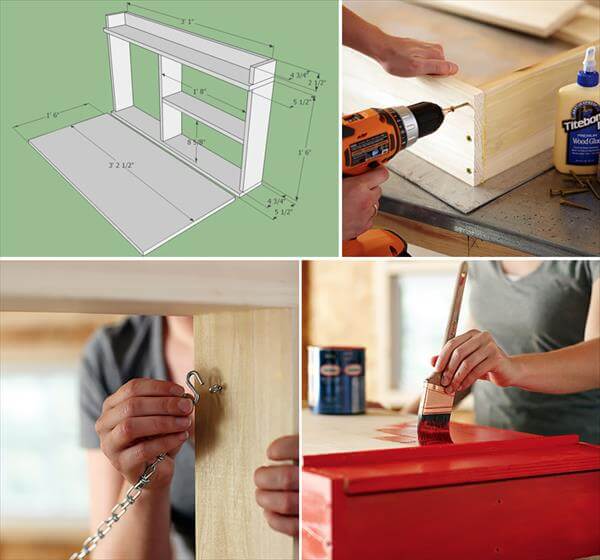 We have took use of nail gun and hand drill for drilling holes to add screws for best way hanging on wall. The chain makes supporting rail by ending up into a metal loop behind the shelf. The sanding and staining of wood has completely been done with hands.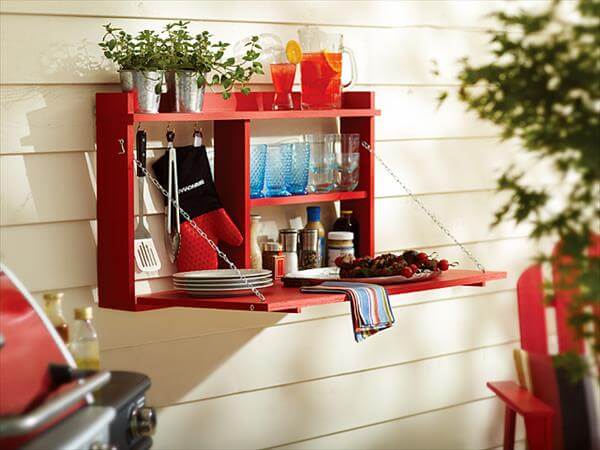 Put your favorite and energetic drinks in this drink corner of DIY Buffet shelf from pallet wood. The whole idea is also very stylish for placing utensils and decorative flower pot for natural touch in decoration scenery. Get it handmade and handcrafted at home on a frugal and economical price only though reclaiming and retrieving of pallet wood.