Shelves are great inventive scheme to secure your things with beautiful display of them on walls. You can put on your favorite ones items may be your pictures, some art accessories or some creative DIY handcrafts each can go for a stylish display on these wooden shelves. We have also made a free of cost DIY pallet shelves to organize our different items that need a secured and artistic setting.  We have reclaimed it from pallet wood which was in worn and fatigued condition.
The model we have achieved is very appreciated and encouraging for shabby chic looks of home interior. You can make it hanged to any where though out your room, hallway or at outdoor for catching and holding up things according to its depth and capacity. It would also work great by behaving as a DIY pallet bookshelf too.You can make it personal and customized according to taste and to match or contrast the room theme or that of the targeted location. This can be done by choosing suiting well and favorable combinations of colors to get the perfect hue.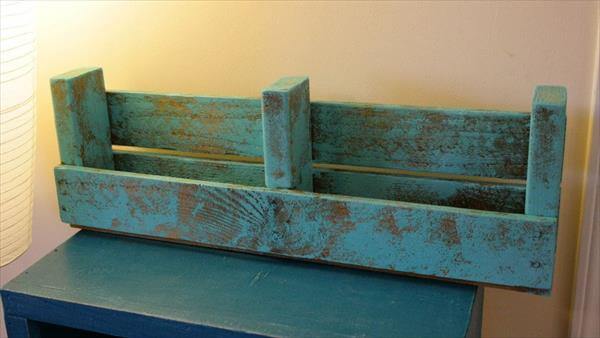 Get some wall anchors  or screw to hang it significantly on your wall in living room to make it loaded with accessories you want to show thorough this wooden delight. The powder blue color is also looking pretty cool for vintage and rustic impressions.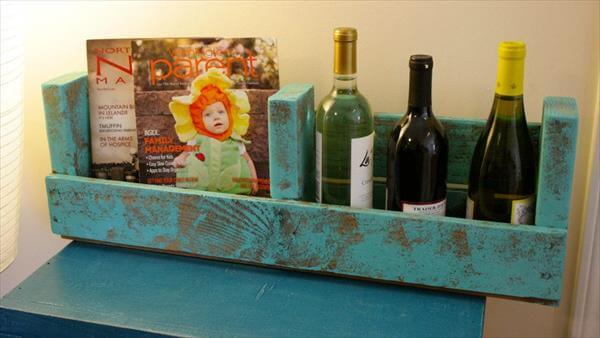 Reading books and beverage bottles can be settled to it to get them before your eyes and pick them easily at the time of need. This little wooden rack is multipurpose in nature and have matchless  and unbeatable  significance in any home interior.