Pallet wood is much handy and profitable to go for shelving and rack scheme due to already board shape dimensions of it. Just modify a pallet skid little bit and get your favorite ones DIY pallet shelves out of it. Here we have prepared a DIY pallet utensil rack for our kitchen which has been raised on great functional purposes. We have just given few readjustments to pallet wood and it really came up with this fine rack shape.
This rack model has been made lush for shelving and hanging needs through wooden shelves and tightly fixed nails which will perform as hanging hooks. Kitchen spices jars, drinking glasses and some coffee cups can easily be managed in this resurrected DIY pallet kitchen shelves which just free of cost. Make it duplicated and add a great functional setup in your kitchen to get a mannered storage of your kitchenware. Add more hooks to hang your kitchen tools and equipments.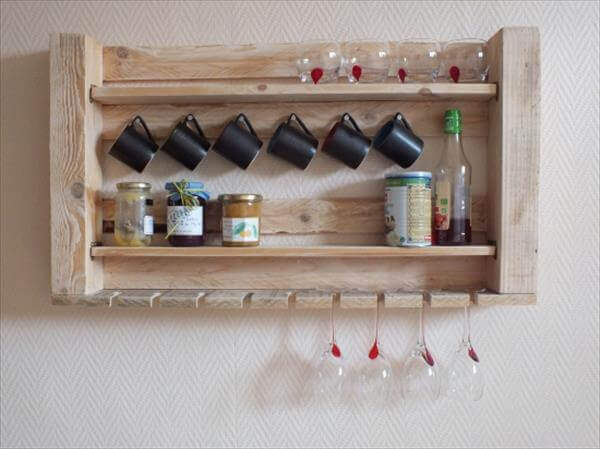 We made the pallets splinters and gunk free first through washing and sanding and then cut the pallet board into halves. Using on half of pallet skid we built this DIY pallet rack set up by providing it two shelves.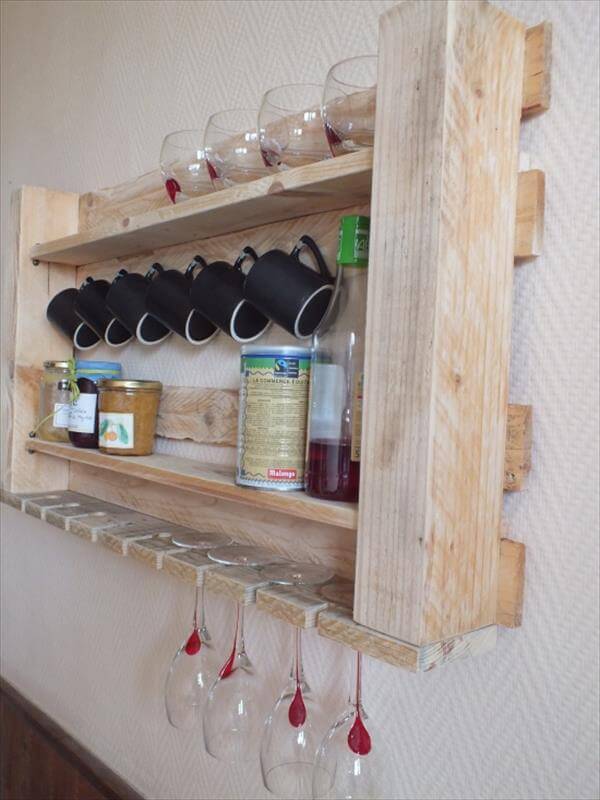 We fixed a pallet plank at the bottom with lots of fringes and cuts which can hold the narrow and pencil like bottoms of the drinking glasses very well. This would be perfect plan to store up your glasses.
Feet your mind with such an great DIY pallet ideas and have the creativity on your finger tips. This one is really a very special and functional type of wooden reclaiming and can go beyond your expectations.