Entry way is the first access point to home for every visitor and family member. So we have tried to change the mood and fashion of the entry way into fashion trait with this DIY pallet entry way table design. The idea is pure salvaged and repurposed from rustic and antique looking pallet wood. This ravishing table pattern gives the prehistoric and aged theme of wooden furniture.
You can display various mural frames and portraits for first look impressions, for anyone who makes the entry to home. The desk has been constructed with an under shelf and long table top. Both can be loaded with decorative accessory and with sweet picture memories significantly for inviting and likeable impacts. Get you pallet wood in lumber or pine wood which is easy to handle as compared to those of cedar and oak which are considerably hardwoods.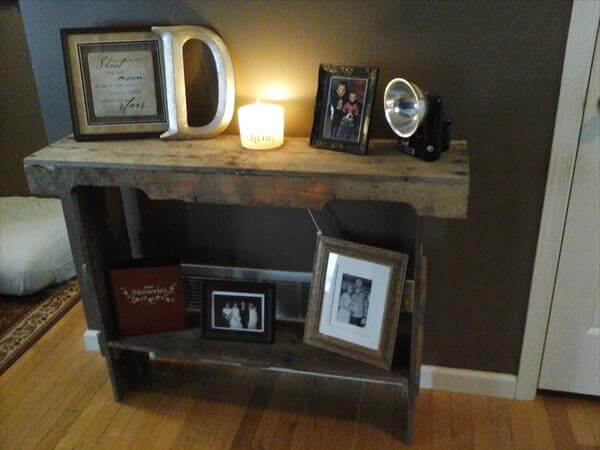 The construction is very quick and easy in dimensions for home table essentials. Various characters and purpose can be put out from this handcrafted layout of table. You can use it as a side table for sitting plan and also as a potting table in garden area.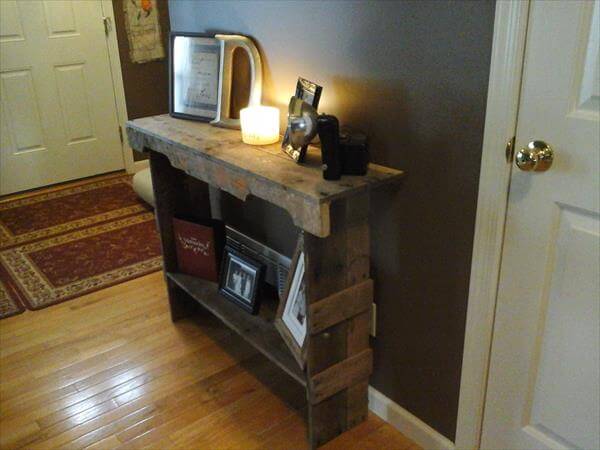 Submitted by S Day!
It's looking smashing in this rustic nature, but your choice for wood shade comes first. Get it coated into desired wooden colored shade, you can also give a sharp and smooth wooden touch by making it splinters free and shiny with hand sanding and varnishing.