Get yourself a little bit crafty with pallet wood and get amazing patio furniture made out of pallets within just no time. There are many things around you which can be reclaimed to a new one serviceable and profitable object by just providing some creative hand tweaks. Get your vision and imagination creative to get daily useable and fundamental routine objects like table, chair and benches out of pallet wood.
This time we have made a DIY pallet industrial dining table which is much unique and rare in wooden crafting. We have prepared a long three sectioned top out of pallet wood and then have enclosed it in metal frame reclaimed from home scrap which remained after an industrial project. This pallet ideas for outdoors can be applied to various wooden objects to have more endured structures which can handle a lot of weight. The boundaries you are seeing divide the top of this chic DIY pallet craft into three portions which are removable to have desired length of the table top.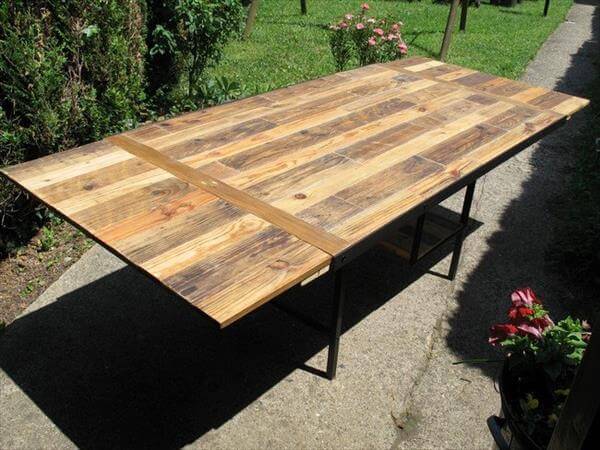 First thing you need to start it up is the shipping pallets which make the whole project nothing in cost due to being available as free of cost wood. You can use this DIY pallet outdoor table for any of table character in home.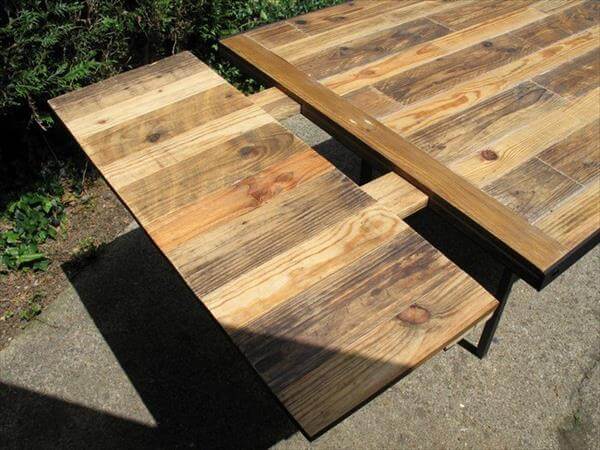 Here is how you can plug or unplug the side portions of the table top to get that desired table top area. The lengths which formed this dignified top has been got from pallet dismantling which is considered a hard task to do in all DIY pallet projects.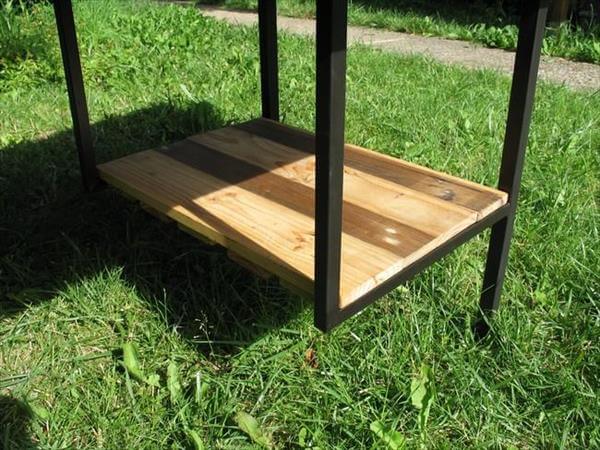 Use of pry or spy bar can lowered down the time and effort of disassembling and dismantling of pallets and we have also used the same. Here you are seeing the industrial legs and lower shelf panel which is just great for storage.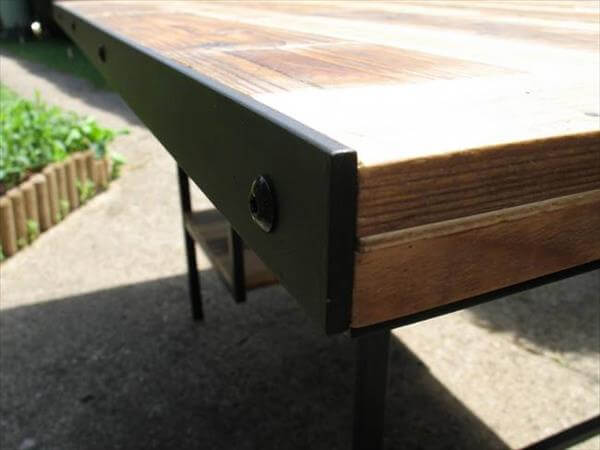 Tight junctions of wood and pallet have been made by nice and precise addition of screws by drilling the required holes first with hand drill. We have also sanded the wood down to get this smooth flow of wood and shiny nature which you are seeing.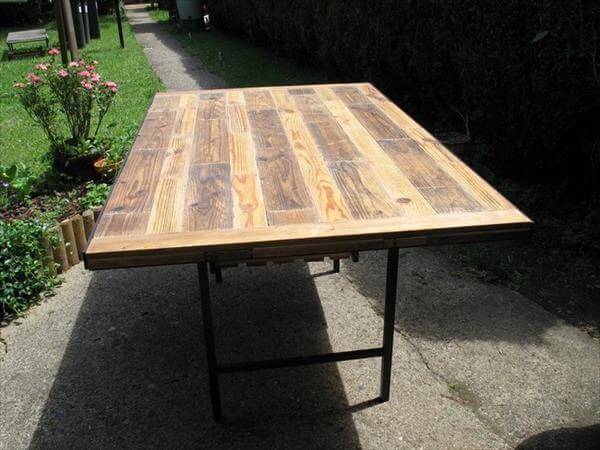 You can use it in your own way by removing or adding the side portions to the top. This would be great in service if used wisely as a DIY pallet garden potting table in your home garden.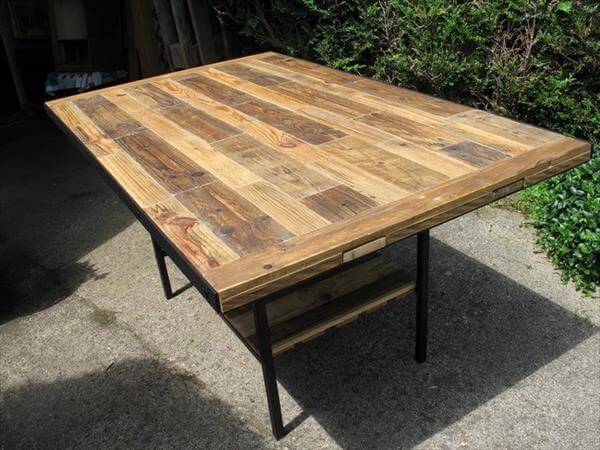 You can plan a stain coating, waxing and sealing of this wooden top to ensure its lifetime availability and it will also secure the wood integrity for a long long time. Walnut stain in light or dark wooden shade can be used to get it more beautified and polyurethane wooden treatment will be perfect idea to make it sealed and sparkling.
The lower panel with a chic DIY pallet shelf can store plenty of households like cloths, shoes, garden watering tools and equipments and any thing which is in your mind and thinking.