Summers carry a great fun if you have an open outdoor with lot of greenery. You can organize your dining at outdoor and can make your self entertained with outdoor party fun. This handmade pallet dining table will be great for barbeques and night summer dinners. Tables are everywhere in home and do a bundle of home tasks which are much necessary in routines.
This pallet table can also be used as a grand DIY pallet coffee table by getting a position near to living room sofa and chairs. Individual pallet planks have perfectly been aligned to form a thick shape of table which is looking pretty rustic and antique. We have done the dismantling and disassembling of pallets with pry or spy bar in this pallet dining table. We have provided it some thick and sturdy legs to it that can handle a lot of weight. Make this amusing pallet inspiration duplicated with some common wooden tools and get an mind blowing outdoor dining platform out of it.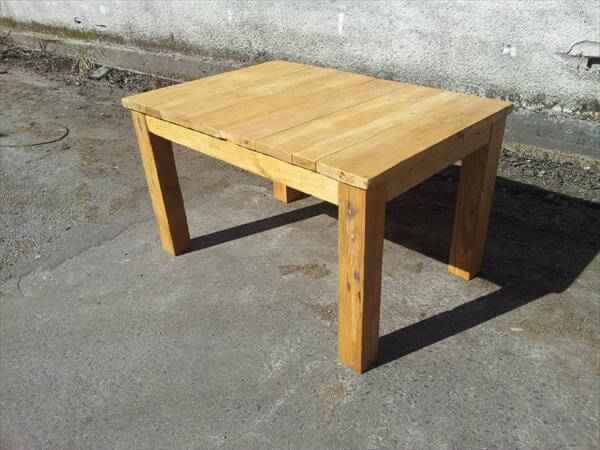 We gritted this wooden table with sandpaper and brought it to shiny wooden nature. You make it displayed in various paint shades it completely depends on you whether you choose a dark shade or a pastel shade.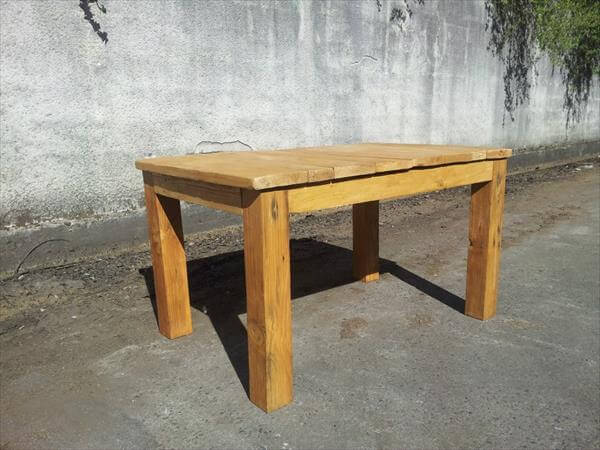 You can make it stained or make it sealed with some sealant like polyurethane and epoxy resin to ensure its lifetime availability and durability. Staining can be done in lots of shades, dark walnut, light walnut and minwax stain for a black impact are most popular types of stain.
Stain not only beautifies a wooden nature but also makes it strengthened and more powerful. You can really earn this pallet furniture on a much thrifty budget, if you find the pallet free of cost then this furniture piece will also be free of cost.