We need many tables for each exclusive function of home in routines. We need tables in hall ways, entry way, in living room, bedroom, and media room and also in kitchen. Sometimes the unexpected expenditures of money really make you short in budget, so what to do gain all these needs of tables for comfortable living in home.
You can make use of pallet wood for this purpose; this DIY pallet kitchen island table has also been made out of pallets and barn wood lying in home scrap. Top has been left unfinished to gain a full rustic texture and character. Two tones of pallet wood pieces have been arranged in a mosaic pattern to have stunning grace. This DIY pallet table has been featured with storage and a lower shelf panel to store your kitchenware. It has also some additional features like it has a perfect towel rack and took rack setup on each side.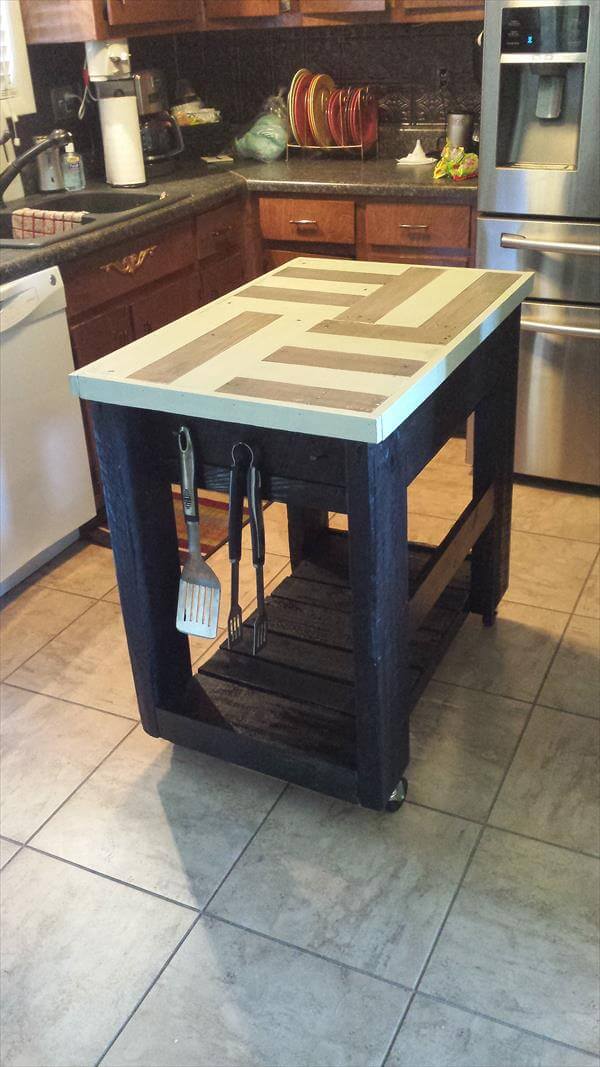 You can also set it at outdoor as your DIY pallet barbeque table as it has lot of space underneath to store well you barbeque sticks and spices. To make it move easily to any direction, the metallic caster have been attached that make it more serviceable charming with industrial and metal touch.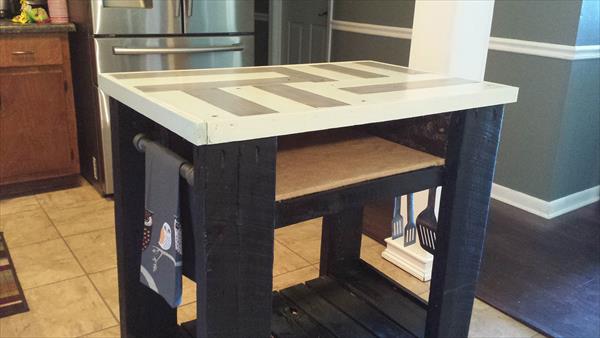 Submitted by: Matt Holmes
Top of the table has been painted white for a shabby chic appeal and also has been made trimmed with outside wooden boundary. An industrial piece of iron pipe has been used to create a set to hang the towel  and other side has been fixed with some kooks to support the cooking tools.
This is just an amazing pieces of pallet wood crafting and this entire pallet kitchen table will be much helpful and likeable to kitchen moms and professional chefs.