As you know that coffee table is the need of every home and it has higher industrial rates. So what is to be done to get in thrifty way? Here we have a perfect suggestion for you to stay on budget while getting the coffee table. We have reused some rustic shipping skids for this DIY red pallet coffee table which has been raised on wheels. Top has been made in with thick oak pallet boars and has different colors like red, black and rustic wooden.
We have just raise it purely in industrial feel with self made modifications and adjustments in original pallet boards. After getting multiple rows of pallet boards on one another it caused a lot of weight so we added the wheels to our 25 unique DIY pallet table ideas to move them smoothly to different locations in home. Enjoy this lovely and wallet friendly DIY pallet idea to get a chic pallet coffee table for living room, patio and outdoor sitting plans.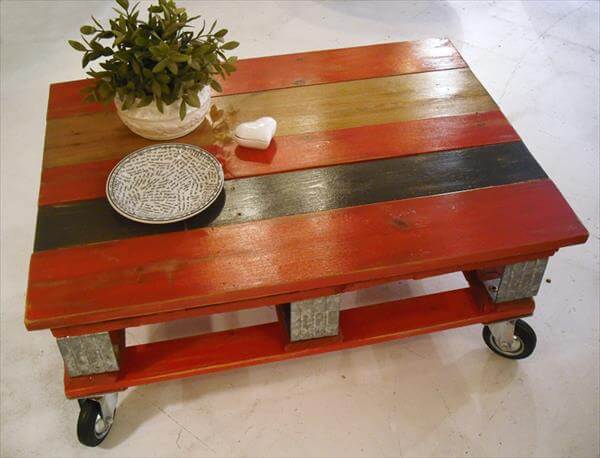 Get some hardware wheels and metal brackets which are the only components that will charge you some price otherwise the whole pallet coffee table project is free of cost and has totally an industrial look and flavor.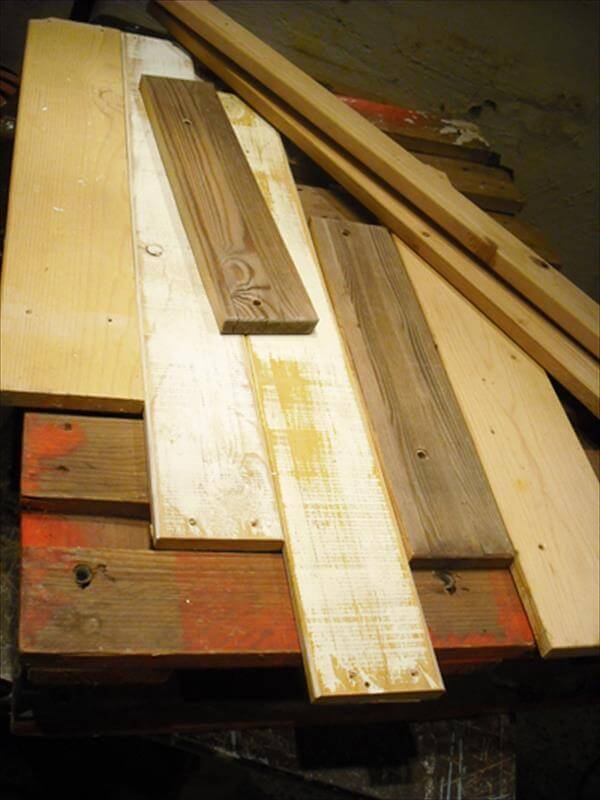 If you have the pallet skid in table size dimensions then it would be fine but if you have a bigger sized pallet then saw it down to a table size first. Next step would the removing of the planks from the bottom you can do the following things to do it effortlessly.
Root up the loosely held nails to facilitate the disassembling.
Use sawzall to separate the planks by cutting the nails directly.
Use the spy or pry bar tool to pluck up the pallet planks
As the pallet wood has the hardwood nature so it may be tough to do at sometimes.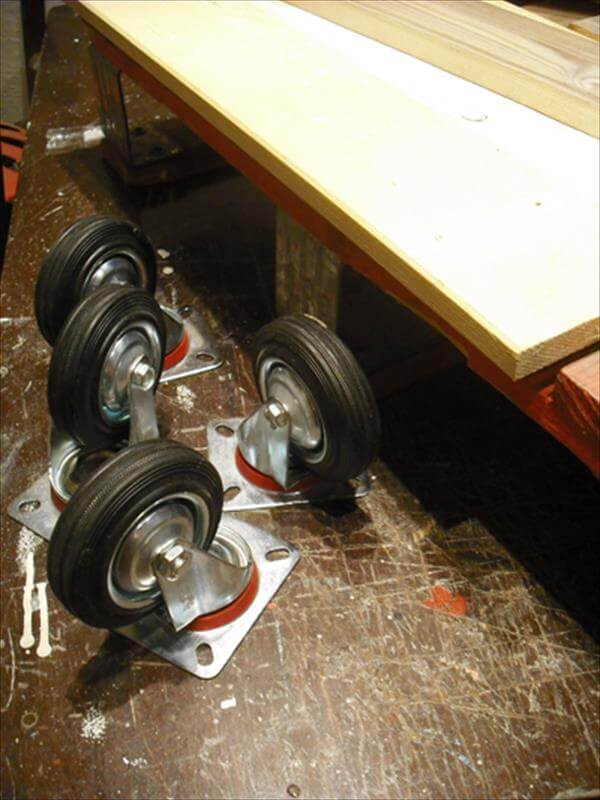 You need some metallic wheels, some disassembled pallet pieces and a rustic pallet frame to get this prominent type of wood table. Get the wood sanded till the gracious and shiny appearance and use the circular saw for cutting process.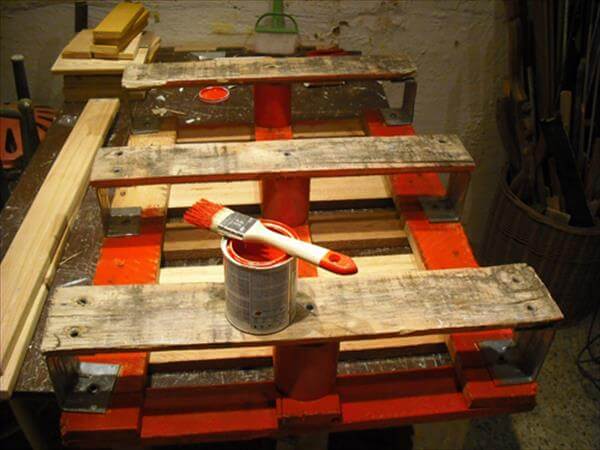 To gain some height for our table we have used the metal brackets between top and bottom pallet boards which can easily be accessed from any hardware store. Using the nuts and bolts formula we have settled all tight for a lasting nature of our table design.
We have used the 3 pallet boards at the bottom and a full pallet skid at the top having spacing in between the planks. You can say it the basic skeleton for out DIY pallet table which we will cover afterwards.
To give it a color theme we used the red paint and cover the bottom panel with it before attaching the metal brackets.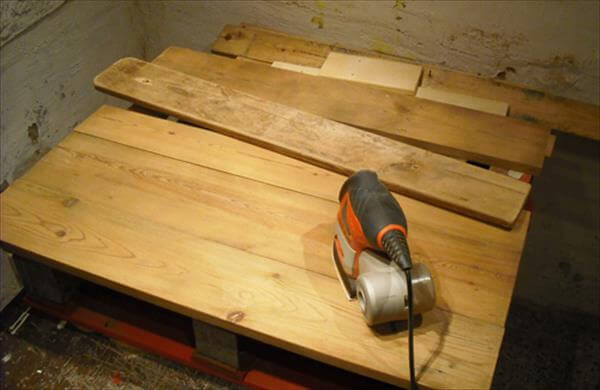 Now it is time to cover the raw skeleton of the table to give a finishing look. For this purpose we have used some thick and durable oak boards to be on the top. These boards are equal in thickness but have different sizes. We planned them for a charming top with some extra edges in outward direction.
After covering up the top with oak boards we gave a throughout sanding to it using the electrical sander tool which really gave better results in less time.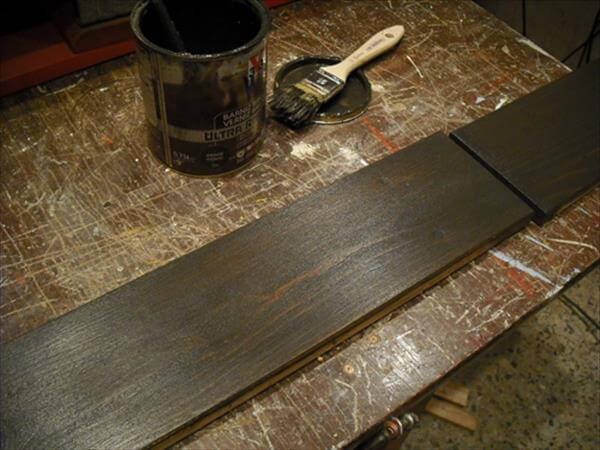 We just wanted a chic top so we decided to raise it in different colors. There were total 5 boards on the top of table so we planned one board to be black, one in natural wood shade and other three to be in dominant red shade.
So, we stained one board in black using minwax stain which is really popular for dark black wooden shades.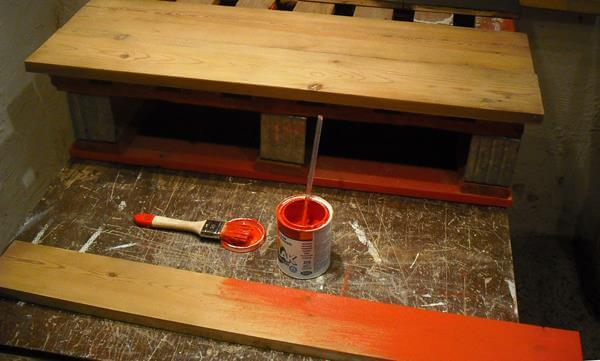 Then we painted the resting three boards in red shade using the paint brush tool. This was much fun to do and you can involve you children too in this painting process. If you sand the wood before paint it will accept the paint layer more firmly.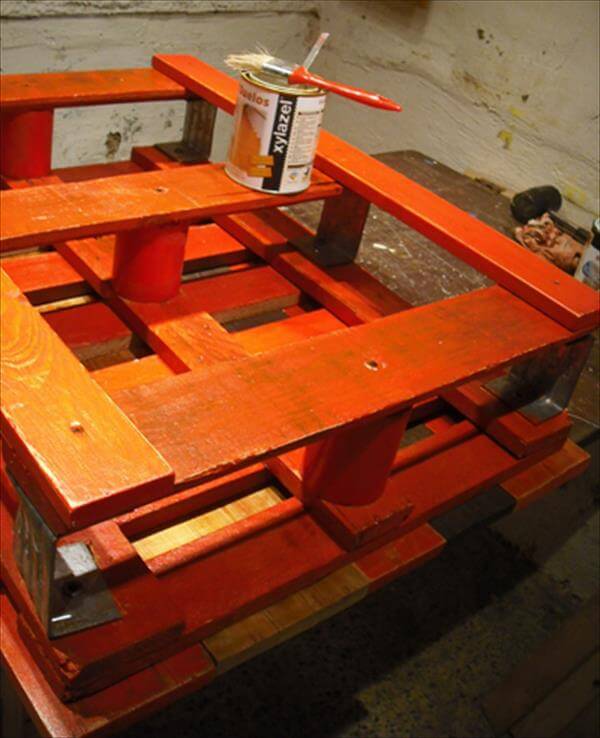 When we got a satisfied assemblage of all part then we painted the entire bottom with red paint. One coat will be sufficient for a distressed appearance as you can see some wooden portions through the paint medium, so cool!!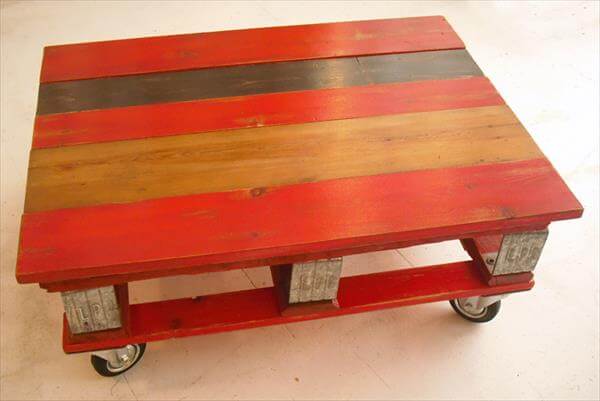 When the paint was dried we fixed the hardware wheels to the bottom part of the metal brackets by drilling the holes first in the bottom planks. Now it would be easier to move it and metal touch of caster makes it perfectly industrial in appearance. The paint was fine but looking dull, to get a crystal clear shine we applied few caots of varnish on it and let it to be dried well for few hours.
Now this creative demonstration of DIY pallet furniture is just ready to come inside of your living room to provide its cozy services. Make the top of it perfectly garnished using some antique arts and flower pot to get also a centerpiece for home decors out of it.
This rustic pallet table can be triggered to any decorative and serviceable mode and will also act as a chic conversation starter for any sitting plan.