People keenly interested in recycled furniture can really get yourself more creative now as we have revealed here some great secrets of wooden crafting that can make you an clever furniture builder. Here we are with a nice scheme in which an old glass top table has been refurbished with a wooden top. Just check out this DIY revamped wooden topped table which has been modernized with pallet wood. You can bought such an old table from local sales or can also visit the home trash store to get a crumbled version of table to be modernized with pallet wood.
Oak natured pallets have been stripped up to give the wood that has been used to build the top of the table by cutting down to measured sizes. The separated pallet planks that forms the table top has been assembled together by making pocket holes and then screws through them. Kreg Jig can be used to make the sharp pocket holes in any targeted wooden area. This DIY updated pallet table will rock at your patio or in living room and has been done on much cost effective plans.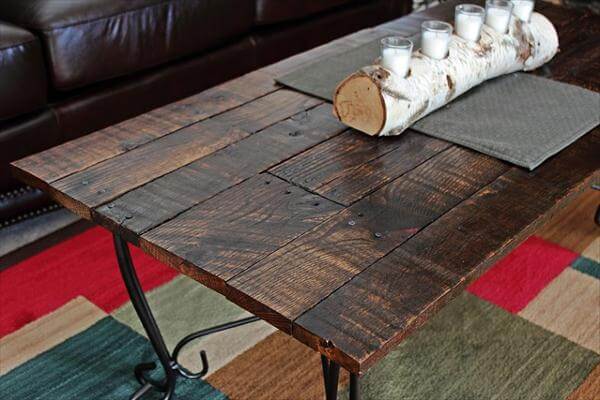 An old glass top table bought from a local sale has been updated with a wooden top made of pallets. The wooden treatment provided the extra wings to the old table to be looked more eyeful and fetching.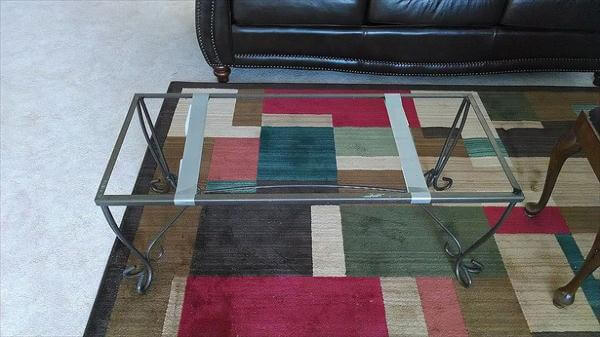 This was the table targeted for a throughout renovation and remodeling with pallet wood. Table was having an enchanting metallic base with artfully twisted legs. You can also visit the local stores and sales to get such an tables on a budget.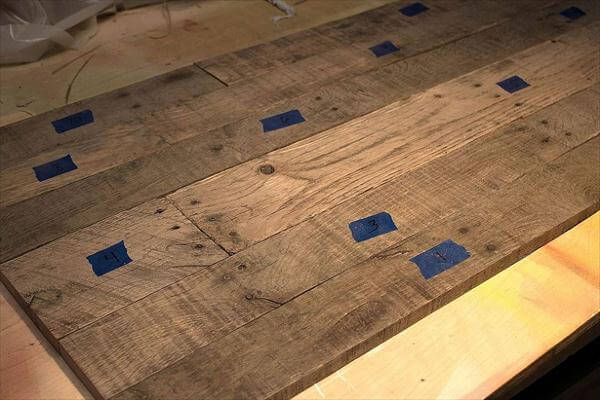 It was needed a definite amount of wood to plan the wooden top for table. For this purpose the entire wood has been attained from pallets by making them disassembled. Disassembling of pallets may be an effort taking tasks but using a pry bar and some hammer strokes you can do it safely within no time.
You may also use the sawzall to strip up the pallet boards quickly, you can simply cut the nails with that hold the pallet planks together.
To design the top for the table, hand-selected separated boards have been joined together. Using Kreg jig wooden apparatus, pocket holes have been made to hold the boards together strongly. By repeating this process a sturdy top of table has been built to be put over the metallic base.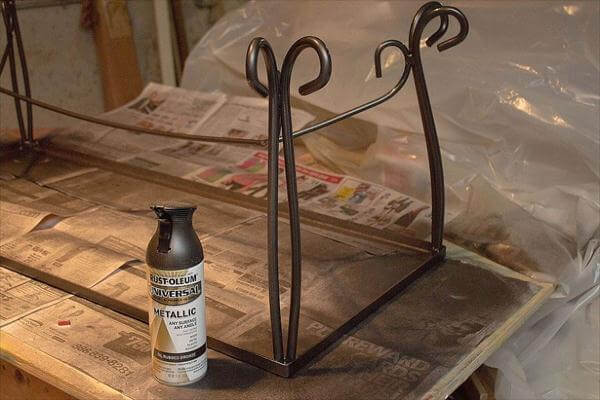 To hide the rusty appeal of the metallic base it has been sprayed with metallic bronze paint rubbed with oil. Let it dried for sometime to settle down the paint firmly and move forward to install the top panel.
Top has beautifully been installed and has size just a littler bit bigger the original glass top of the table. This genius remodeling of the table gave birth to a totally new, fascinating and functional design of table that can be used in either way for either purpose.
This pallet table has been finished with a clear coat to ensure its lifetime stability and you'll just love to live with it for sure!