We just can't live properly without tables in home as we need them at every area of home at outside or inside of home. All pleasurable types of tables we use in routines are just very possible to construct with pallets. Here we let you to know about more precious types of tables made purely with pallets. Take a complete roundup of these DIY pallet table ideas, raised to higher levels of creativity. Coffee table is the most vital element of table furniture and is also most crafted one with pallets.
Beside this, you can also construct the media tables, garden potting tables and also the hallway and accent tables for home with pallets. Table ranks first in domestic furniture elements and also held above all in rates that of manufacture and industrial versions. Pallet wood provides the most cost effective way to access the tables of high serviceability with amazing rustic and modern designs.
Antique Pallet Patio Coffee Table:
This is the simplest and easy-to-build type of table formation with pallets. just add the wheels or legs at underside the pallet skid and enjoy sturdy wooden coffee table to support your seated guest at patio furniture, personalize the table with any topcoat of stain or paint!!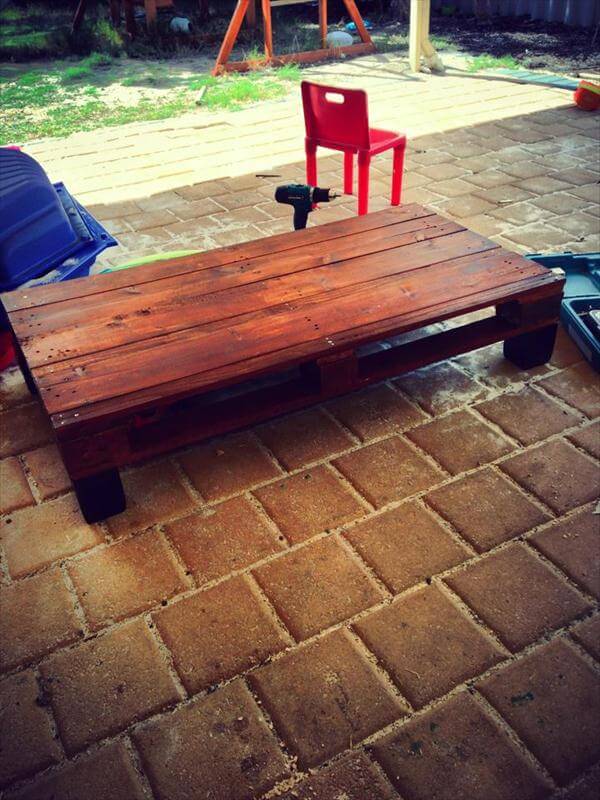 Pallet Coffee Table with 2 Levels:
Amazing two leveled pallet table having marvelous space for storage. The lower level makes it unique and out of ordinary, sanded smooth for naturally worn and gentle bright wood finish, Really gorgeous wooden table design salvaged from pallets that are always free!!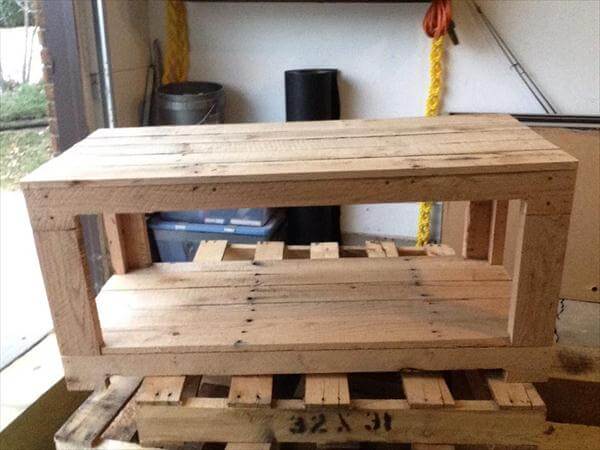 Pallet Garden potting Table + Media Table:
This rustic wood table is extremely amazing and comes with lots of shelving space and can be changed cleverly into a DIY pallet media console table. The layout is also great for garden potting, seeding and grooming purpose to use it also as a garden potting bench o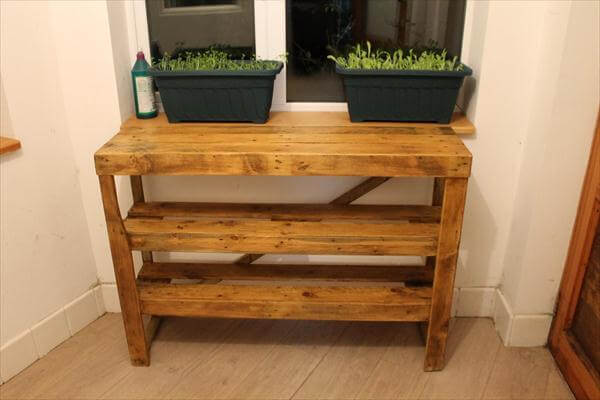 Revamped Pallet Hallway Table:
Broken up versions of domestic tables can also be restored or revamped with pallets. This is really an example of such a kind, top is made of pallets while legs have been repurposed from an crumbled manufactured design of table lying in home trash store!! Great technique and suggestion to renew your collapsed models of industrial furniture!!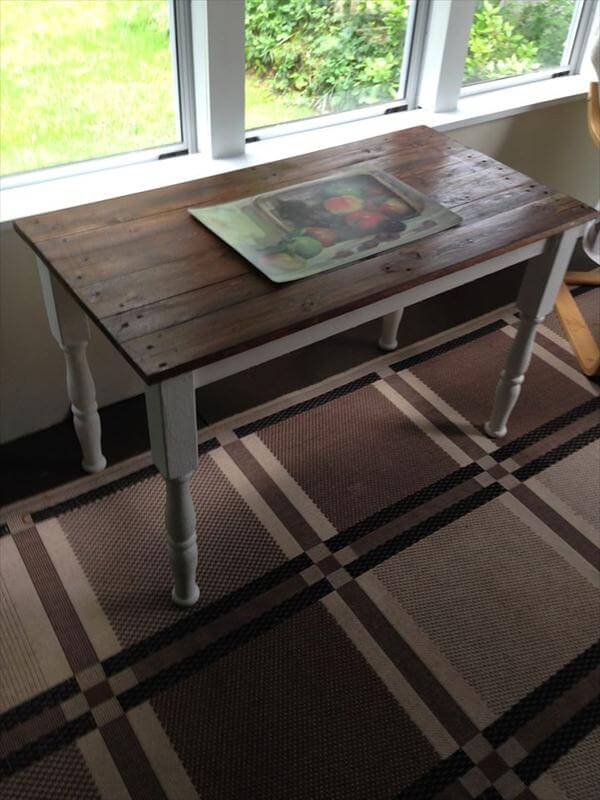 Elegant Black Pallet Coffee Table with Glass Top:
With a little ingenious planning pallet wood can perfectly be paired with your modern and cozy environments. This dominant black coffee table, finished with glass top really looks awesome in modern ambiance of living room. Table features a DIY pallet magazine rack underside the top to secure nicely your magazines and books.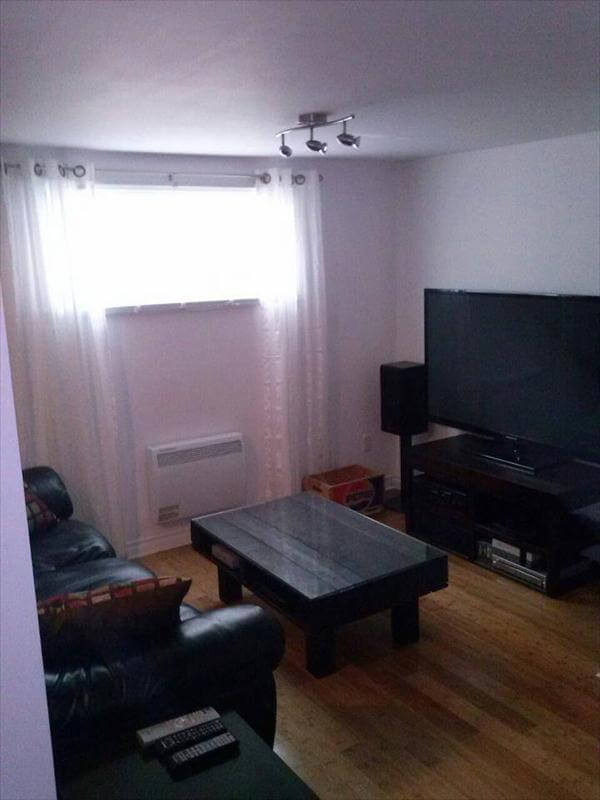 Natural Blank Wood Pallet Coffee Table:
Pallet comes in so many different sizes, simple get two mini ones and install them in top to bottom arrangement to have a comfy setup of coffee table with storage. It would always better to sand the wood to remove the splinters and roughness of the wood. Same has been done in this case of visually attractive wooden table!!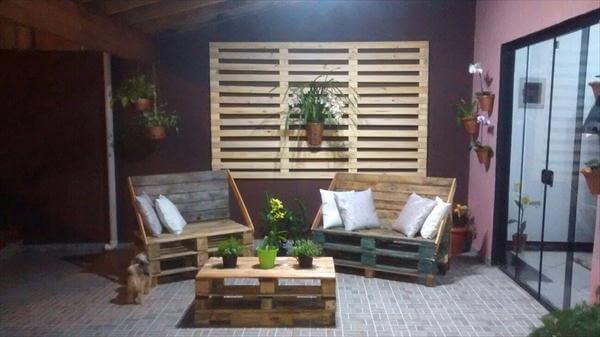 Unique Black & White Pallet Coffee Table:
You can imitate various art forms and shapes by painting the pallet tables. This amazing A-spades card themed table is really visually attractive and will live as a centerpiece in your living room. Top panels is white while bottom is black, it comes with openings that can be filled up by storing books or magazines inside!!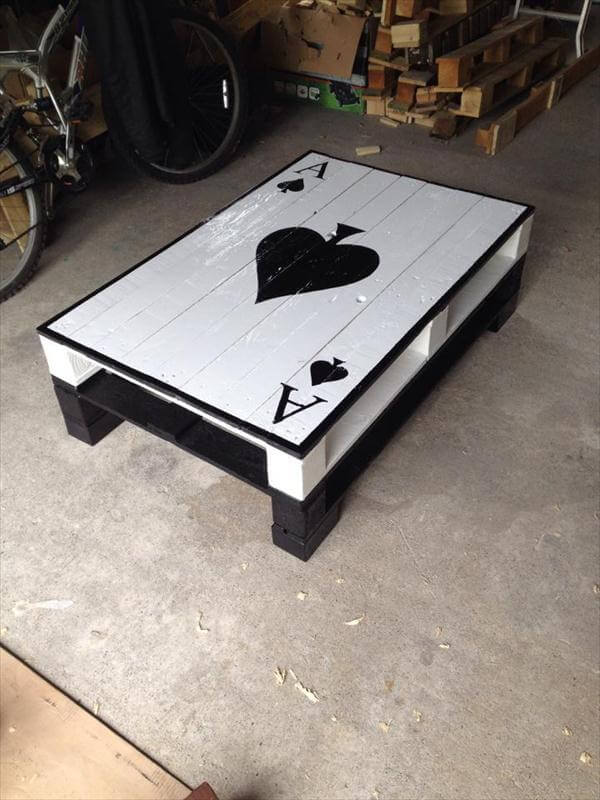 Stained Pallet Media Table with Sub Cabinets:
Entertainment centers, media consoles, TV stand and media cabinets also come really in handy to build with pallets, given design is up to trends and contains lots of sub cabinets to go for a pretty big storage of your media items and supports. To ensure its lifetime lasting structure, it has been made stained and then sleek with sealant for water and weather proofing!!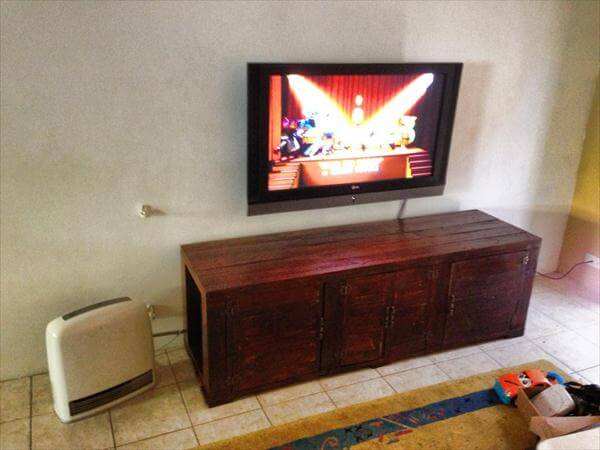 X-Long Pallet Table with metal Hairpin Legs:
This is really a phenomenal plan to have a table with shelving. X-long table top has been integrated using individual pallet pieces that comes after a pallet boards separation process. Extra wide and long size of top has been supported by 4 metal hairpin legs, reclaimed from home metal scrap while center stands on a floor cabinet that look like a part of the table design and construction. It also comes with two touch-to-open drawers to hide plenty of your tools.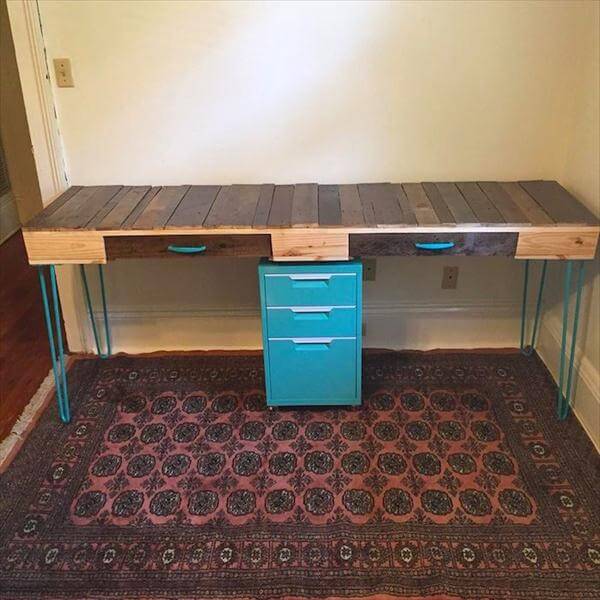 Great DIY pallet furniture ideas to earn tables safely at home with hear touching designs and styles. Be your own furniture builder and don't let the pallets go for nothing. Think always twice before to target the pallets to be thrown on landfill areas, they are really awesome to be recycled for extraordinary furniture pieces that held much extensive and vital to live a comfortable life!!