Each room of home has an exclusive and specified type of table like kitchen, living room and bedroom. A media console table is a great and pleasing type of table for your media room and also for living room sometimes. However, this amazing furniture component can easily be formulated with pallets by putting them together in creative and functional alignments. This elegant example of DIY pallet media console table and TV stand is exactly the type of table that is need of every media room.
It has been given some wide and long dimensions and different ledges and shelving units has been made a part of design so that it may give a large place to store your favorite items and media well. Wood has been sanded till the brightness on the wood grains and then stained to get a perfect dark wood tone. For more coziness and well appeal, the caster have been added at four bottom corners to serve as rolling legs that also beautify it more with their metallic and industrial touch.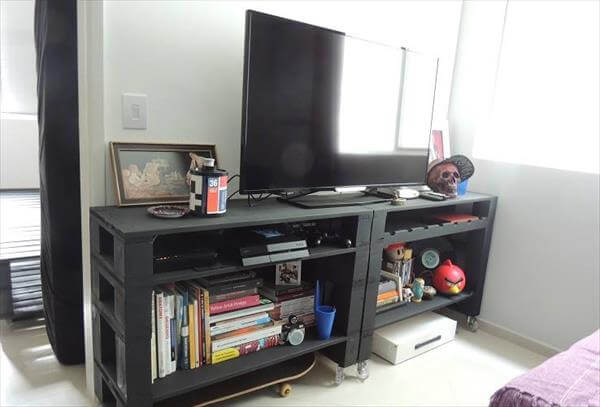 Involvement of multiple pallets to create different ledges, shelves and storage units can cause a sufficient weight to this media console table so it would be much better to attach the rolling casters at bottom to drag or push it effortlessly. This tip will work remarkable when have not a specified or exclusive space to use it.