Gets antique tick tick time counting clock system with reclaimed pallet wood in tremendous black shade. The hours counting has been shown with roman numerals with perfect and exact positions. The pallet wood piece selected for clock system has been stained with min wax for dominant black impact which will look tremendous and graceful as a background for golden numerals and clock hands. We have chosen the quartz clock system for fine and precised tick tick on our living room wall.
This suggestion of pallet clock can nicely be copied at home, the dimensions and mounting is simple and visible to any home lover. You can make these straight cuts in fine grace even you have never gone through the carpentry. You can hang it with a wire loop at the back position for displaying it on wall. The numerals and clock hands with different funky and cool styles can be bought from any hardware store on very cheap budget.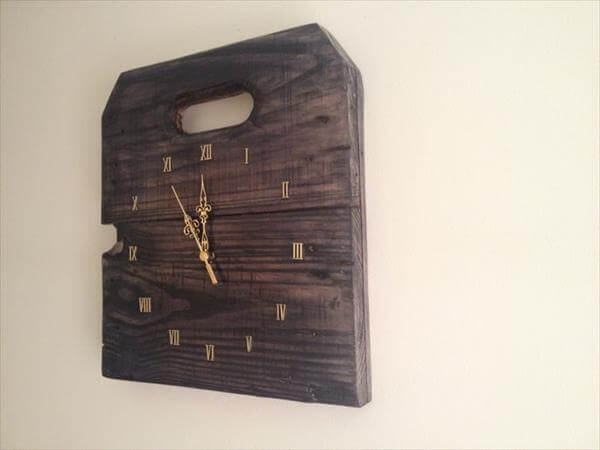 The whole appearance of this pallet clock can be changed according to personal taste and desire like the color of stain, the numerals, the clock hands and almost every thing.
The hanging on the wall has nicely and terrifically done by using a metal wire loop at the back of this clock. This distressed and shabby dark model will surely double the grace of the living room by acting as a centerpiece on the wall.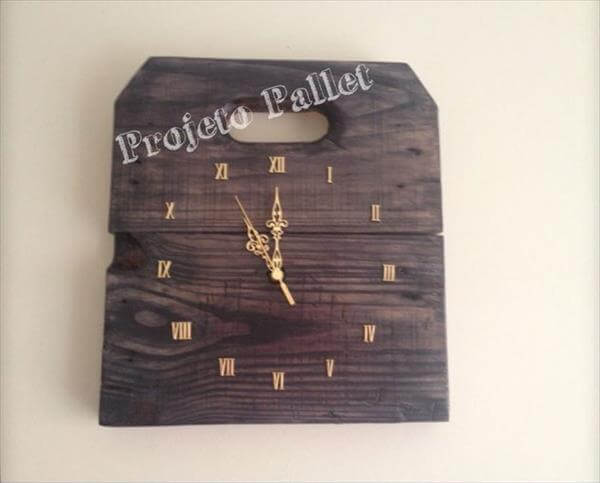 The small handmade things can cause bigger decorative impressions, we have also done the same thing by choosing this pallet clock as our target for home project.