Get another hilarious example of DIY pallet recycling ideas in which we have mixed some home collapsed furniture pieces and pallet wood to give them a utilitarian move. We have reclaimed an old headboard which was no longer useable and was lying in home scrap for nothing but just to rot and decay. We patched it up with a pallet berth and legs and to earn this DIY bed headboard and pallet wood bench design.
This pallet behavior is much friendly and coordinating and can be enjoy at both interior and exterior home places for sitting needs. These DIY 2 seated pallet benches are very stimulating inspiration to reuse the old and broken up home furniture for dutiful and highly serviceable manifestations. You positioned it outdoor, at patio or at home deck to get beautiful and subtle seating plans. If you are also having such broken up furniture pieces then rebuild them by patching up with pallet wood to get them restored to home services.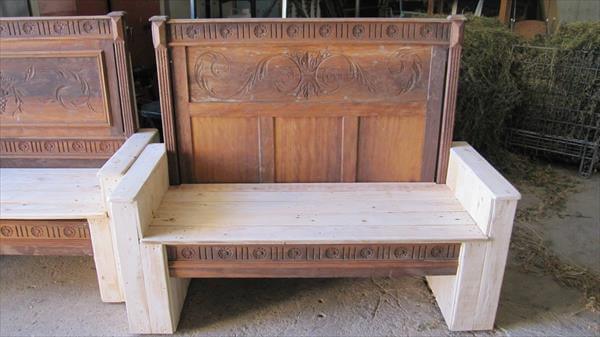 Headboard has beautifully aligned vertically to give a chic berth. we have also provide the thick armrest which end up to the legs of the bench. To get it more eyeful you can go for various paint and color combinations.
If you know some painting and artistic skill then you can play with this antique appearance in so many different ways to get a most personalized and specified appearance which some artistic patterns.
We have got a twin of benches due at a time availability of two rustic and old headboards. There are many optional ways to add some personal preferences to this handmade DIY pallet furniture paint is one of them.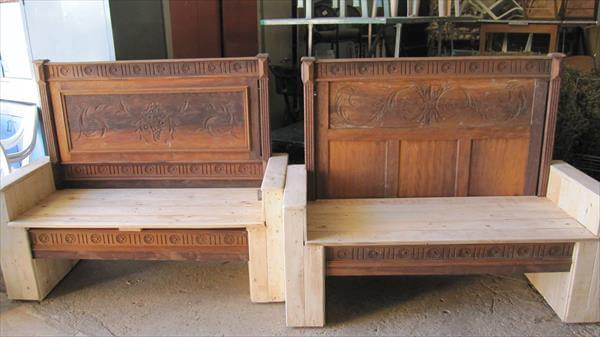 You can also tag it with some name letters to have an entirely exclusive nature.You can make use of vinyl letters or directly engrave them on wood with some shape edge wooden tools or wood burning process.
Plan a few coats of varnish and stain for more power and endurance to your targeted design. Stain can also display your final product in many shades, you can make use of maple, weathered brown or grey, dark or light walnut stain shade for more shiny and chic nature of the wood.