Headboards are artistic upright panel of a bed which also do a lot for beauty manifestation. It also provides resistance to falling of pillows and gives signified completion to a bed by behaving as its head. We have made different short budgeted bypasses and routes to achieve this chief and major need of home. The first and most cautious solution to find it with ease and less spending of money is the pallet wood which held always dear to us.
The reason is that it has untouchable endurance value and is nothing in budget and cost. You can have it for home DIY pallet furniture projects and plan free of cost from surroundings or from shipping trading companies which think it a rubbish pile after shipping and want to get rid of them. By getting the same shipping pallets we have shaped up nicely a DIY pallet headboard frame and model to get our bed perfect and accomplished economically and fashion as well. This headboard has dimensions and is about 78″ inches in length, 35″ inches in tallness and about 10″ inches deep.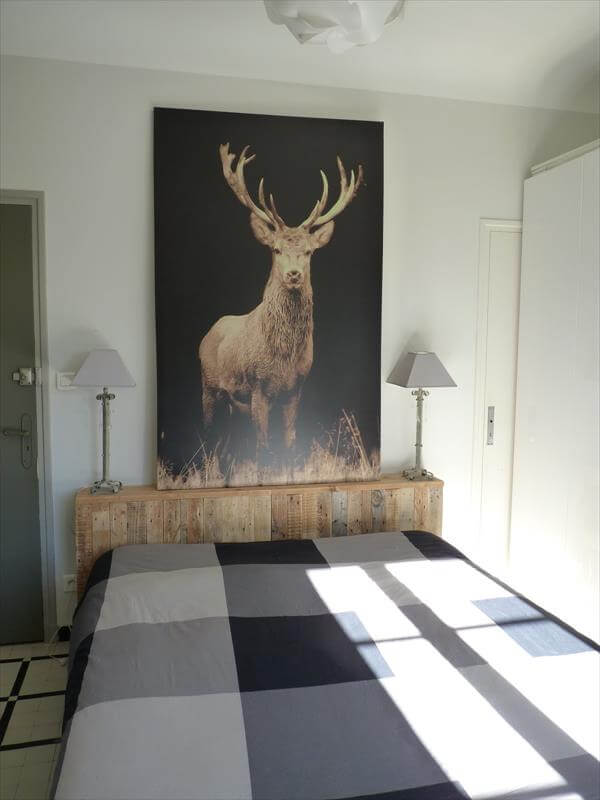 It provides great aid by getting the ready the material you need at night in side pockets of it. About 10″ inches broad top can handle a bunch of decorative objects and bedroom organizers to make the bed well planned and garnished.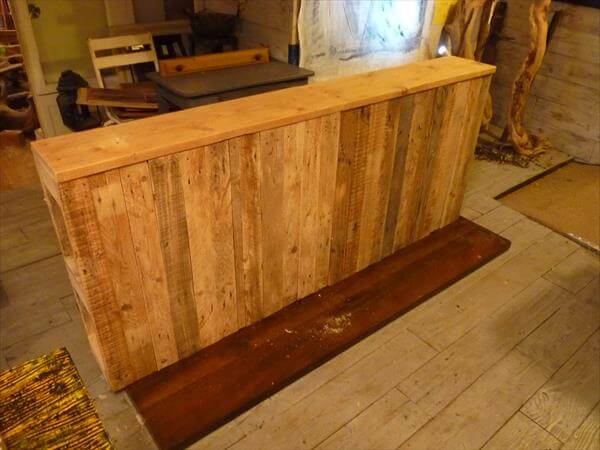 First of all strip all the pallets from board and get them separated to arrange in targeted scheme. Sand them if needed to furnish the wooden surface. Then pick up the planks which are same in length and thickness to shape the target up.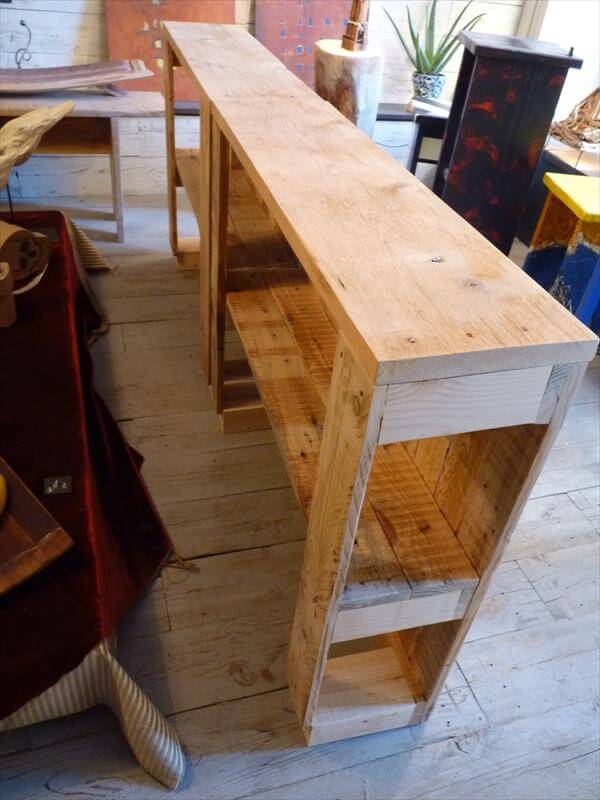 You can put in every thing which fits in the side pockets for secured and protected storage at the backside of the bedroom. These side pockets can also get that night supporting material and concerns and also some personal items like mobile phone and i pad.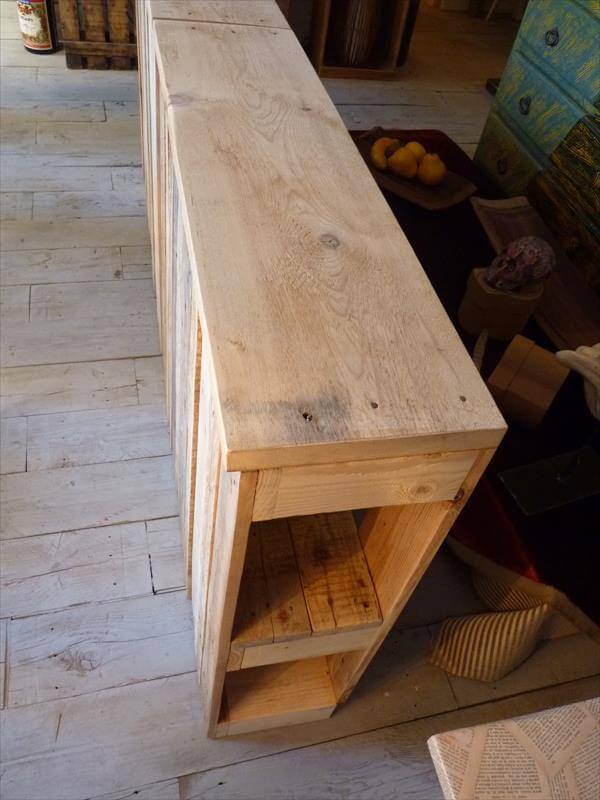 If you are getting bored with this rustic wooden appearance then plan it a varnish and stain coating which have beautiful wooden themes and styles like colonial maple stain, weathered brown stain, min-wax stain and many more.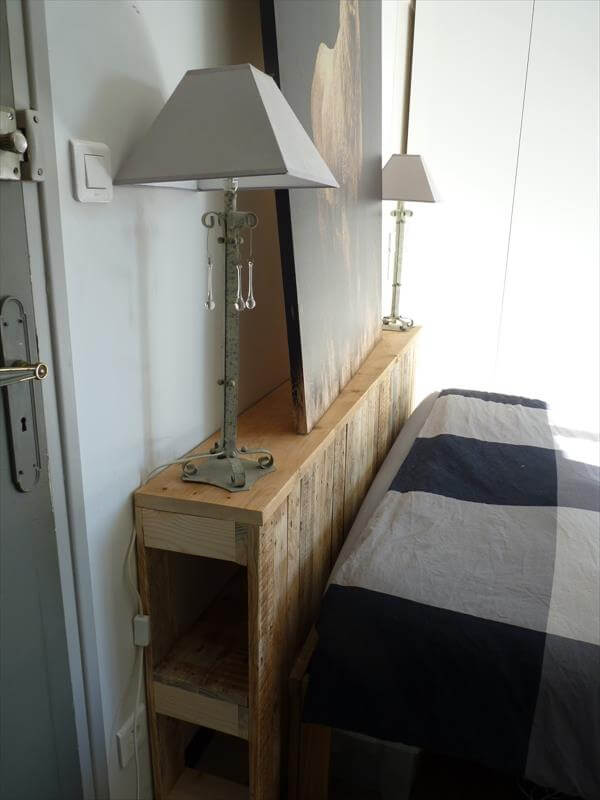 The varnish would make it stand to last and will make it strengthened and powerful. It also add the charming and stimulating shines to wooden surface to get that awesome and impacting wooden garnish, which would be appreciated too.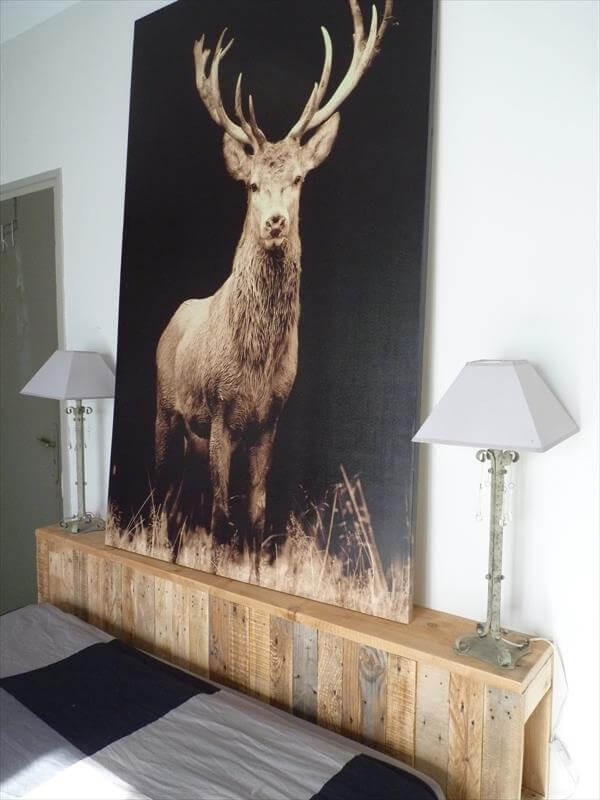 Remove the ugly edges and fit it your bed along wall and go with your own creative mind to get it wholly garnished like a centerpiece in the bedroom. We have provided to night lamps at both corners to look great and sparkling at night. Some murals and painting would also be a great inclusion for classy and graceful impressions.