Are you searching for an appreciated way to get your picture framed? Do you really want some cheap but chic solutions for home wall accent and decors? The perfect solution is just lies in pallet wood, you can make terrific picture frames out of pallet wood to get give you picture a terrific appeal with rustic wooden background. Here we have made this DIY pallet and burlap picture frame using some rustic pallet pieces, a picture mat and a piece of burlap.
As we have reclaimed all these things from home scrap so the total cost of this whole DIY pallet photo frame is zero. This would really be a great plan to accentuate the home blanks wall areas and to secure your picture as well. A piece of metal wire supported by two screws, has been used for perfect hanging of this frame on wall. You can make it stained too if you want more for its appearance.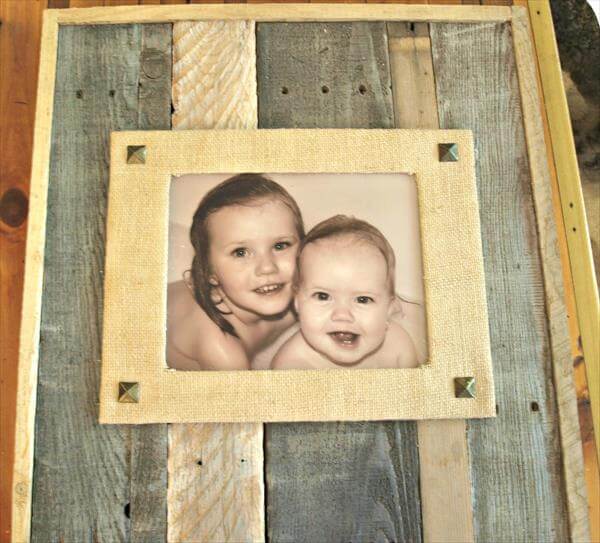 This picture frame is just an amazing use of rustic character of pallet wood and really work very well for both modern and vintage type of interiors. The antique looking make the picture more stand out and eyeful.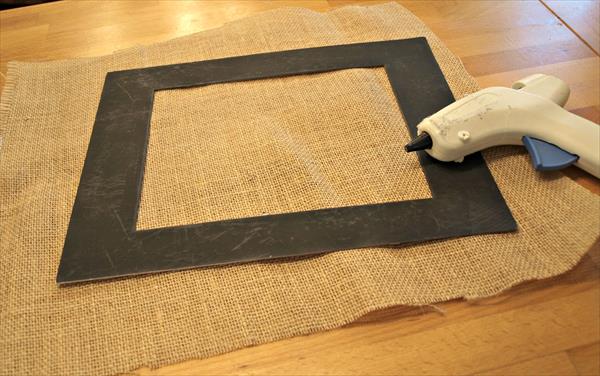 We took a visit of our home store and scrap room and found a piece of burlap and a picture mat frame. This really gave us the way to make this rustic picture frame setup for our home walls.
We placing the picture mat on the piece of burlap which is a little bit bigger in size than that of mat. Then we folded the burlap sides in to cover the both sides of the mat with burlap. Then we used a sharp edged knife to cut out the inner burlap portion and safely did it for a nice view of picture mat.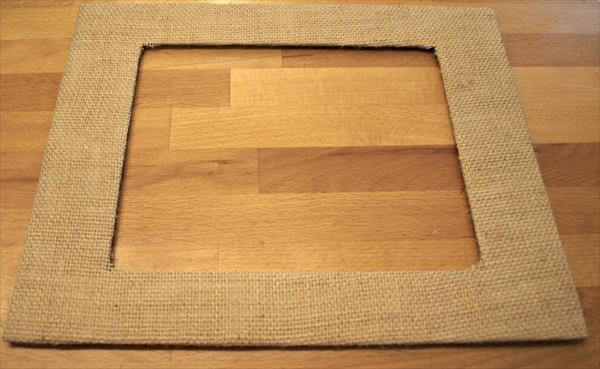 We layered the glue on both sides of the mat and also removed the creases in our burlap and got this overwhelming view of our picture mat at no-cost. Use of burlap really added the antique character of the picture mat that was our target.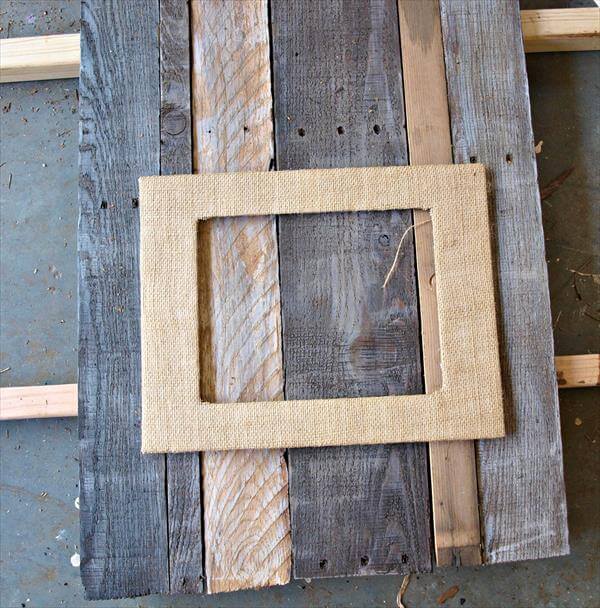 When our burlap picture mat was ready we moved forward to have a nice wooden background for it. For this purpose for stacked together various pallet pieces found in home scrap and having different tones of wood.
We placed the mat at the center of the wooden frame and then got the dimensions of the pallet frame according to its size.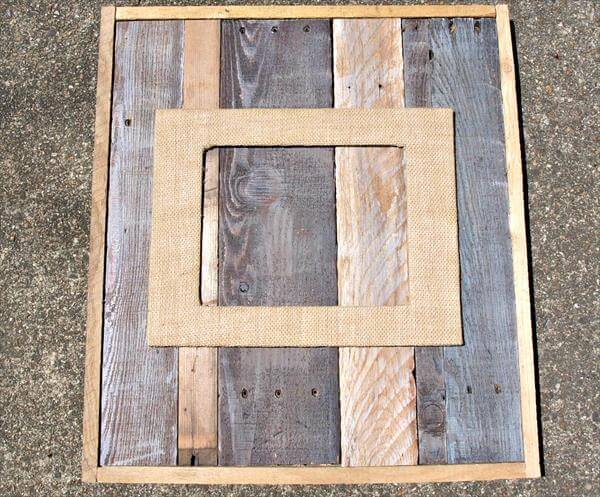 Here is our perfect pallet picture frame which we have trimmed with mores scrap of pallet wood having a different tone and nature from the inside portion.
We also used the medium grit of sand paper to grit the surface of this frame to remove the uneven edging and splinters for a plane and smooth touch.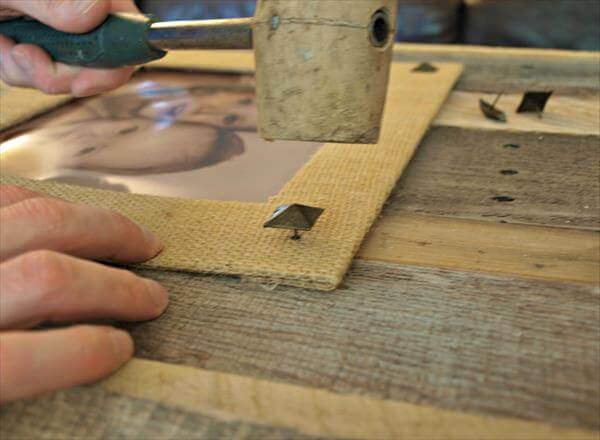 After getting all ready now it is the time to frame up the picture in this burlap mat. We simply tap the picture down and added the tap to the edges of the picture for perfect settlement of the picture.
Then we added the mat on the picture and fixed it tight using accent metal nails. To make the nails settled down perfectly we used the strokes from a rubber hammer and added the accent nails at all 4 corner of the picture mat.
These accent metal nails really spiced up the whole frame with their charming metal touch. You can also grabbed such a nails from the hardware at cheap costs.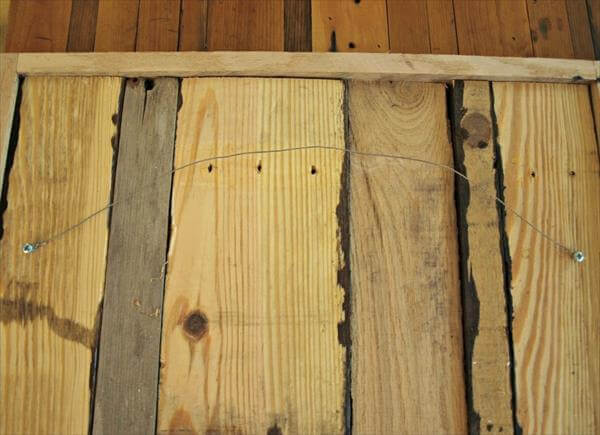 To make this frame capable to hang on wall we added two screws at the back of the frame and fixed a piece of wire between them by making the twists and loops of wire around each head of the screw. You can also use the hardware picture hangers for more secured hanging plans.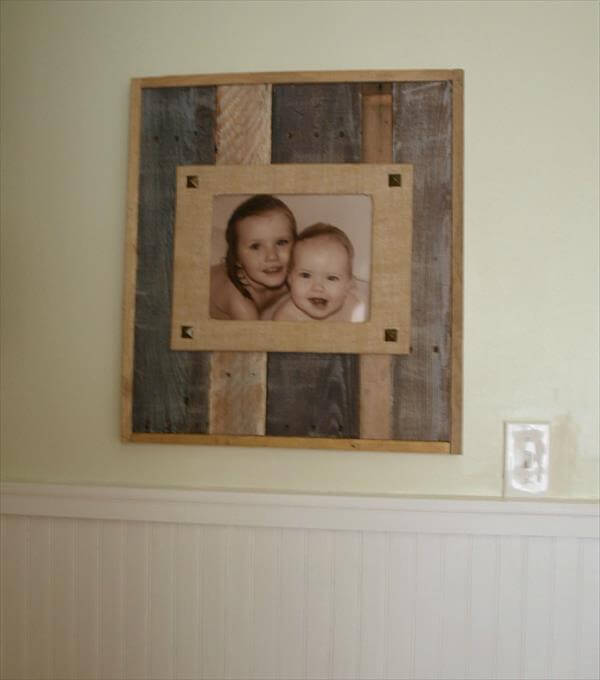 Pallet picture frame is just ready to accent any home wall layout of your home. This DIY pallet picture frame can make some bigger statements of home decors and is also a very intelligent way to give a charming display to you past memories.
This DIY pallet furniture has a much cost friendly, gift-worthy and beginner friendly nature and so should also give it a try to compliments the home wall decors greatly on a budget.