Have more space for secured and safe storage with this DIY crate and pallet project. We have reclaimed a favorable and useable component for home utility purposes which will go for a great storage of things like books, blankets, clothes and much more. We have shaped up a nice DIY pallet and crate chest with a union jack tag on its top. This DIY pallet trunk has been raised on wheels to move it to any popular location in home with a great muscle effort.
We have tried it to give a full rustic and vintage appearance which looks much appreciating. To find it more antique and prehistoric we have given it that of rope handle and a pure vintage pull at the front. We have tagged the top with union jack by surfing the internet for nice makeover of the shape. We have given it a clean varnish after a satisfied sanding process. This was a great DIY antique pallet coffee table to find out some really profitable utility purpose through rustic and weather wood which mostly thought not useable anymore.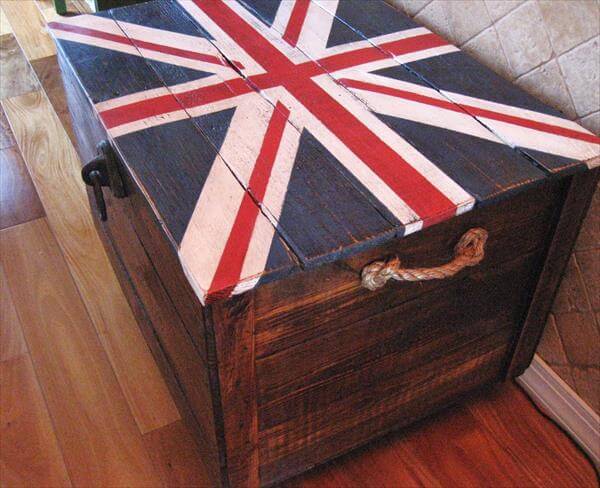 You can use it at the end of your bed to keep safe the blankets and many other night supporting material which you will be need at every night. We have given it an hinged top which open in a very charming way.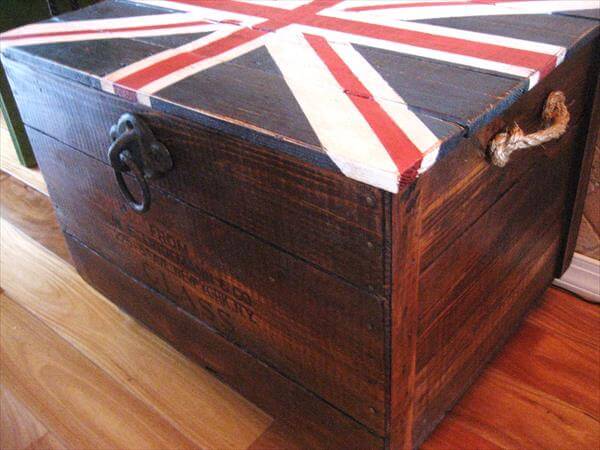 We have provided it some heavy duty rope handles to pull it over and also to life it up. We have made the knots at both ends of the rope at inside to not to be out from the holes. We have also stained it dark with walnut dark brown shade which gives it a dignified wooden gracious.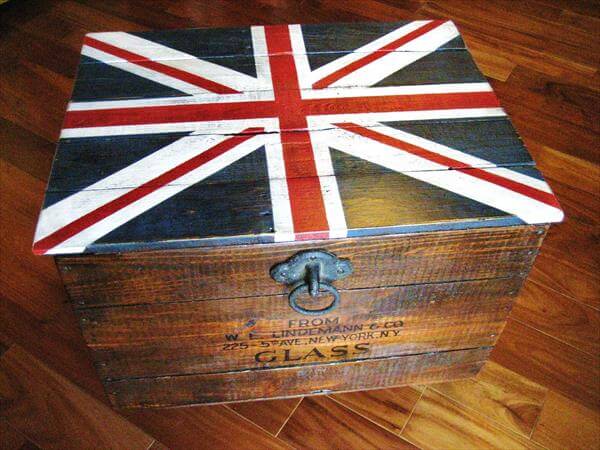 We searched for this rustic pull and front metallic badge from the antique shops and buy it from one of that for crazy vintage impact which makes it more historic which we love all. You can also put some vinyl letter to make it more specified and unique in character.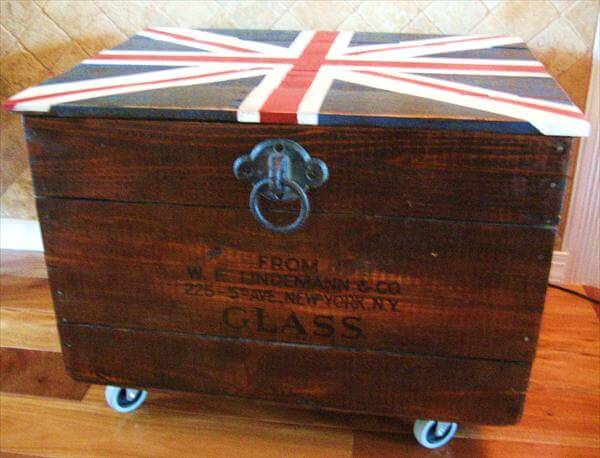 There are two main features which makes it unique and matchless in its trends one is its union jack tag at the top and other is the attachment of metallic caster which make a arresting and visually pleasing metal touch on rustic wood.
You can wish a lot more from the pallet wood, there are tons of DIY pallet ideas to make your home run down. So grab just the pallet wood and we will provide you some chic DIY pallet tutorials to make you get with some honest and dutiful DIY pallet furniture and wooden objects which perform a great part of home routines on a budget.