Sideboards have evolved in their used as they are now not limited to the dining area of the house only they are used all over the house to perform the storage applications. And now as pallets are all around you, so you can build one from the pallets of your own and to show you an amazing example we have with this DIY pallet sideboard piece. The sideboard features a very smart structure having lots of storage space in the form of a wide top, drawers, cabinets and the middle shelf.
So your decor pieces on the top, tiny knick knack in the drawers, fragile stuff in the cabinets and the boxes and books in the shelves would find a perfect housing spot. Hall, living, lounge, kitchen or even the bedrooms space would welcome this side board with open arms for so good looking design and shape. It has been kept unfinished so that its natural rustic appeal is at its peak to bring some accent value in your spaces.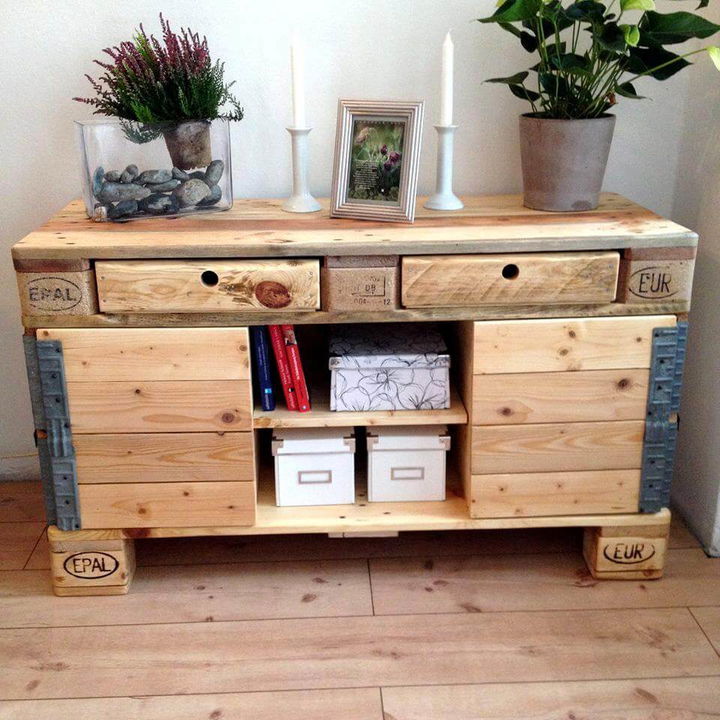 The main purpose of the side boards are to solve the storage problems in the house so they can be used for any storage purpose and in any section of the house and with pallets you have a cost free one.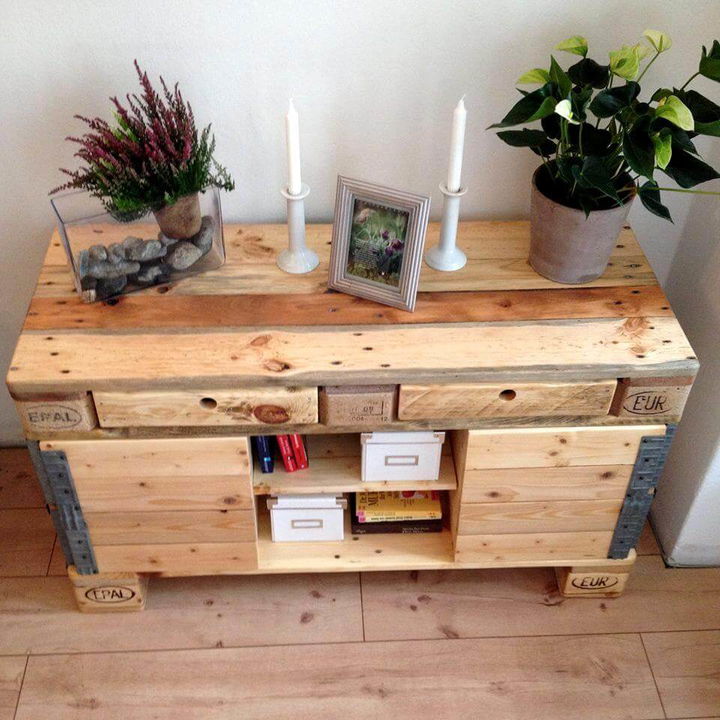 This pallet made side board is build with pallet slats, planks and even the dice section pieces to form the top, the don't cabinets and shelves and the feet respectively.
A whole double face pallet has been used to form the top of the side and in the open cubes of the top the drawers have been tuck in so that you enjoy more storage space for small knick knack items.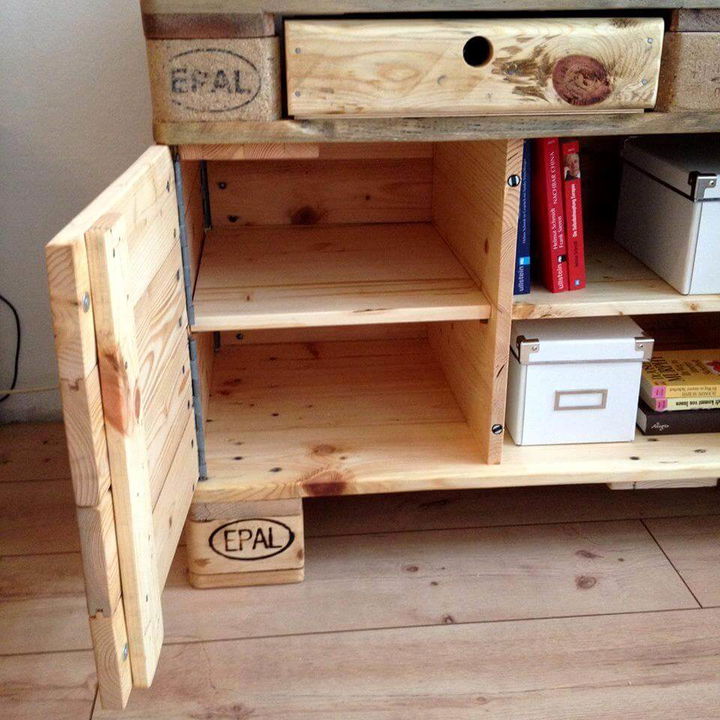 The cabinets at both side of the side board reveal a lot of storage space behind the doors and have been sub divided into two shelves for further convenient use for multiple storage options.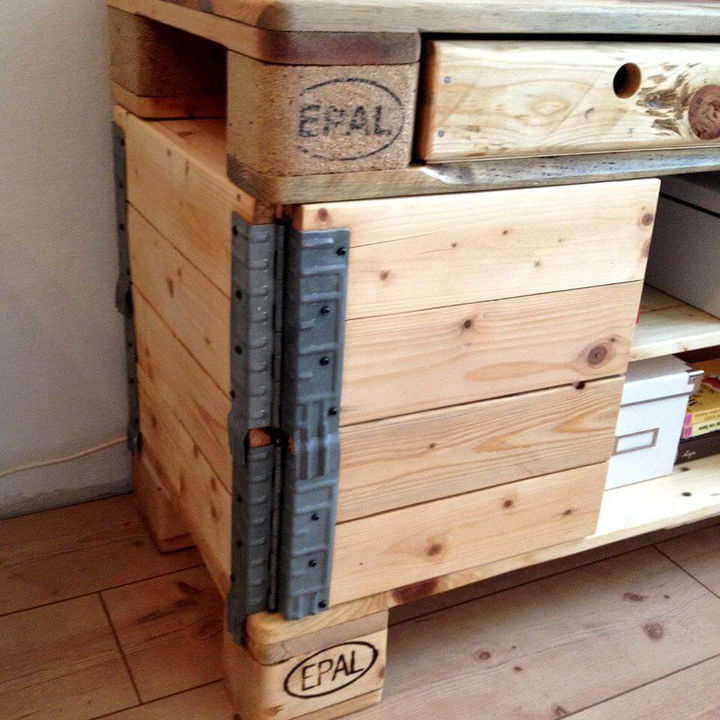 To enjoin the doors of the cabinets to the side board strong and durable metal hinges have been used and inserted with the round head screws so that you get the doors in firm form.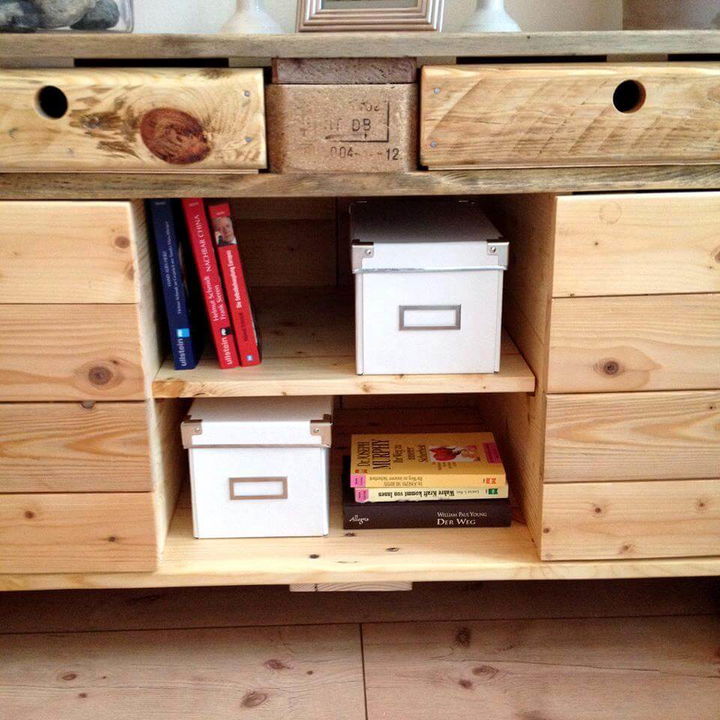 Apart from the cabinets and the drawers there are two middle shelves in the center of the side board to hold more your items on them and thus giving you all in all a whole practical possession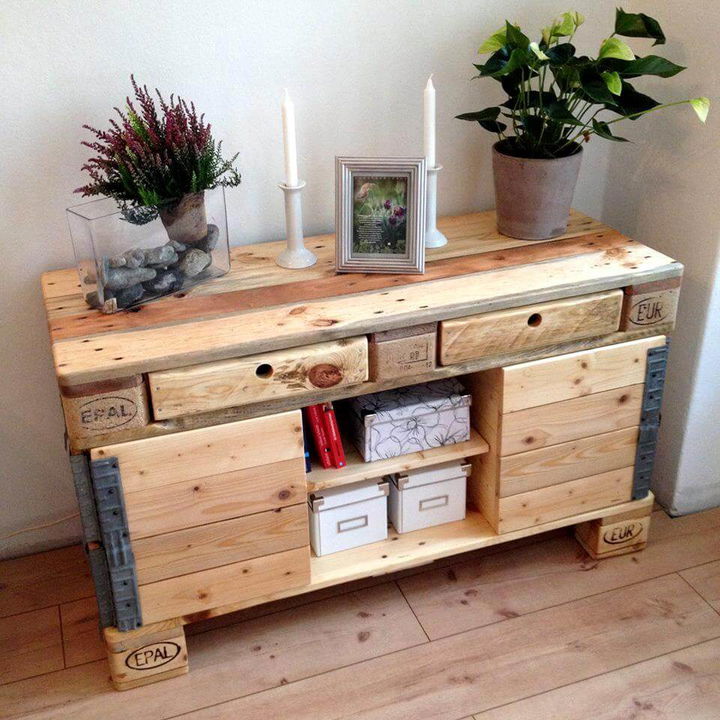 The top can be filled with the decor items like frames, vases , the drawers and cabinets can be used for the storage of fragile items for safe hiding and the shelves would hold nicely your books and shoe boxes.
Made by: S.L.-Loftart