Most of us keep pets and love them great but pets cannot be confined to your arms or an enclosed cage or space they need freedom too. To keep your pets healthy and happy we have planned a scheme is shape of this DIY pallet cat tower which has purely been repurposed out of pallet wood. This amazing DIY pallet cat house has been done with X shaped crossed set of individual pallet pieces after dismantling of big one boards.
This setup scheme is also very best for your tiny dog pet which can enjoy this rustic playing station very much. We taken use of pallet wood in wise way, after crossed alignment of pallets we provide it multiple step up DIY pallet shelves which held much handsome and spellbinding and are also very according to the jumping nature of dogs and cats. If you are also contentiously surrounded some of pets at home then this wooden craft work will be most beneficial and economical for you.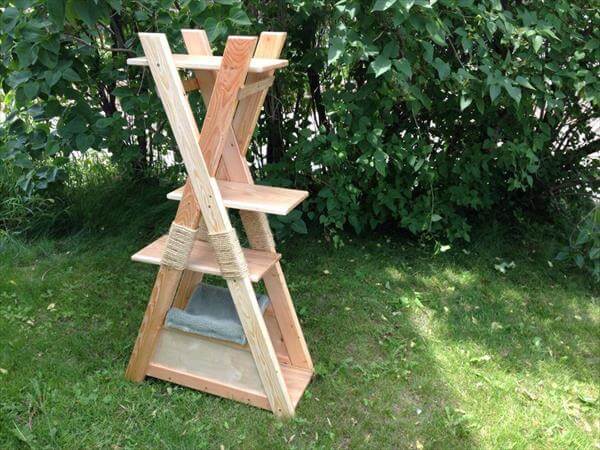 You can scale it up and down according to any personal size you want. We have also added a DIY pallet pet bed arrangement at the bottom panel of it for taking rest and relaxing issues of your cat or dog.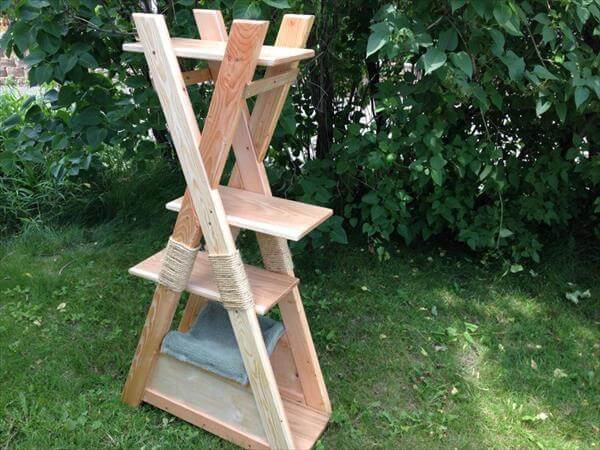 We have fastened the rope support where we found the pallets less effective, you can also join the two pallet slats with same technique to get an according length size for desired way dimensions of your target.
You can use this rustic wooden platform at both indoor and outdoor to watch closely the fun that your cat or dog will make by going up and down on it.
This hilarious DIY pallet inspiration has been designed especially in honor of mostly adopted pets like cat and dog and super quick is construction through pallet wood.