We were on the way to home when we happen to find some wood remains and leftovers in shape of pallets. Then according to the home demands and alliance we put an aim in mind to make a DIY pallet coffee table and chairs out of it. The results were amazing and mind blowing after we paint them to give beautiful nourishment. Two individual and one two seated chair has been handcrafted along with a centerpiece and eminent design of a coffee table by going through a sensible and economical recycling of pallet wood.
The idea is remarkable and unheard-of. Whole DIY coffee table and chairs project is very handy in construction terms and there is no sweat in the framework at home and the high skills in carpentry are also not required. You just need to take some creative steps for home furniture with a mindset about pallet, and you're done. Our selection for overlay color template did not confine to one individual colors we have selected a marvelous combination of two paints in white and brown saturation.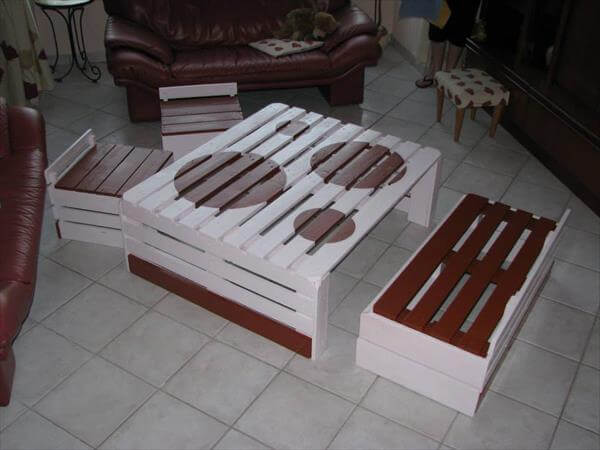 The idea is an wise in nature and is a great support to budget and coffee taking with surrounding wooden chairs. It can the position and mode of any patio, garden and terrace.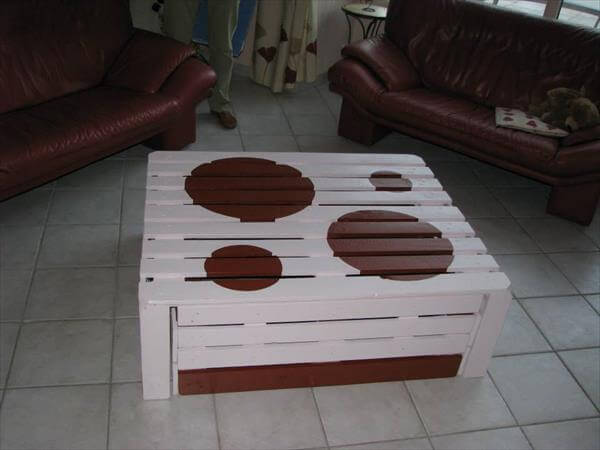 Self made brown circle spots shine like a four moon and cause an attractive glamor and grace to it. The edges have been nicely crafted with a little cut to add a crisp in the layout and to make it run down. You can analyze its worth by putting it at mid in any bunch of chairs or sofa.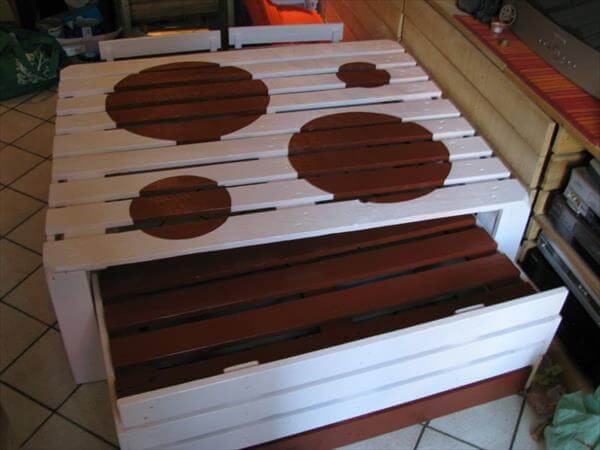 Submitted by : Torpoon Home Creation
The systematic and drawer have also been added to open at the time of need to put anything in. The white-brown combination also go with the interior scheme of drawers. The handcrafting is dazzling and bizarre in nature and suit well the serving purposes.