Some times it becomes very difficult to reach higher shelves and of home and kitchen then stools help us great to reach that certain heights to the target. It also very useful in providing a great sitting space wherever you need in home. To attain this much helpful need we have taken creative use of shipping pallet and have reclaimed this DIY pallet sitting stool which can do multiple tasks of home.
Construction of this recycled pallet furniture was not a very big deal at all, we prepared it in less than one hour by using the appropriate wooden tools. Just dismantle all the pallets and then readjust them in target dimension of any of dozens pallet wood projects and you are done. To get it a centerpiece in home living room we have given it two charming pastel paint shades blue and grey. Make a copy of this chic DIY pallet idea wooden object at home and make your home really enlarged and gorgeous in service.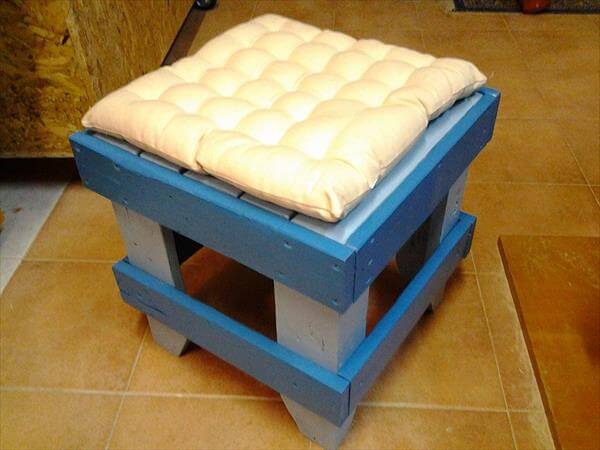 There are plenty of options to get it very best for sitting needs, you can make it tufted, padded or cushioned or directly place a mattress in according dimensions of the stool to make it more amusing in behavior.
We prepared all the components and ingredients individually and according to required criteria of dimensions. four legs, two squared brackets and a squared top are all to make this beatified stool in much less time.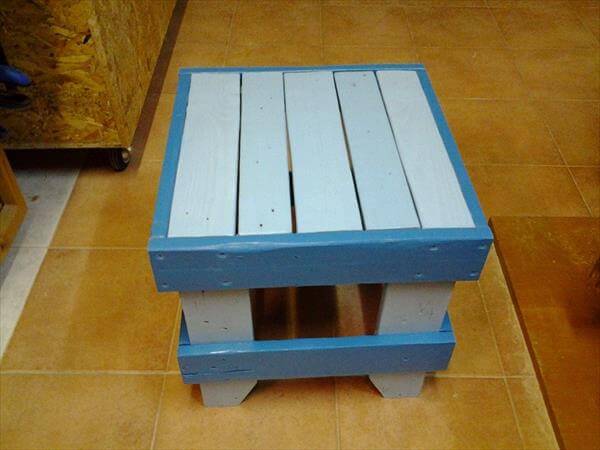 To get in assembled in proper and lasting way we have layered the glue at the junction places and nailed them with hammer for stable and endured structure.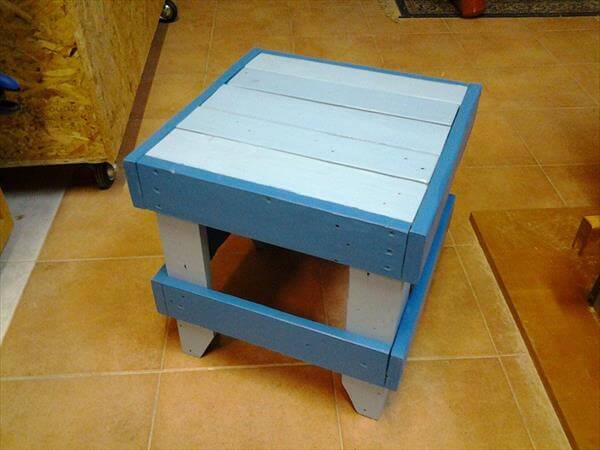 You can paint it to any pastel shade you desire to make it visually attractive and sweet tempered. Paint shade may also be selected according to room theme. Get the pallets and do such an handy DIY pallet tutorials to raise your home on modern sculpts of functionality.