You may happen to meet the pallets anywhere as after the shipping duty they are mostly destined to landfill areas, dumpsters, junky yards and scrap piles. Visit these places, having great chances to make your get with pallets which just great for home crafting for pricey wooden projects out of them. This time we are sharing here a full DIY pallet tutorial of a coffee cup holder that is always a big need of your kitchen. This DIY pallet coffee cup holder has been made using a fourth half of a big one pallet board found on a scrap pile around the home.
By cutting the size in accord, the top boards have been fixed up with hooks to change it into a DIY pallet kitchen utensil holder with stenciled "COFFEE" letters. Shelves and racks always play a vital role to make any specified room like kitchen well organized and uncluttered! This DIY pallet project is also going to do the same with your kitchen for sure!!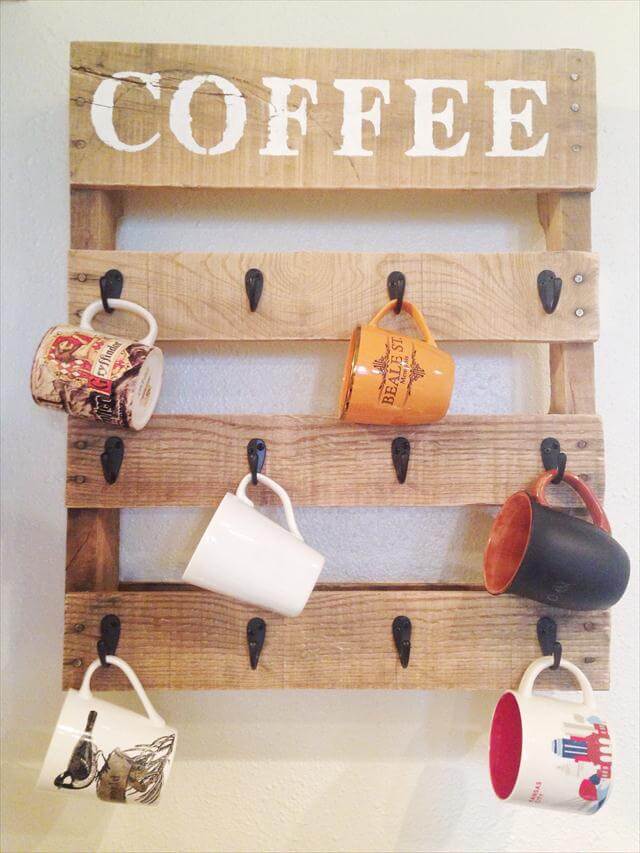 You should definitely have the following materials to construct this functional style of cup holder:
Material You Need:
A Big Pallet Board ( a miniature size will also work great) ( Where to get pallets? )
Letter Stencils
Sponge Brush
White Paint
Metal Hardware Hooks
Nails
Tools:
Circular Saw
Hammer
Screwdriver
Hand Drill
Ruler or Measuring Tape
Pencil
Safety Glasses and Gloves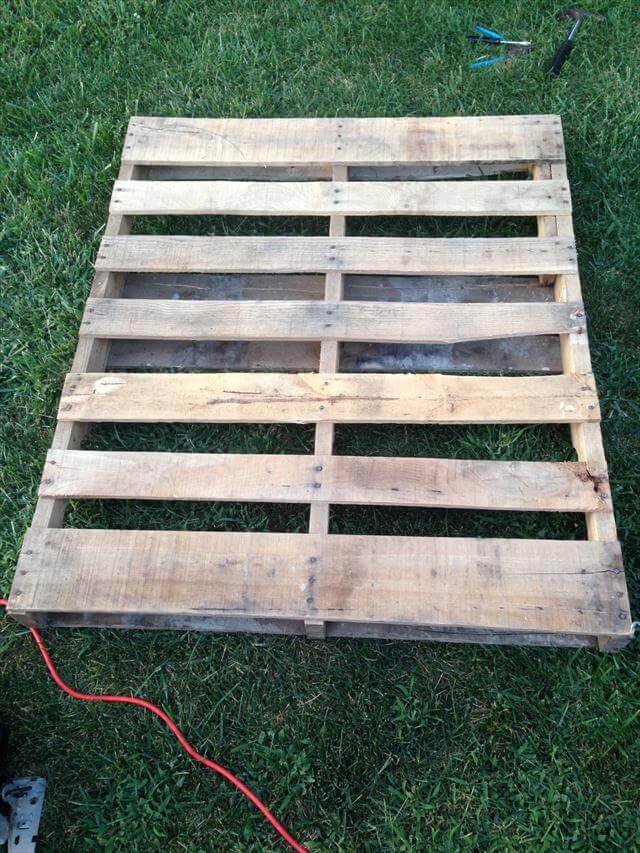 Wear your safety gloves and glasses and move around the floored pallet boards to have a complete roundup to select the most useful part of it to get the size for cup holder. This rustic looking boards can be used to create four such an cup holders!!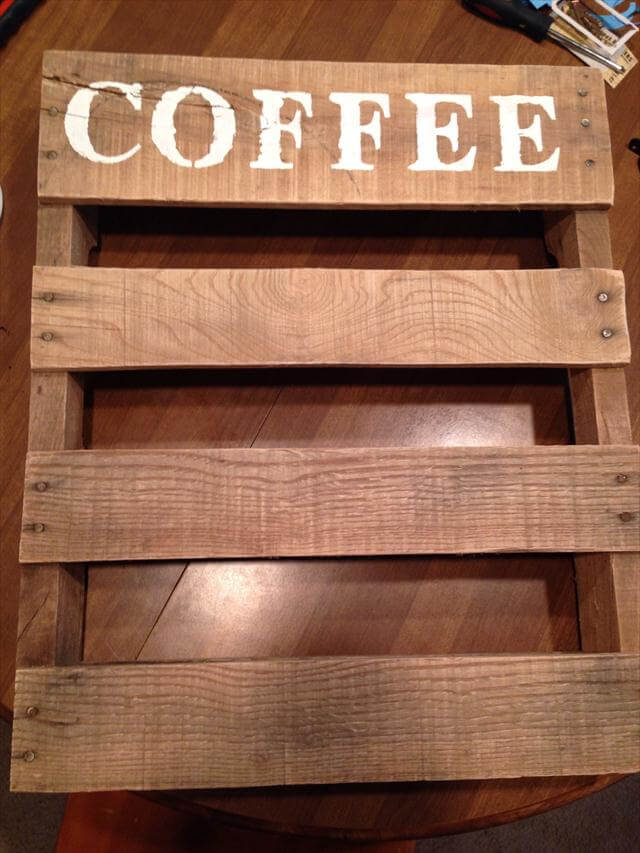 By palming the circular saw a better fourth half of the pallet has been cut down. In the next step is has been sanded nicely to give smooth and splinter free edges and overall plane surface.
Use the stencil letters, paint and sponge brush the nice "COFFEE" tag has been made over the top one boards to make it noticeable for its exclusive purpose in kitchen!!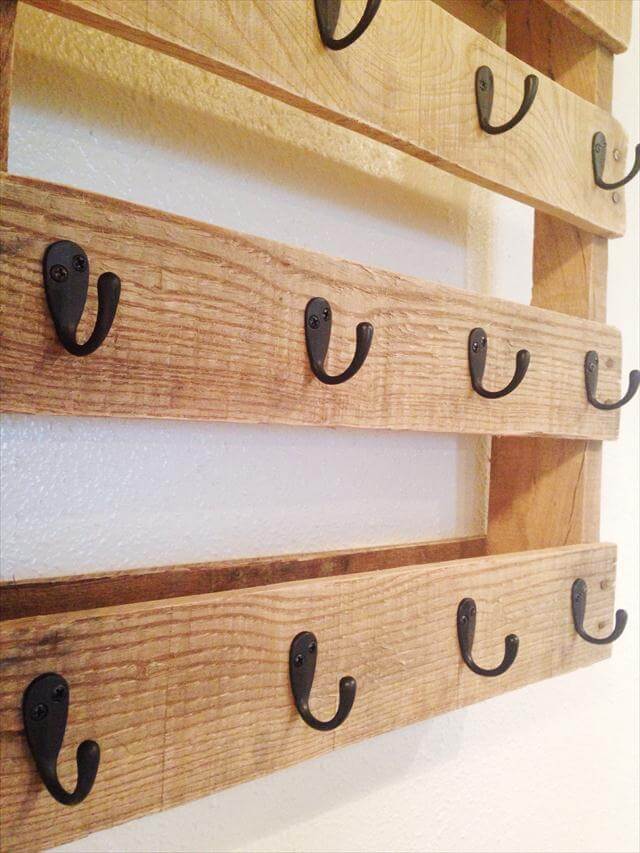 Using the lead pencil and ruler the right positions for hooks have been pointed out and marked. For tight fixing of hooks first the cordless drill has been used to drill the marked positions and then screws have been added with screwdriver for a nice and heavy duty hanging platform!
This process has been repeated for each boards on the front side to have ample space for coffee cup hanging.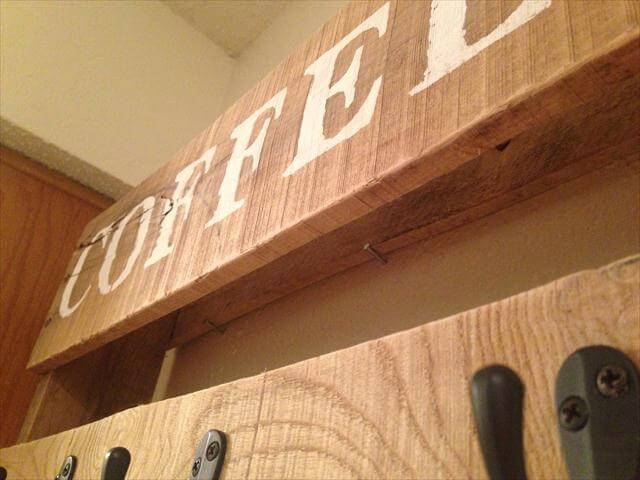 Now the most important and tough part of the construction, the wall mounting of this entire cup holder. This has been amazingly done in this case the in between spacing in pallet board really provided a great help to do it in super quick way.
Only two nails have been fixed on the targeted kitchen wall using hammer and this cup holder has beautifully been shifted to wall with the help of them!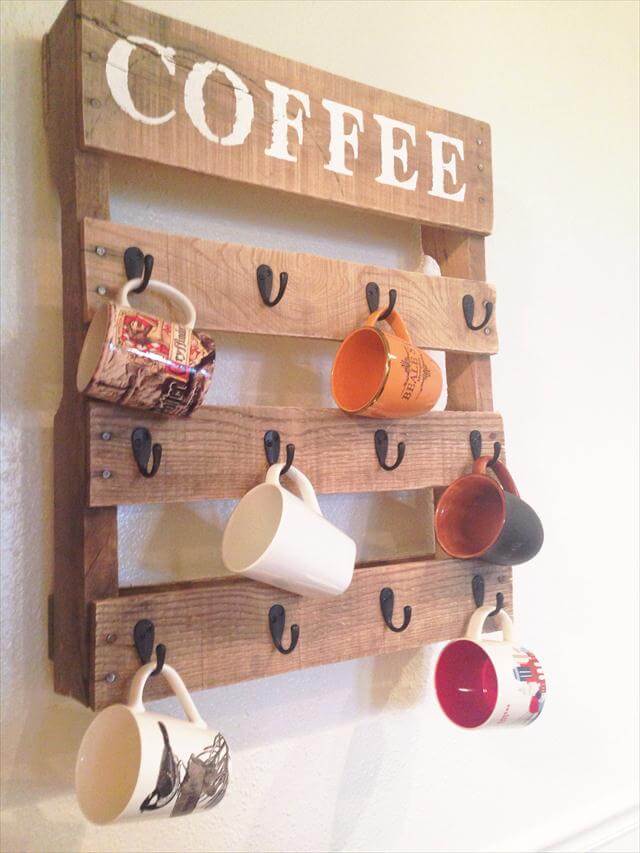 Enjoy this functional coffee cup holder to give an eyeful display to your coffee cups and mugs. This setup will also work great as a DIY pallet kitchen rack or organizer as you can hang you cooking and cutting tools even the cooking pans over the hooks to make your kitchen cozier and well organized!
Do try this no-cost DIY pallet project and let get yourself a little bit crafty at this weekend!!