Here we are introducing some highly adorable pallet furniture plans to remodel your exterior accent parts of home for better performance and looks. Check these all time favorite 15 DIY pallet outdoor furniture ideas to organize a great living space or to make bigger changes in an existing living space. There are dozens of swank DIY pallet projects to make your outdoor segments of home really improved.
With a little bit planning you can prepared some really classy appeals of pallet sofas to organizer you outdoor space for sitting, using some creative pallet recycling techniques you can go for stunning decors of your garden, pallet vertical garden and pallet planters are common one to use as garden accent. Make some up-scaled uses of pallets like for deck wooden flooring, pallet wall paneling and for making kids playhouse for your kids.
Setups and sheds to house your birds and chicken can also be made with pallets just like this given below chick coop which is great for poultry purposes. Make sectional sofas for balconies and living room and also the home trash bins, kid's furniture, outdoor dining furniture.
All these creative suggestions for DIY pallet furniture and decors lead to a happy and comfortable living style on a budget. Pallet wood products are mostly ecological and environment friendly so they can make compliment any interior style like shabby chic, urban chic, vintage and modern living styles.
Remodeled Pallet Deck-Pallet Sofa and Pallet Stairs:
Pallets have been used for deck flooring, and for entire sitting plan also for outdoor bench plans. To reach the pallet deck or wooden floor, boards of pallets have been joined in top to bottom arrangement to perform as a stairs.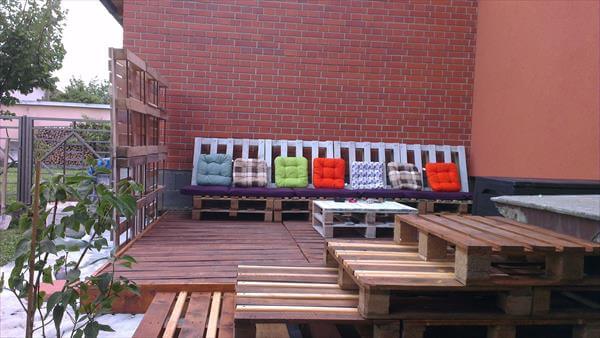 Rustic Pallet Trash Bin:
Pallet wood deals with plenty of your unique needs of storage furniture, this pallet trash bin is also a great addition to pallet storage plans and is vary to secure way to store your reusable items too.
Colorful Pallet Kids Chairs:
Get these charming kid's lounge chairs made of some mini pallets. Both chairs have been given some kids special effect and bright colors that will held much precious to them for sure.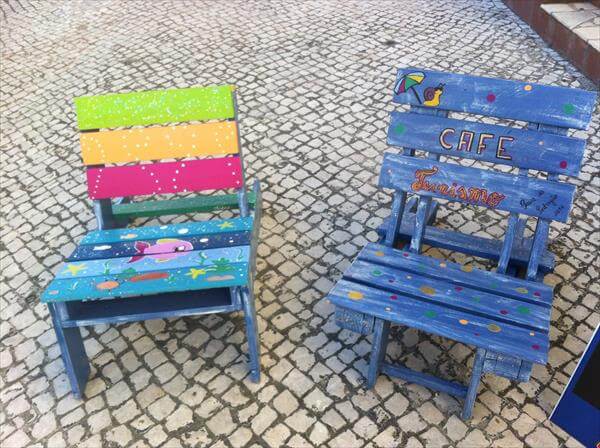 Pallet Sofa, Pallet Coffee Table, Pallet Fence Garden:
Here is the highly economical and way to get your outdoor and garden improved by making it capable for sitting. First a wooden fence wall garden has been made then boards of pallets have been ingeniously installed to given a sofa frame and a coffee table to be at the front.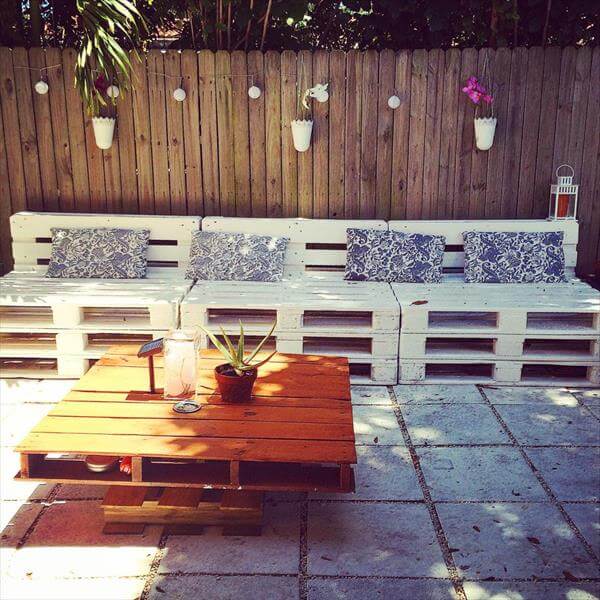 Steel Trimmed Top Pallet Coffee Table:
Check this pallet table design it may be very well responding to your unique requirements, rustic top has been enclosed and trimmed into a metallic steel boundary, responsible for sparkling metal touch and lasting stability.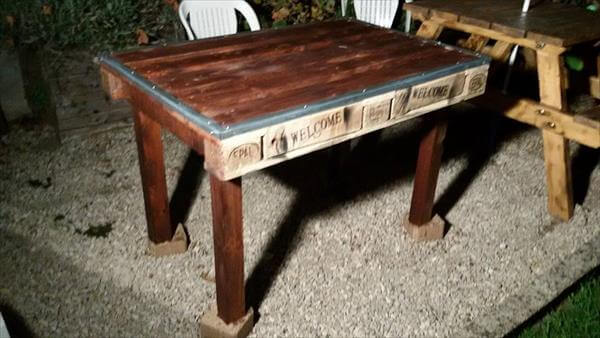 Chic Pallet Adirondack Chairs:
This set of adirondack chairs will work best to plan any of your home outdoor or patio area for sitting like home terrace, garden or home lawn. Get the very amusing boss like feel on these handcrafted pallet chairs.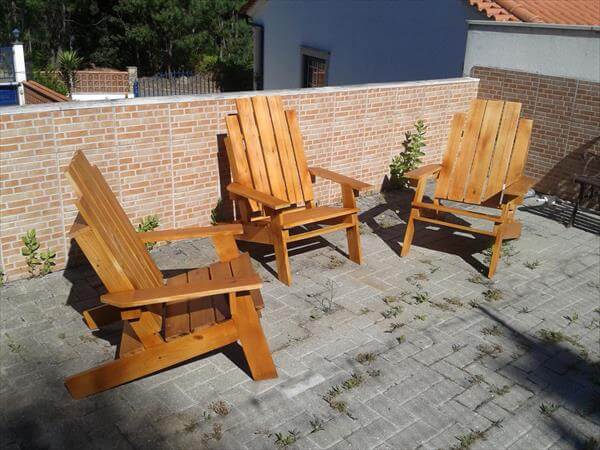 Upcycled Pallet Dining Plan:
Get this amazing suggestion of pallet wood recycling to organize you poolside space for dining or lunch. Highly creative chairs and a raised central table are enough to make you seated comfortably at outdoor.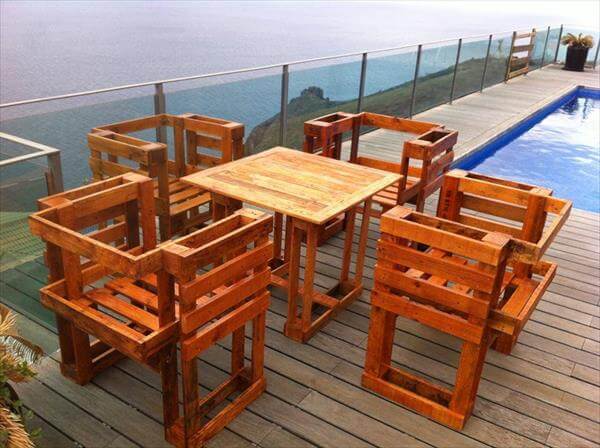 Pallet Chicken Coop:
You can also plan the pallets for poultry purposes, like this amazing chicken wired protect pallet chicken coop, best to house house your birds and hens.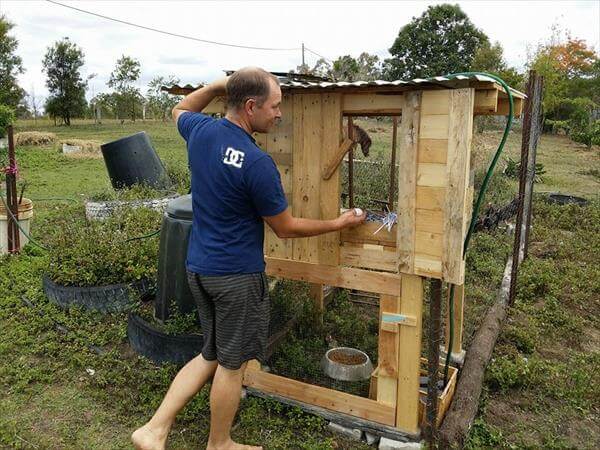 DIY Pallet Sectional Sofa with Wheels:
Corner sitting plans always attract more attention of use, this sectional sofa is just much brilliant demonstration of pallet wood creativity and is just great for both indoor and outdoor use. To make this heavier object moveable by a single person, we have attached the wheels to it.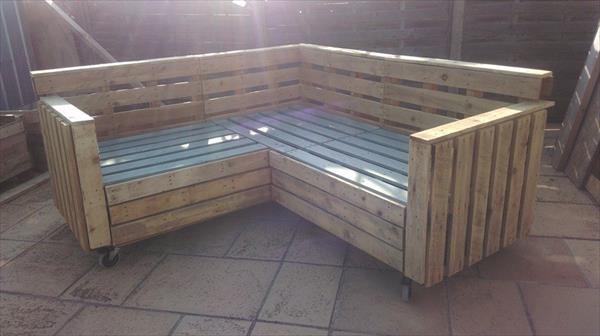 Antique Pallet Sitting Furniture Set:
If you love the rustic, shabby chic or vintage interior styles and decors then this highly antique furniture set is just ready to make you living more attractive and comfortable.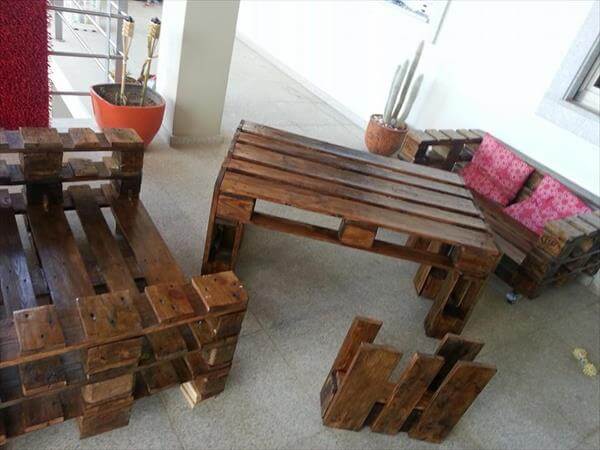 Pallet Vertical Gardens:
How to decorate you garden with pallets? These vertical garden planters will elaborate it will as they will work great as a centerpieces to your garden space.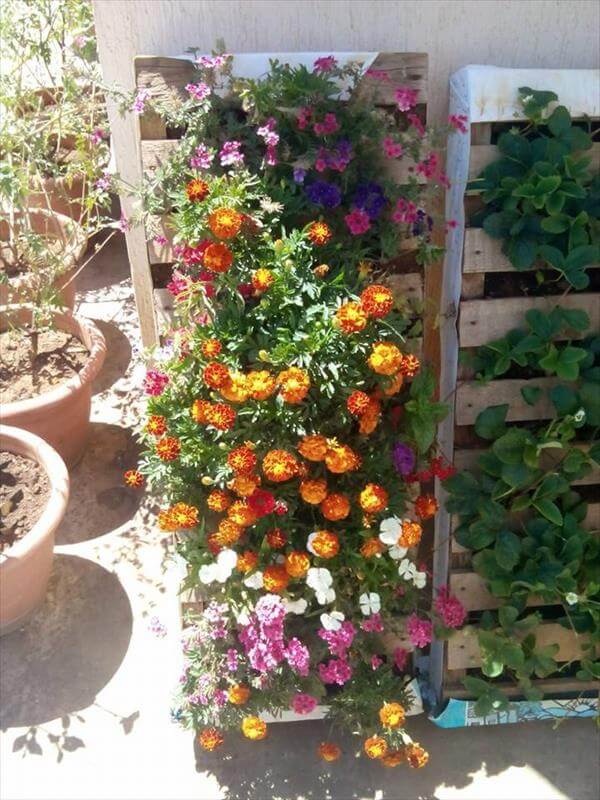 Kid's Pallet Playhouse:
Pallet wood can also assist you to plan some playing objects for you kids, you can make the kids playhouses and some special types of kids furniture to make them happy at outdoor like pallet swings and loungers.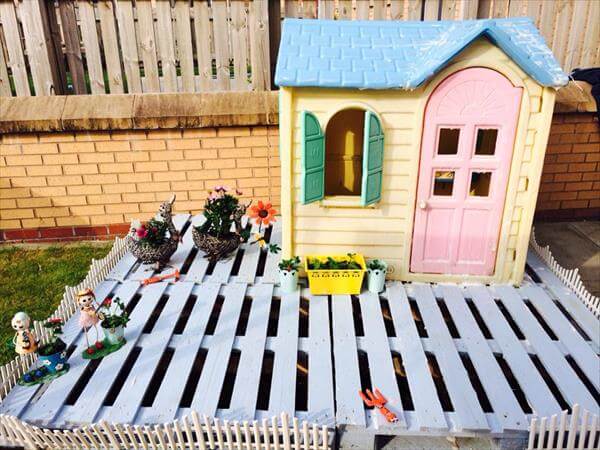 Rustic Pallet Wood Front Paneling:
If you are interest in giving some antique wood wall textures to you interior home walls then make them paneled with pallets. Here is a very visually attractive example about how to do the paneling of your home walls.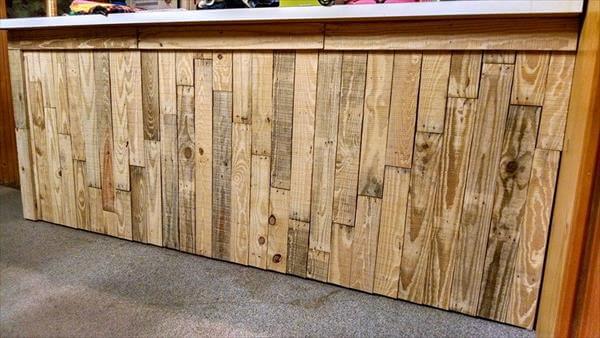 Pallet Terrace Furniture Set:
Make the two pallet boards cushioned and raise one on wheels to get adorable sitting furniture for your terrace and balcony space. A real example of such a setup has been given below!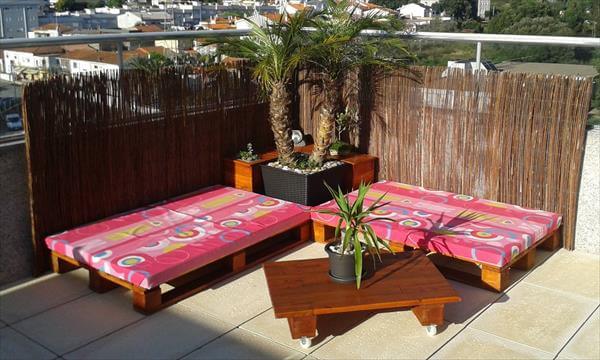 Pallet Armless Chairs with Table:
Create your own favorite and custom designs of chairs out of pallets, just reset the pallets creatively to find subtle layouts of pallet loungers, Adirondack chairs and also the patio chairs. Check the given below example of pallet chairs, just perfect to have a highly chic sitting at home front porch or at open outdoor space.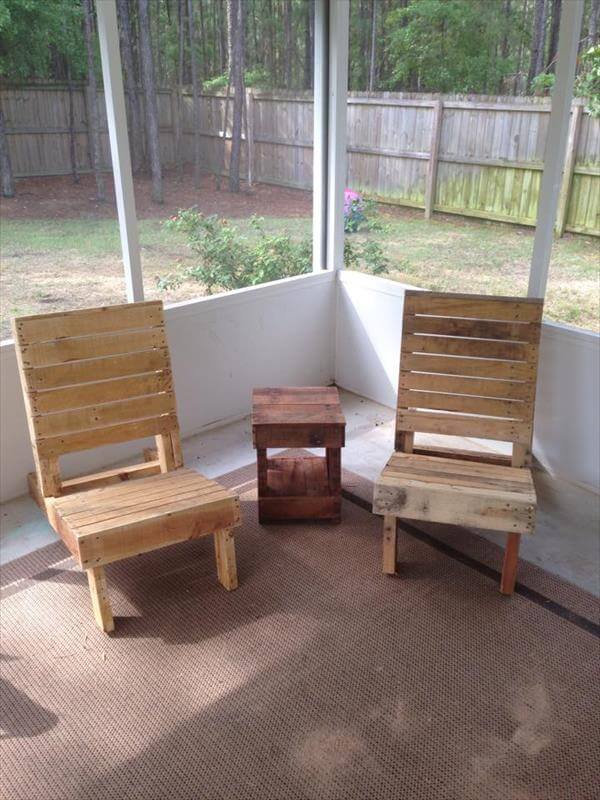 All these DIY pallet furniture ideas lead to a very well behaving and performing outdoor space. It is just the most economical way to get exterior part of your home improved on a much cautious and wallet friendly budget plans.