Children just love to paint and to drawing on the walls which cause great disturbance in home and also make the wall dirty. To avoid such a disturbance we have made a terrific plan of DIY pallet wood chalkboard which would be a great idea to get your children indulge to learning and also a great tip to save the home walls. We have taken use two types of woods in this pallet chalkboard one is the lumber pallet wood and other is the plywood which would be a plane board for writing on it.
You can also try these DIY pallet projects at home without wasting any bit of your money. Just get some pallets and some plywood scrap from home and start working on these DIY pallet furniture projects for amusing drawing board platform. We have got it in a little bit large size to get some bigger out of pallet, the bigger size of writable board is also very useful to handle two children at the same time.
Supplies:
Plywood
Nails and Screws
Nail gun
Orbital Sander (or sand paper of medium grit)
King Glue
Black Paint
Rolling Brush Tool
Some kid's Art Patterns
Chalks
Circular Saw
Hand Saw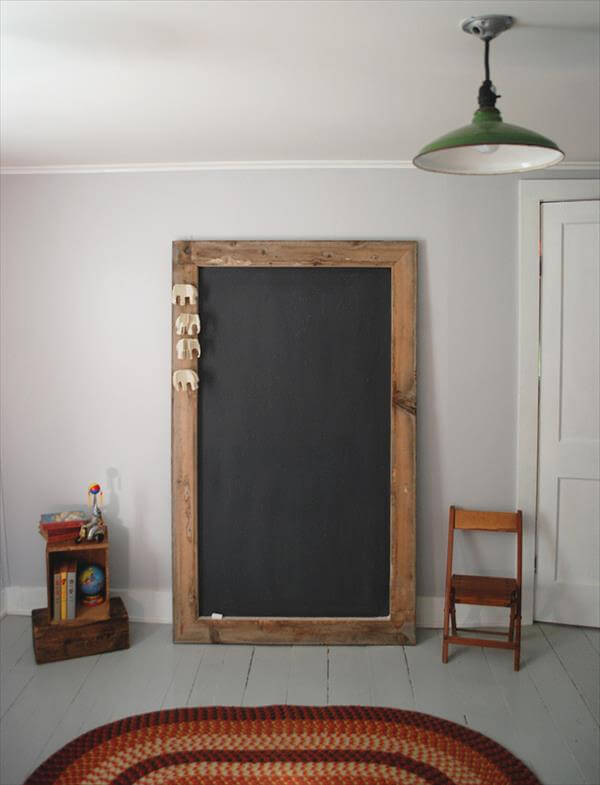 You can put it at outdoor or in kid's study room to write and draw on it what they want. you should be provided with the following supplies to get this dainty wooden object without any cost. What we have done, we have just given a bigger plywood slat a rustic pallet boundary after black paint and this came up with this.

Take a visit of your tool shed and get the necessary tools out and start working on pallets. First reexamine the pallets and dimensions of the the board to estimate the size you want for you kids, this will save your time and wood from wasting.
Use circular saw to manage the according sizes of the planks this will give you the sharp, smooth and precise cutting without any muscle effort.

Prepare the boundary with 4 planks of the pallets having sharp and angled edges. and give them all a satisfied sanding with electrical sander or sandpaper to get that charming shine on the wooden grains. Also cut the according rectangular board of play wood and make it also sanded if needed.

Get the plywood board painted in black with paint rolling brush and let it dried for some time. Give 2 to 3 coats of pure black paint to get a terrific black board for visible and defined writing on it.
Then frame it up with pallet cut according to its boundary and start them fixing up by lining up with sides of the plywood board painted black. In painting process you can call your children or family members for help it will be great fun during construction of this wise and very advantageous DIY pallet furniture.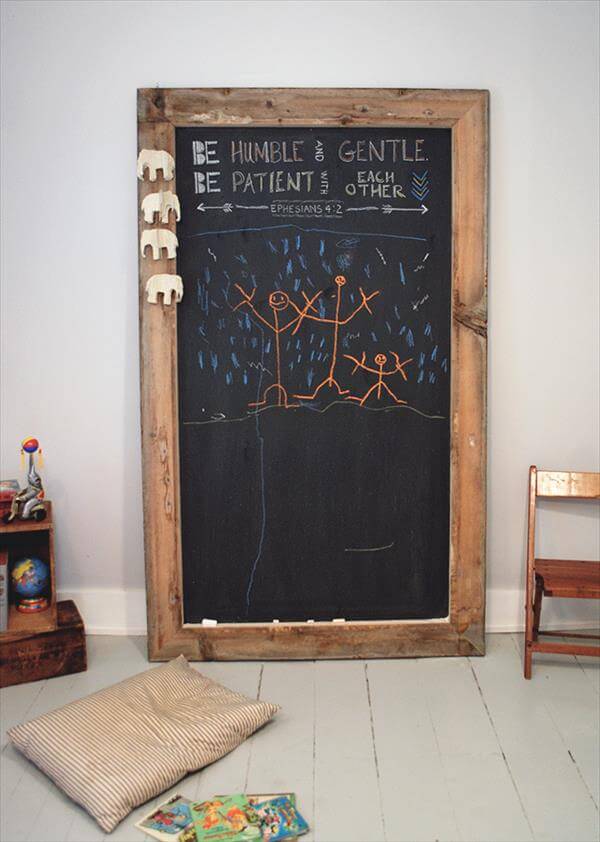 After framing it up get some chalk to be on the border of it add some tags and toys which held very pleasing and attractive your kids just like these little elephant toys at the left corner. Write some humble quotes to allow your kids to learn some moral values too out of it. In short this wood pallet chalkboard was not only a creative but also a great intellectual approach to pallets to use it for study purposes.