Pallets are very common type of wooden scrap and can be explored in the high and low of the surroundings. If it does not happen to you to find a large amount of pallet, speed up your car to the near one shipping area or DIY store. We wanted to use these big supply of pallet wood and could not let it go to be ruined. We the idea of DIY pallet flooring came to us our mouth was watered and we were just starving to do this for our home. It was a great home interior improvement plan and has not caused any type of teasing overflow of our hardly earned money.
This will a complete room renovation like to give it a wooden floor which will be most visually attractive phenomenon of the room while making access to it. Wood is has very resistive nature toward the coolness and heat of the weather so this was an wise idea for serene room environment no matter how intense the weather is, whether it is summer season or winter.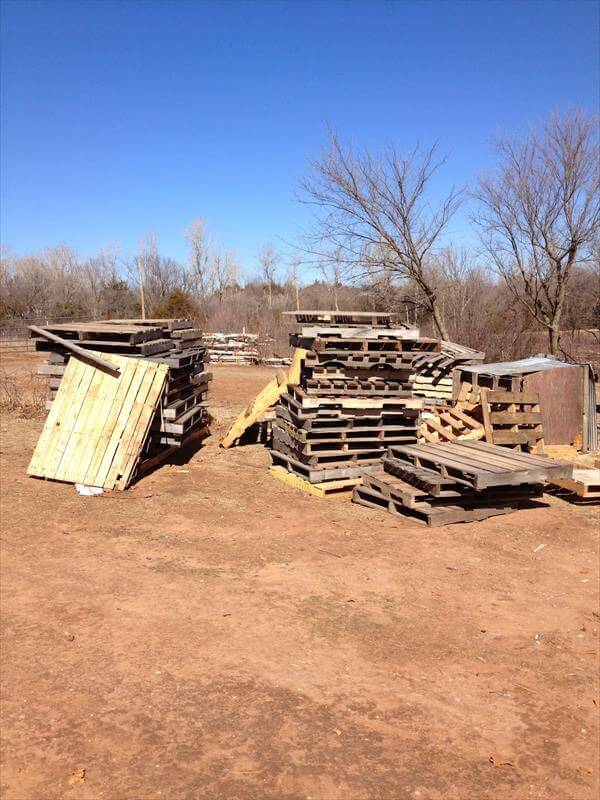 This is the pallet stock which we gathered from near one shipping company in our town having very respectable dealers. And we are provided with this large amount of pallets free of cost, we just have to take it in home that was a little bit teasing one.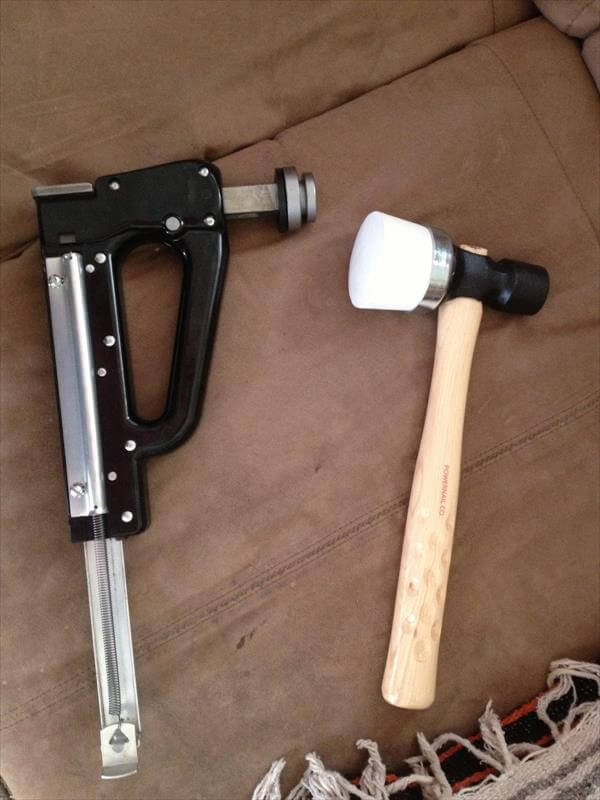 These are the wooden tools the hand hammer and staple gun which we have used for well synchronized installation of pallet floor. These two will make the perfect filling of the pallet to be fixed up nicely to a immoveable place you will assign to it. to strike the soft blow the hammer has one soft edge and it will be helpful in nailing the pallets.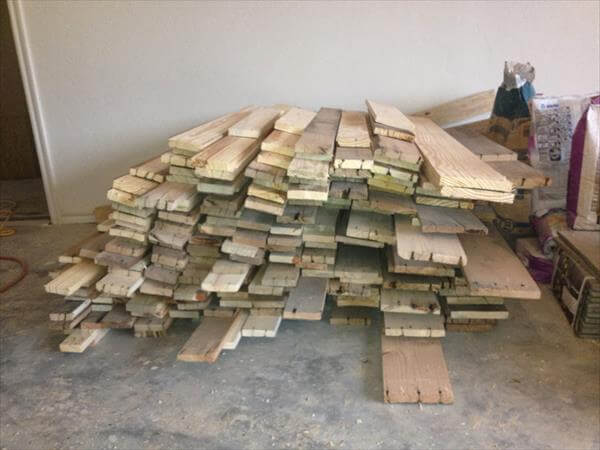 These are the stripped pallets which would fill up the floor of the home like a unit. The breakage of pallet is a common phenomenon and a lot of wood is wasted while making it separated but if you use the spy bar and pallet breaker tool it would be highly time and energy saving idea to save a lot of wood too.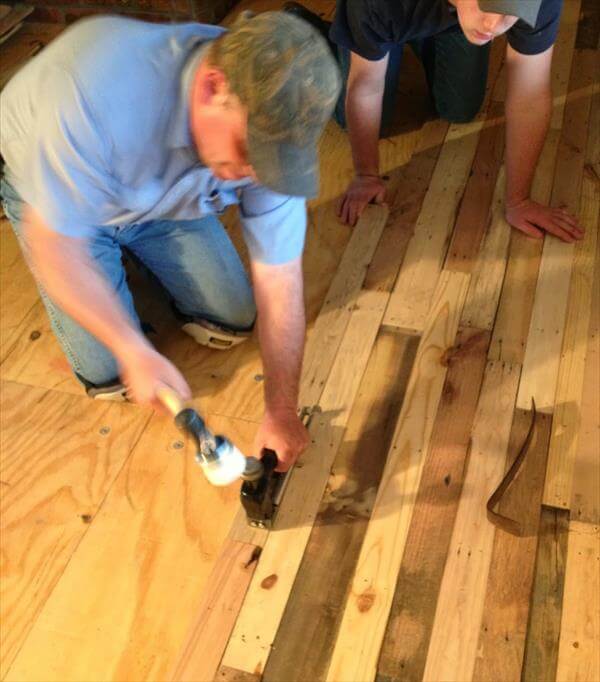 After having a large pile of separated pallets make them sanded down and remove the nails with nails-puller tool. Start filling of floor with pallets having the same thickness and make them stapled to the staple gun with a soft blow of hammer. This will be like a puzzle and will definitely be fun if you make a team from your family to do this lasting flooring  job. Check out the level on each step by a precised leveling tool to have a straight plane or slopy floor.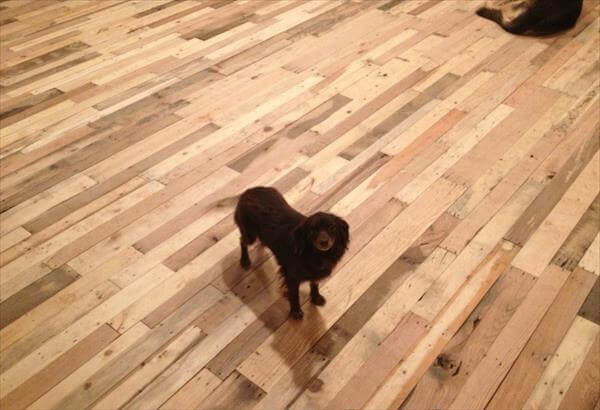 Fill up the floor wholly with leaving a corner and enjoy the walking on this lovely wooden flooring scheme. The floor wan looking rustic and dim in appearance we just want it to be shiny and sparkling so we go for mineral spirits to get it perfect to be charming and well coordinating to the additional one coating like that of varnishing and staining.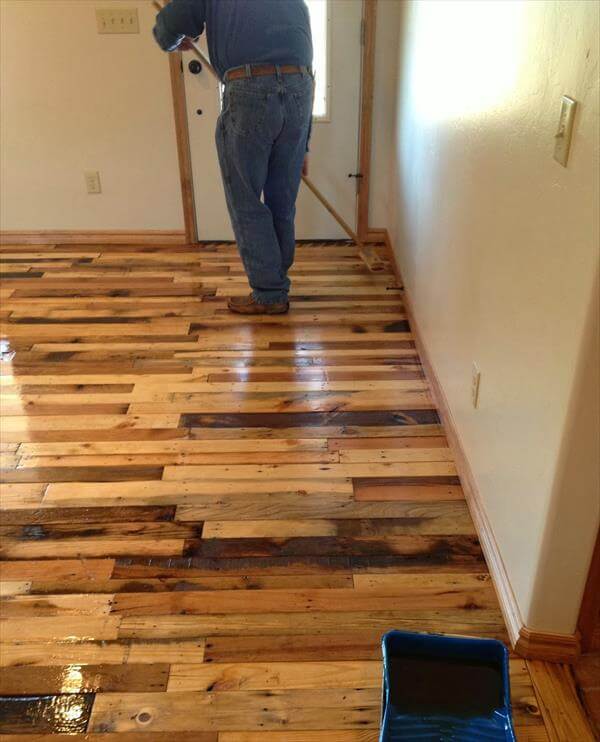 Take the mineral spirits and add a wool cloth to the home wipe, we make it dipped in the solution and gave a perfect rapturous and overcoming shiny shade to our living room pallet flooring installation to have that lovely brightened wooden feel. We started it off and about in 20 minutes we finished the one coat, we have given it  two coats for better results.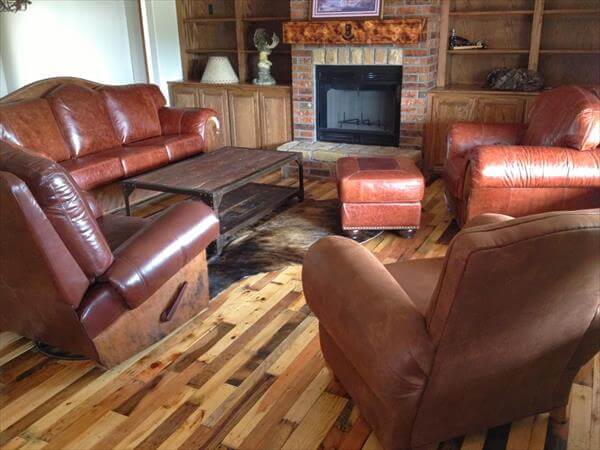 After making the spicy addition to living room, place your royal and serene seating pallet furniture like the sofa and chairs near the fireplace of your room and enjoy the new wooden theme of the room. The idea is very cost efficient and is much friendly to the room environment.