Synchronize you bathroom and privacy with few cozy and favorable adjustments based on pallet wood. These adjustments to hold up the bathroom necessities have been made in form of pallet wooden racks and shelves. These handmade pallet shelf designs for bathroom and kitchen not only are a well furnished need but will also give warmth to whole private environment. We have also done an endearing wooden modification to our mirror, in which we see our cute face daily for combing and shaving.
We have made the wooden border to the whole header and footer of the mirror for beautiful grip and style. Two sides of wooden mirror frame have been left in antique looking. Two downward ends have been drilled for towel rail system through the holes. A tiny drawer has also been meshed in, for functional grace to the walnut stained shelf; this wooden shade looks pretty cool on it!
We have also executed a kitchen rack for seasoning or you can also use it for kitchenware like cutting tools, cooking tools and many other purposes can be adopted. These both idea can lead you to the most graceful wooden recycling and reprocessing which may cause a perfect garnishing to all your scattered equipment whether in kitchen or in bathroom. Both ideas of these handcrafted shelves are from easily accessible, easily controllable and cheaply affordable pallet wood.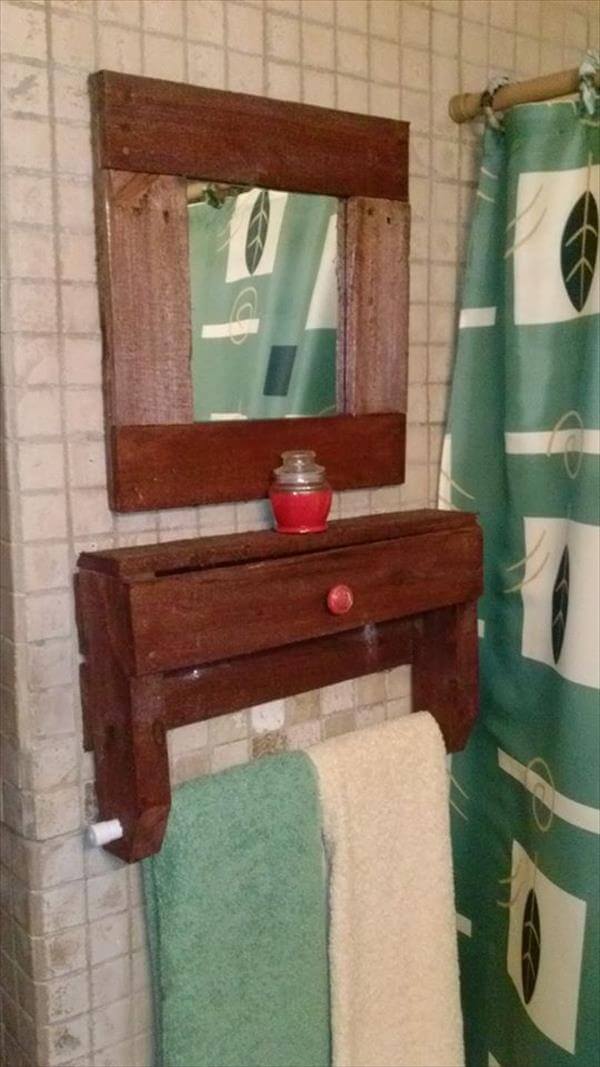 The shelves structures are based on simplicity and according to measured dimension of targeted area. We configured out the measurements and started the framework in accordance to them, this was very helpful for precision in crafted designs and it also saved the wood from wasting.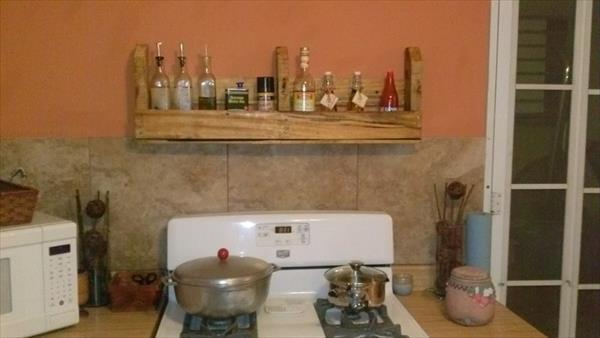 The same measurement pattern has been applied in this fashioned mounting of kitchen rack. Both sanding and varnishing has been done to remove the splinters and ugly wood scratches and then we used it nicely for holding up kitchen spices on the kitchen wall.