When you move to college, you finally get the long-awaited freedom and the ability to become an independent person. However, with freedom come responsibilities and the necessity to manage a lot of things at the same time: studies, projects, exams, loan payments, a part-time job, and social relationships. While you can always receive help writing a paper for college, other problems cannot be resolved so quickly. Besides, you may also become homesick, especially having to spend time in your small gloomy dorm room. Luckily, there is a way out: transform your dorm room with a few handmade things. In this guide, we will cover top beautiful ideas for pallet bookshelves you can make yourself.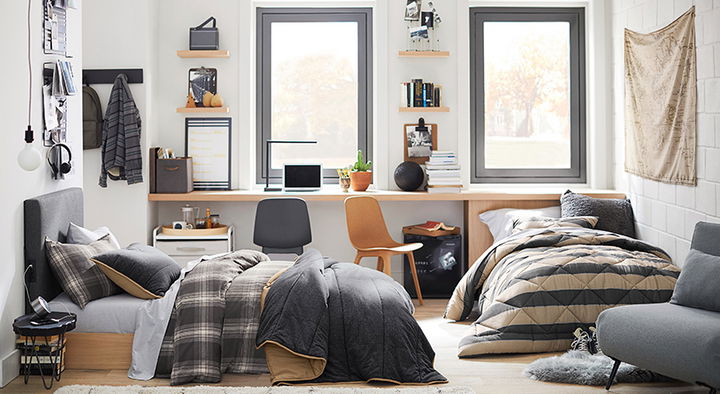 What is a perfect bookshelf like?
Many students think that decorating a dorm room is expensive, but in fact, it is as cheap as ordering science homework help online. If you want to get more space in your tiny room and make it look more modern, we recommend checking a variant of standard wooden pallets. Why? Wood is one of the cheapest and strongest materials, which makes it perfect for a student`s low budget. As your dorm room will be your home for at least a couple of years, wooden pallets will help you make it cozier and solve the problem with the lack of space for your personal stuff.
While with pallets, you can make a coffee table and even a bed, in this guide, we will talk about the best bookshelves ideas, and namely, two basic options: freestanding and wall-hanging bookshelves. You can choose any design and the number of shelves you want (Pinterest is one of the best sources for your inspiration), you just need to choose whether it is going to stand or hang in your dorm room.
Idea #1. Freestanding shelf
This option can serve both as a bookshelf and a place on the top of which you can keep some small items. It will take a few hours to build it providing you have such tools as a measuring tape, nails, glue, a saw, hammer, gloves, and pallet planks (the gloves are very important if you want to avoid injuries and keep safe):
With a measuring tape, understand the exact size of your dorm room, and it's part you can sacrifice for the bookshelf. Then take the measurements of the planks and cut them with a saw based on the required length;
Your bottom planks should be wider to be able to provide support and keep all your books. To avoid the old look, you can wash all the planks, thus removing all the dust. If you want a bit smoother effect, you can use sandpaper but if you love the vintage look, just leave it as it is;
Now when your planks are ready, put them together using nails and glue until you get a final structure. Don`t connect the pieces if you prefer your shelves to be of different colors – painting needs to be done in advance;
You can do any small modifications as well as decorate it to your taste. Besides, you can use your project not only for keeping books but for any other purpose like a flower pot or organizer. The only recommendation is that the objects should be light not to ruin the stability.
Idea #2. Wall-hanging shelf
Taking vertical space is one of the best ideas to free up your dorm room and make it visually bigger. Here you can store your books, any small objects, documents, and other stuff to be always at hand. You will need the same set of instruments to create this variant:
Decide what part of the wall will be taken by a shelf and measure the wall surface. Cut the planks equally with a saw and make sure the bottom is wider;
Create the back piece (it should be bigger than the bottom) and put it on the wall using a hammer. Then take nails to connect the back piece and other sections;
Decorate the completed bookshelf: you can make it look vintage, paint in different colors, or use wallpaper to make it look original. Remember that this variant is less reliable so you shouldn`t overweigh it with heavy books and things. Keep there magazines, candles, pictures, or documents because it is rather a decoration than a storage unit.
Based on one of these ideas, you can choose your unique design, add or remove shelves, create different combinations, and pack shelves with beautiful things. As you can see, pallets are an easy and cheap way to get some storage place for your small dorm room: you don't need much time and money, but you still need a lot of free space when building. We recommend you to get a plan in advance to create a complete look that will fit the overall design of your room.